Honda reveals the RC213V-S, the ultimate sportsbike
It's out. Honda's road-legal MotoGP replica motorcycle, named the RC213V-S was revealed to the public officially today in the lead up to this weekend's Catalunya GP. Honda will accept orders from July 13, 2015 in Europe and the price is expected to be Rs 1.4 crore in Europe. Lots of rumours went before it and finally today Honda has confirmed that it will produce this motorcycle.
Honda also revealed that the RC213V-S is not a motorcycle that is a result of technology and engineering that was developed for the MotoGP series. The new motorcycle is, in every way, "an endeavour to make it possible for a machine developed for competition in MotoGP to run on public roads." A sophisticated way of saying that your eye-watering money effectively buys you Marc Marquez' motorcycle but even he doesnt get the headlights and indicator and what have you that your bike will boast.
Honda further reiterated that all the software makes it to the production motorcycle as well. The RC213V, the championship winning race bike, has a lots of parts required for its amazing performance. All the control technologies make it to the street bike with only the very minimum of changes being made for street use.
As of now, Honda intends to sell the RC213V-S in Europe, the US, Australia and Japan. Prices range, depending on currency between Rs 1.1 and Rs 1.8 crore. Honda will open orders on its website - www.rc213v-s.com on July 13, 2015.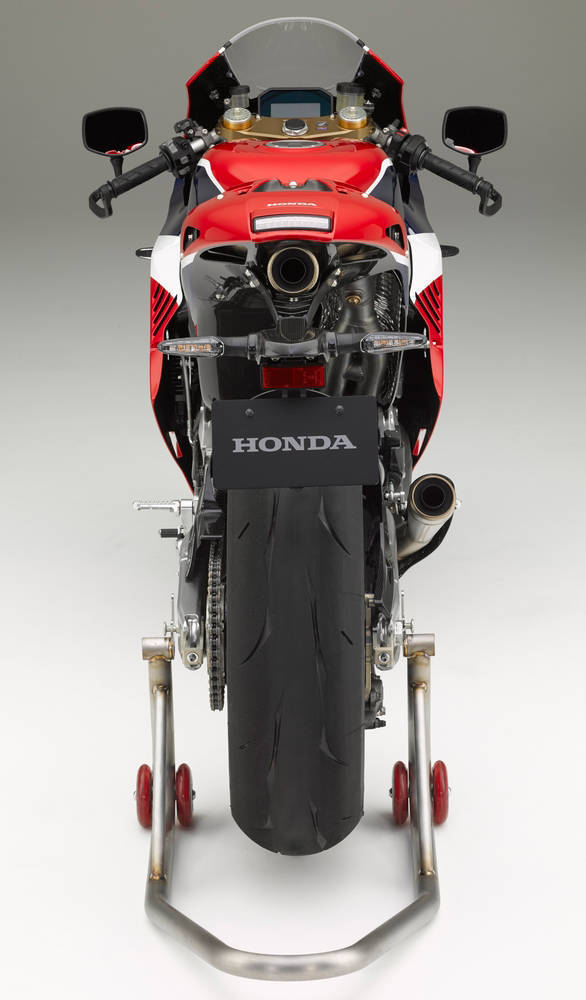 So, numbers time? The Honda RC213V-S gets a 999cc V4 that gets only the minimum things necessary to be road legal. The EU-spec version makes 159PS@11,000rpm and 102Nm@10,500rpm. Customers will get an HRC exhaust as well as ignition kit only for track use that will raise the power to 215PS/118Nm. The crankcase, Honda says, is in aluminium (the racebike uses magnesium) but is the same specification. The frame looks the same as the racebike and notably, the swingarm is quite a bit longer than Honda's streetbike flagship, the CBR1000RR Fireblade, to prevent wheelie-ing endlessly. In North American markets though, the RC213V-S will make only 100PS of power while the race kit would not be available even as an option.
The exhaust is titanium and it looks as close to the MotoGP unit as possible while incorporating the doodads needed to meet street emission and noise requirements. Finally, Honda kept all the styling from the concept it showed at Milan earlier but has ditched the LED lamps for conventional lights - which are more compact and lighter - the LEDs needed heat exchangers.
Related Stories