Helpdesk: A motorcycle for sport touring
CR: I've realised that I was going about the whole business of planning my next bike the wrong way. So here is what I think is a better question. What bike would you recommend to someone to wants to tour India?
1. The motorcycle must be comfortable for long distances two-up with luggage.
2. Nimble around corners
3. Capable of cruising at 150kmph without breaking a sweat
4. Practical tank range (what is a realistic expectation? 450km?)
5. Reliable and rugged so as to require minimal fussing on the road (fuel quality etc)
6. Saddle height not more than 815mm/32in.
Notice I haven't mentioned a budget. Realistically, it would be something under Rs 15 lakhs. But I would like a recommendation budget notwithstanding as well.
Shumi: That's a juicy question, CR! There's a lot of meat in there to chew on so let's get started. First, let's get a clear picture of what sport touring means - just so we are clear of the playing field we are aiming for.
Sport touring is a simple confection. Touring implies covering significant distances over day, possibly for a string of days. Which in turn implies luggage will need to carried on board. Sport adds a tangy accent on top, implying that this will not be a leisurely cruise, but a more aggressive itinerary and a more committed passage through the twisty bits. All right, let's go into the points you asked.
1. Comfortable two up with luggage
You are looking for a spacious motorcycle with a lot of grunt. My mind instantly goes to something like the Suzuki V-Strom or the Kawasaki Versys 1000 - see them shine in our epic Anniversary Issue adventure. Both will do this easily but they're both going to be a bit past your budget.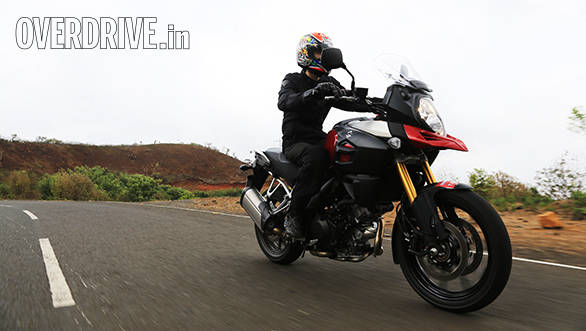 Then I think the choice would be the Triumph Tiger. The XR or XRx should be spot on - the trouble will be a tall stance which makes climbing up harder for a pillion - not something that would deter me, to be honest. Evaluate that in the light of your saddle height requirement though.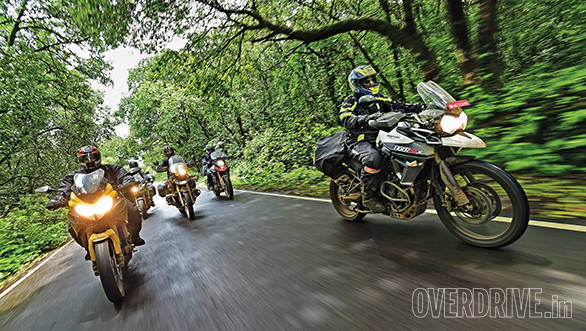 Another alternative is the Triumph Street Triple with a small luggage rack (SW-Motech makes a neat looking one, look up Big Bag Bikes. JCMoto also makes them to order - look them up at jcmoto.in).
The wee rack and a set of saddlebags (ViaTerra, Rynox, DirtSack, Big Bad Bikes all have offerings at various prices) and it should work. Walk past any saddlebags that have nylon straps running across the top of the pillion's seat. That's going to make enemies with your pillion's bottom rapidly. Given a long enough seat, think about it, most bigger machines will handle two-up and luggage in this form. I can vouch for the Street Triple but I only tour one-up.
Other bikes? The Kawasaki Z800 should work. It's a little larger than the Street Triple and has roughly the same performance. But it's a little less sporty in geometry. This is a good thing - it will feel less different once it's loaded up with people and their gear.
Best? Something like the BMW R 1250 GS. Your requirement was what, more or less, it was designed for. It is deceptively fast and takes no notice of luggage or pillion and comes with 8.5 million safety and back up systems. You'll need to bring your life's savings to get one though. They're horrifyingly expensive.
Now. Don't buy anything without a test ride. And if you're thinking of the Street Triple, do budget for that Arrow exhaust (Rs 45,000 max). The power it releases makes a world of a difference to the motorcycle. The 85PS bike feels silly once you ride the full power version with the exhaust. Do keep in mind the Triumph Street triple despite being a terrific motorcycle, is the worst of this lot too on that in value for money terms, especially with the exhaust added.
Since the original reply, the Honda CBR650F - also on the expensive side - has also entered the fray. Its basic package should make a terrific sport tourer too. However, I am not recommending one straight away because I do not think it will be as good as these options once loaded with luggage and pillion. And you will probably have to source a set of taller handlebars if you're covering distances too.
2. Nimble around corners
Most of these bikes are. Nimble is a word that's but subjective though, hence I recommend the test ride. If you intend to ride more loaded up than by yourself, take some luggage and your pillion along. On the nimble stakes, the Street Triple is the most sporty of this whole lot, followed closely by the Honda CBR650F. Then comes the Z800 and finally the Triumph Tiger - which is far from stodgy but the tall stance has its cons.
3. 150kmph
They will all do this. You will have to budget an additional Rs 10-15,000 for a screen for the Kawasaki Z800 as well as the Triumph Street Triple. The Honda and the Tiger, both have effective screens and 150kmph might be illegal, but it will not be uncomfortable.
Word of advice: 150kmph cruising is an interesting goal but when you're planning your days, back that down quite a bit. Averaging more than a 100kmph - translates to about 130kmph cruising at best - is tough enough to do, and still illegal. Any faster and it takes so much concentration and effort that you'll be drained by the end of the day. Also, keep the big mile days for the early part of your tour rather than towards the end when your energy levels are low.
4. Tank range
300km is usually enough. Not many people will last most than three-four hours in the saddle continuously. Enormous tank range doesn't actually work in the real world - you have to stop to relieve yourself, your butt, passenger's butt etc. 450km range? Let's see. Assuming about 20kmpl (optimistic) economy, you're looking at a 22-24 litre fuel tank. No one has that except for the Benelli 600 GT and the BMW R1250 GS Adventure.
Why am I not recommending Benellis here? A touring motorcycle requires reliability and it's simply too early to tell how they will be on the long run. I do know anecdotally that the 600GT with its 27 litre tank (as well as the Adventure but to a lesser extent) gets really top heavy when brimmed and it's easy to cause a slow-speed tip over. I would stick to 15-17 litres as max tank capacity. Which is about about 300-350km from full to empty.
I usually run from full tank down to a quarter tank before I start hunting for a petrol pump. If you can cover about 240-260km in this period, you should be good. All of these bikes should manage this easily assuming you're not going to use full acceleration to get to cruising speeds constantly - that's what causes big drops in highway mileage. To wit, my KTM 390 Duke drops from a steady 33-35kmpl to 24-26kmpl if I don't back off the acceleration. This is at a steady 120-130kmph cruise once acceleration is complete. My Triumph, similarly, will return 4-6kmpl less if I accelerate hard rather than gently while cruising at the same speed.
5. Reliable and rugged
Tiger is the rugged one and in my experience all of the imports/CKDs are fairly reliable and run well enough in our conditions. They'll all need some extra TLC because our roads are just too harsh. Services are usually about 10,000km apart and that's a good sign. Since you're going to be covering miles, ask about service costs after your test ride. It should give you an idea about living with the bike expenses.
6. Saddle height
Shouldn't be a constraint. Like many things, you get used to it and a tall saddle has many advantages too - it brings greater vision, usually creates more ground clearance.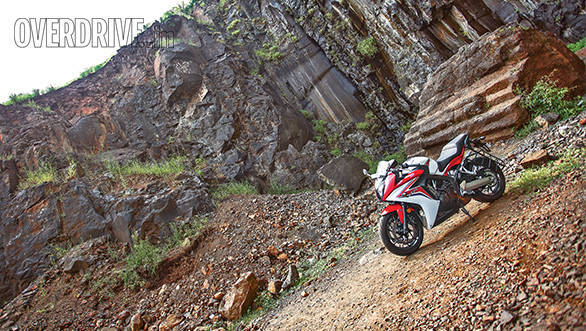 So, within the Rs 15 lakh mark, I'm going to suggest you test ride the Triumph Tiger XR (Rs 11.5 lakh), Street Striple (Rs 10.5 lakh with exhaust) and the Z800 (Rs 8 lakh), Honda CBR650F (Rs 8.5 lakh) and see what you like.
7. Outside picks
Try the Suzuki GSX-S1000 or the F version if it's in your budget. Very fast, very nice but keep an eye out for luggage and pillion comfort.
Try the Kawasaki Ninja 1000. It is an absolutely terrific tourer but I'm not sure if it's in your budget. We absolutely loved it when we tested it.
Try the Indian Scout. It's in the budget and the engine certainly has the stuff. Not sure about two people and luggage though.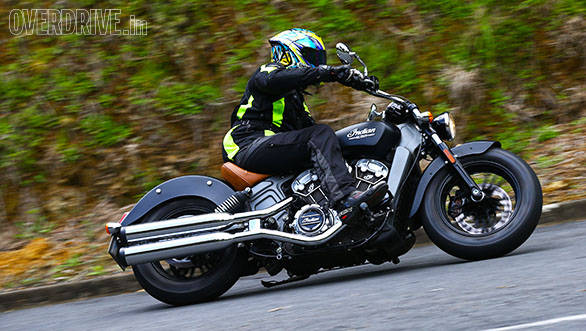 Try the Ninja 650 - very effective tourer and dirt cheap too. But many find it a little too bland to love it. It costs Rs 3-4 lakh only on the used market and it's available easily.
8. No budget?
BMW R 1250 GS is the ultimate big distance machine. They're just too darn good. KTM 1290 Adventure's reportedly even better and sportier to boot but BMW does have an Indian importer, KTM big bikes you'll have to import and maintain yourself. Aprilia Caponord should be great too but I haven't tested it and I'm not sure you can get test rides or not.
9. Don't bother with
Benellis
I would suggest you wait a year for more reliability related information to become available before you consider them for this kind of a high-load, high-mileage cycle.
Kawasaki Z1000
No one builds 1000cc city bikes for a reason. The Z1000's gearing is super short which makes highways needlessly frantic and there isn't a pillion seat worth the name.
Sportsbikes
You might be able to manage one-up touring on them with a few mods. But with a pillion? No freaking way.
Price (Ex-Delhi)
Starts Rs 15,95,000
Price (Ex-Delhi)
Starts Rs 20,45,000
Price (Ex-Delhi)
Starts Rs 12,69,500
Price (Ex-Delhi)
Starts Rs 9,99,000
Price (Ex-Delhi)
Starts Rs 10,99,000
Price (Ex-Delhi)
Starts Rs 15,60,000
Price (Ex-Delhi)
Starts Rs 2,52,928
Price (Ex-Delhi)
Starts Rs 8,84,804
Price (Ex-Delhi)
Starts Rs 8,84,000