Green canopying of 1 lakh km of NH to employ 10 lakh youth, says Gadkari
Under the National Green Highways Mission, the Indian government has been working to set up a green corridor on the vast stretch of highways in the country. This green canopying will help reduce the harmful effects of air pollution as well as reduce the glare of oncoming vehicles which sometimes cause accident. In addition to the natural benefits, this project will create employment opportunities to 10 lakh youth in India, stated Nitin Gadkari, Minister of Road Transport and Highways of India, at the inauguration of the plantation drive.
The green plantation drive is planned to be executed in different phases. Phase one, which has been estimated to cost about Rs 3,000 crore, will cover a stretch of 1,500km, as claimed by the the union minister. Additionally, the minister showed interest in welcoming freshers and start-ups to help the government execute this herculean project. The plant species selected will be region specific, depending on local conditions such as rainfall, climate type of soil etc. For example, at some places soil conditions may suit for plantation of jamun or mango trees while at other places plants and grasses can be grown to derive biomass. Wherever possible, transplantation of existing trees will be given preference while widening the roads.
"We will soon take up the length of National Highways to 2 lakh km from about 1 lakh km, and plantation along these is our responsibility. Converting one km of highway into green provides employment to 10 people, and today we launched scheme for 1,500 km which will employ 15,000 people," said Nitin Gadkari at the plantation function. The estimated cost for covering the entire stretch of NH is an estimated Rs 5,000 crore amounting to 1 per cent of the Rs 5 lakh crore road construction project that will complete by 2019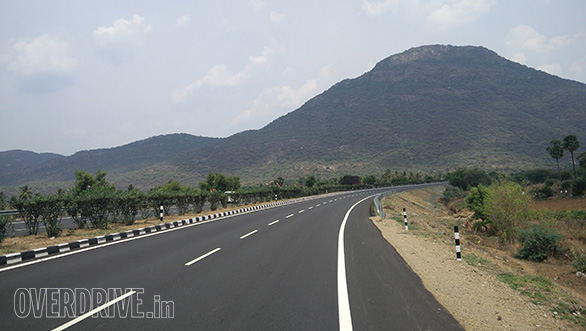 The project has started as an encouraging note as 10 states are teaming with the centre in the initial phase. Among the states, Haryana signed agreement for 415km, Jammu & Kashmir for 100km, Telangana for 150km, Andhra Pradesh for 360km, Madhya Pradesh for 150km and Assam for 50km. Besides, several NGOs and four start-up enterprises will work on setting up trees on the entire stretch. Indian Oil Corporation has adopted NH 31 for plantation and maintenance of trees while bodies like Coal India have also shown keen interest. To monitor the progress, the government also plans to launch a smartphone application.
The highways minister added, "Highways aside from environmental and aesthetic aspects have a huge potential to generate jobs and can prove to be a game changer for agriculture and rural economy. It may even be linked with the NREGA scheme," He also assured that plantation will be done on 3,000km of National Highway till the end of July.