Global Himalayan Expedition ride two electric bikes from Leh to Khardung La
Electric Vehicle (EV) manufacturer, Electrotherm India and adventure company, Global Himalayan Expedition (GHE) have managed to ride two electric scooters to the highest motorable road in the world, the mighty Khardung La on September 14, 2015.
The two YObykes were ridden by Paras Loomba and his team mate Jaideep Bansal. Paras Loomba is a solar energy expert and hence he decided to accomplish this feat by riding solar charged electric bikes. The duo began their journey from the town of Leh along with a backup crew that hauled a portable inverter and two pre-charged batteries with 150Ah each, so that the bikes could be charged enroute. These batteries were solar charged a day before the Khardungla journey. Electrotherm claims that the batteries were not modified and the bike covered 65 per cent of the distance whilst using only 20 per cent of the charge. The electric bikes were charged at South Pullu for 50 minutes.
The distance from Leh- Khardung La may seem like a short 39km drive but the high altitude coupled with the trecheraous terrain post South Pullu makes the journey arduous. Electrotherm India says that the electric bikes managed to maintain a constant speed of 30-40kmph during the entire journey and did not suffer any breakdowns en route. The riders managed to cover the distance to the summit in four hours and 12 minutes.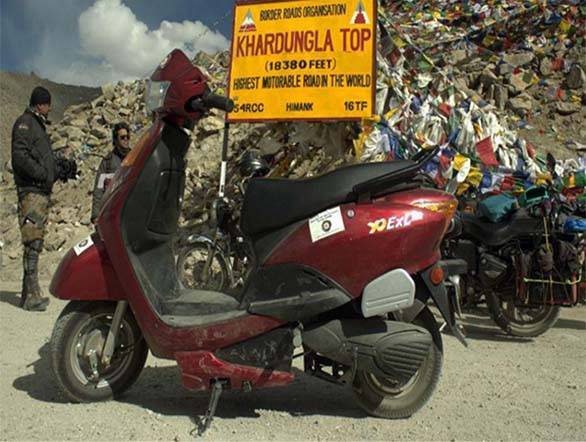 With an increase in the flow of traffic, the pollution levels in the Himalayan region have risen considerably as the company says that the purpose of this ride to Khardung La was to promote e-bikes in Ladakh. The YObykes were launched at the Ladakh Marathon and the company is carrying out various tests before making the electric bike available to the general public. In future we can see e-bikes being loaned for rides to Leh is what the company also says.
Yobykes and Global Himalayan Expedition team up to complete the first ever, Electric bike journey to reach Khardung La (mountain Pass), world's highest known motorable road
Ladakh/New Delhi/Chandigarh/Ahmedabad, 28th September 2015: "That's one small step for man, one giant leap for mankind", said Paras Loomba, reminiscing the famous words by Neil Armstrong. Paras, a solar energy expert, has successfully completed the first ever ride by scaling the highest known motorable road in the world, 'Khardung La Pass at 18380 ft.' on a Solar charged electric scooter. Paras and his GHE teammate, Jaideep Bansal, achieved this feat on electric bikes called YObykes sponsored by India's largest EV Manufacturer Electrotherm (India) Limited. This was the world's first journey to the 'Highest known Motorable road in the world - the Khardung La Pass at 18380 ft.' on a battery operated scooter. The feat was achieved in 4 hours 12 minutes on 14 September, 2015 (included 1 hr break for refreshment and proactive charging of scooters) The objective – to promote transportation based on clean energy, such as solar operated battery scooters, in popular tourists destinations, while curbing pollution and associated health issues. The E-scooters are manufactured by the Automotive Division of Electrotherm Limited in India, are called YObykes and sports a 1 KW motor with a peak carrying capacity of 1.8Kw, good for the local terrain of Ladakh. The bikes were specially customized for the Ladakhi terrain and perform at a gradient averaging 4.6 degree and above. An engineering marvel, the Yo Bikes from Electrotherm are absolutely a 'Made in India' product, bolstering the National Electric Mobility Mission (NEMM) 2020 objectives. According to Basant Vaishya, Sr Vice President and SBU Head - Auto Division Electrotherm (India) Ltd "We are very proud of team GHE's feat of scaling Khardung La Pass on YObykes. This achievement has proven that if Electric YObykes can perform at such difficult terrains, gradient levels and climatic conditions they have the potential to perform phenomenally in the city traffic for our basic transit needs. This also clearly indicates at ET-Auto divisions' strong R&D capabilities and our abilities to produce such powerful vehicles which are comparable with any tough automobiles machines, which conquer such heights. Clean energy is the need of the hour and with growing concern regarding vehicle pollution & high operating cost of two wheelers Indian consumers have already started switching over to low cost & environment friendly electric two wheelers. The region has seen a major upsurge of tourism and associated vehicular pollution, such interventions can definitely help the region reduce emissions and also be a very good transit medium for the city youth and tourists. Yo Bikes were introduced at the Annual Ladakh Marathon last week and created quite a buzz amongst the city youth The 2 bikes in the region will be used for promotion and test runs, for which are already receiving an overwhelming response and have already started acknowledging enquiries from interested individuals and dealers." The infusion of such clean energy interventions are imperative in a region where the population is facing serious environmental and health issues, resulting from pollution caused by commercial vehicles. The number of vehicles are rising every year and the low oxygen content at that altitude increases the fuel consumption by vehicles, a dangerous situation for the fragile ecosystem of Ladakh. Such clean modes of transport will help reduce the fuel emission and generate awareness in the local populace about the alternate source of energy. These electric bikes, introduced at the 2015 Ladakh Marathon, will primarily be used to create awareness and educate the local youth on alternates to fossil fuels. The Bikes are currently being tested in Ladakh for a month before it will be made available for local population. ---