Gerrari Offroaders win second edition of JK Tyre Xtreme 4Play
Chandigarh's Gerrari Offroaders claimed victory at the JK Tyre Xtreme 4Play event at their hometown, and were declared champions after two days of gruelling off-roading.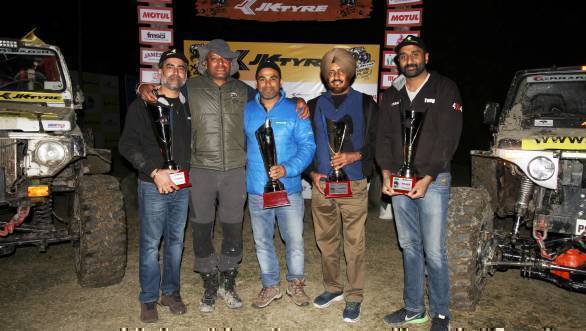 JK Tyre Xtreme 4 Play 2nd Affair winners - Gerrari Offroaders Gurmeet Singh Virdi, Kirpal Singh Tung, Kabir Waraich, Yuvraj Tiwana
Kabir Waraich and Gurmeet Virdi, aided by their navigators Yuvraj Tiwana and Kirpal Tung, took a total of 569 points, taking home the win, and a prize money of Rs 1.5 lakh. The Gerrari foursome took victory in four of six stages.
Second place went to Bangalore Offroad Drivers' Association (BODA), whose second team led by Satish Kumar and Madhusudan Reddy managed to amass 465 points. Mumbai's Team Fairmont took third place with Cedric da Silva and Aster Dias in one car, and Sameer Chunawala and Pratik Prabhudesai in the other car.
Team BODA's Satish Kumar, Yanrenthung Jamio, Madhusudan Reddy & Ramesh won the first runner's up trophy in the JK Tyre Xtreme 4 Play 2nd Affair in Ropar, Punjab today copy
Gerrari Offroaders won the first stage of the event, which tested team work and driving skills too, with the two cars climbing a hill, one from the left side and the other from the right side, with the help of a winch. On the second day, the team won three of four stages, managing to build up a lead that ultimately helped them win the event. The duo managed to take home all 100 points on offer in these three stages. The third day saw the team finish the water crossing stage to take home the win.
Results:
1. Gerrari Offroaders - Team 2A: Kabir Warcha, Yuvraj Tiwana; Team 2B: Gurmet Singh Virdi, Kirpal Singh Tung
2. BODA - Team 9A: Satish Kumar GC, Yanrenthung Jamio; Team 9B: Madhusudan Reddy C, Ramesh
3. Team Fairmont - Team 22A: Cedrick Jordan Da Silva, Aster Dias; Team 22B: Sameer Chunawala; Pratik Prabhudesai
4. KTM Jeepers - Team 10A: Dhanush S, Arun Vasu Prasad; Team 10B: Anand Manjooran; Vishnu Raj
5. BODA - Team 1A: Siddartha Santosh, Prithviraj A; Team 1B: Lokesh Shivaraja, Rohith KR