Frequently asked questions about the Royal Enfield Himalayan
The Royal Enfield Himalayan, as we never tire of saying, is the company's first all-new motorcycle in decades. The chassis is brand-new, the engine is brand-new and the proposition, most importantly, is without peer as well. Royal Enfield claim that the Himalayan is an adventure tourer designed to go into the Himalayas. They also say that they didn't want a very extreme motorcycle because they wanted the Himalayan to be, "your only motorcycle."
If you haven't already, we suggest you read our first ride review and/or watch our first ride video as well. I suspect you will find that aside from a lack of power, the Royal Enfield Himalayan promises to be a competent motorcycle with an intensely likeable flair. Royal Enfield has managed to blend capability with a puppy-dog friendliness that makes the Himalayan an un-challenging proposition even for new riders. That combined with a low price is a very juicy idea indeed. But what you should see from the story and video is that in trying weather conditions and off-road/bad-road route selections, we weren't able to push the new LS410 hard. So there wasn't any highway cruising, no extended top gear work and that reduces our ability to paint as complete a picture of the Himalayan as we normally would after a first ride.
And now, without any further ado, here are the questions we received and the expanded versions of our answers to them.
Can ABS be retro-fitted to the current-spec Himalayans when Royal Enfield introduces it?
We asked Royal Enfield about ABS being missing from the specification. Royal Enfield's answer was simple. They said that they did test ABS and that they'd be ready to offer an ABS version of the motorcycle as and when the law required it. As of now the government appears to intend to make ABS on 150cc and bigger motorcycles compulsory from 2017. I say "appears to intend to" because as it is with these things, this will not happen until it happens so I've my fingers crossed. Handing new motorcycles to utter rookies without a safety net is just a bad form on the part of manufacturers. To be fair though, no manufacturer has ever led this battle from the front. They've always waited for the law to make things like ABS mandatory before offering them. This is altogether more important when you realise that the majority of Indian motorcycle buyers would not pay Rs 15-20,000-odd for ABS of their own free will. As with helmets and other stuff, it has got to be rammed down their throats by force.
Back to the Himalayan and the possibility of you being able to purchase a Himalayan now and then buy the ABS brake 'kit' and upgrading later. In theory, anything can be done. You can, in theory, buy a KTM 390 engine, bolt on a turbocharger, fit that into the Himalayan's split cradle and have yourself a 100PS adventure tourer. And in the same theory, you can retrofit ABS to any motorcycle as well. In practice though, it's a house of cards. ABS is a mission-critical system and it's a complex, expensive system to hack back into a motorcycle. We would not recommend it.
Is a fuel-injected Himalayan coming?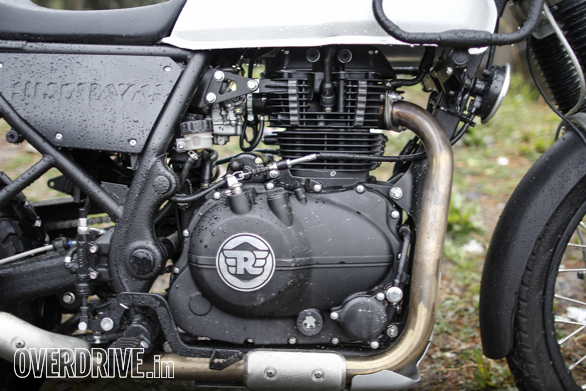 Yes it is. But it may not be soon enough for you to postpone your purchase. The Delhi two-wheeler registration fiasco clearly underlines that like the Bajaj V15 and Suzuki Access 125, the Royal Enfield Himalayan is also a BSIII engine. That's legal right now. But come April 2017, all motorcycles and scooters, whether existing models or new launches will have to meet BSIV norms. The collective wisdom seems to suggest that fuel injection will be more or less inevitable at this point. Obviously, there will be manufacturers who will find other, less expensive ways, to meet the norms. You can be sure that Royal Enfield has worked with fuel injection in the Himalayan's development and that they'll be ready to offer a BSIV-ready Himalayan, most likely fuel injected next year.
What's with the broomstick forks?
The broomstick forks isn't our coinage - they're genuinely something someone else - I cannot name this person - thought up. Well, this person needs to examine his premises. They're 41mm conventional telescopic forks that offer no adjustment. That's not insubstantial equipment by the India standard of motorcycles. The KTM 390 Duke's forks are only 2mm bigger in diameter, for reference. The point is that they look like 'broomsticks' because they happen to be very long. It's that length that allows them to offer 200mm of wheel travel where most bikes barely manage 150mm. 200mm of travel means that when the front wheel hits a bump, the suspension can permit it to travel a full 20cm before it hits the suspension's limit. 200mm is a lot.
What's even better is that the suspension setup on the Royal Enfield Himalayan is very mature. It is built to cost and therefore basic. But it knows its job. At the bottom, small bumps are de-stinged and transmitted so you get this stiff-feeling, feedback-rich ride quality that downplays the natural wallow that a long, soft suspension can have. It also takes away the usually remote feeling that long suspension also brings. But when you hit a large bump, you see the astute tuning because the Himalayan is able to shrug that off. So quit name-calling and see the forks for they really are - budget forks that really do a great job.
Will it cruise at 120kmph down the highway?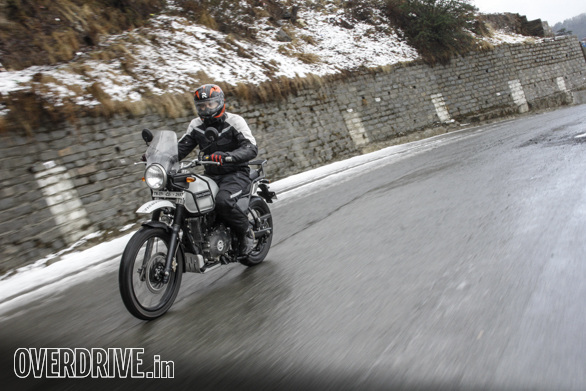 I wish I had a definitive answer but I do not. 24.5PS and 182kg certainly don't make a big promise when it comes to a high speed cruise-ability. Top speed is claimed to be 130kmph, so 80-100kmph cruising should be possible. How will the experience be? I cannot be certain until we road test the Royal Enfield Himalayan. What we do know is that it is a smooth motor to almost 4,500rpm without any significant vibration. This shouldn't surprise you, the LS410 wears a counterbalancer. The vibration that starts past 4,500rpm doesn't get serious for another 1,000rpm give or take. Aurally, the engine sounds rougher after 4,000rpm but this harsh sound only persists during acceleration and smoothens out once you back the throttle off and just hold a speed. Now you have as much information on this as I do. I suspect 100-105kmph cruising will be smooth and anything faster will feel strenuous. That said, I was hoping for more. I think a bike with a 130kmph cruise is essential. For us, because it guarantees 100-120kmph cruising will be smooth. For RE, because that's the highest speed limit on most international highways and that's where you cruise.
Tell us about the vibration, surely there's some?
You're about to be disappointed. See the question and answer above.
Also from OVERDRIVE on the Royal Enfield Himalayan:
2016 Royal Enfield Himalayan first ride review
Video: 2016 Royal Enfield Himalayan first ride review
Image gallery: Royal Enfield Himalayan
Image gallery: 2016 Royal Enfield Himalayan details
Videos: 2016 Royal Enfield Himalayan
Spied: Royal Enfield Himalayan on the assembly line
Royal Enfield Himalayan gets ready for debut
Royal Enfield Himalayan to be showcased in India on February 2, 2016
Royal Enfield Himalayan unveiled
Price (Ex-Delhi)
Starts Rs 2,01,000
Price (Ex-Delhi)
Starts Rs 66,739
Price (Ex-Delhi)
Starts Rs 2,52,928
Price (Ex-Delhi)
Starts Rs 64,800