Formula E: Victory and a podium for Mahindra Racing at season-opening Hong Kong ePrix
The season-opening round of the fourth season of Formula E was held at Hong Kong. There were two races held over the course of the two days, and the races brought good results for the Mahindra Racing team. The first race on Saturday saw Nick Heidfeld finish third. While Felix Rosenqvist finished Sunday's race second on track, but was promoted to first position after initial race winner Daniel Abt was excluded from the results due to a technical infringement. This also means that Mahindra Racing now has 44 points after the first round of the season, moving them into first place in the Formula E championship.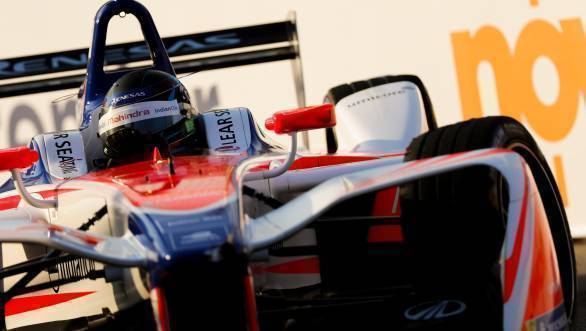 Nick Heidfeld finished third during the first race of the Hong Kong ePrix (Photo: Shivraj Gohil)
Race 1 on Saturday, however, was a mixed bag for the team. While Nick Heidfeld managed to make it to third place on the podium, behind winner Sam Bird and second-placed Jean Eric Vergne, it was disappointment for Felix Rosenqvist who had a non points finish due to a technical infringement.
Heidfeld on the podium, receiving his third place trophy for Race 1 at Hong Kong. (Photo: Shivraj Gohil)
In Race 2, pole-man Felix Rosenqvist had a spin at the first corner, after which he was down in 11th place. However, the Swede clawed his way up the order and ended the race second, one place behind Daniel Abt. Later on, when Abt was disqualified, Rosenqvist was promoted to first place. Edoardo Mortara finished second, while Mitch Evans took third place.
Felix Rosenqvist finished second on track, but was promoted to first place after initial race winner Daniel Abt was excluded from the results due to a technical infringement
Speaking after the races, Mahindra Racing team principal Dilbagh Gill said, "Although we made a few mistakes and let ourselves down a bit, I'm happy that the team has picked up where we left off last year and that we have been the first team in the short history of Formula E to record a perfect score of pole position, race win and fastest race lap. We could have had even better results from the whole weekend, but for now, we're happy with the race win, the podium, pole, and fastest lap. I'm confident that we've got a product that's going to be strong and very competitive for the whole season."
Dilbagh Gill, team principal, Mahindra Racing, is naturally pleased that they're leading the team's championship after Round 1
Heidfeld, who scored the team's first podium of the season said, "On Saturday, I had a perfect launch off the line, and a very quick pitstop resulted in a strong podium position, but possibly, it was one of my most disappointing career podiums ever, because I had such a quick car, but Jean Eric-Verge did some solid defending in front of me, and although I pushed to the limit I couldn't quite make it past him. In the second race, I was unlucky to face a technical issue that required me to stop temporarily on the circuit and reset, and hence not bring any points home. The positive thing to take away is that we have a car that is really good and quick, and we have 12 more races head of us, so we can make them count."
Felix Rosenqvist at the season-opening Formula E race in Hong Kong (Photo: Lou Johnson)
"We haven't really had an idea of what our M4 car is like on a street circuit until now, but this weekend really showed that we have the pace to be very competitive," said Rosenqvist. "For sure, we made a few mistakes, but we also got a lot of things right," he continued. "I struggled with my brake balance through the weekend, and I feel we could have been even better, but for now, I'm happy to start the season like this. The pole position, win and fastest lap shows that we can mount a serious challenge this year, and that we're ready to work hard and go for both championship titles," he concluded.
The Formula E series now heads to Africa, for the Marrakesh Grand Prix in Morocco, that will take place on the 13th of January, 2018.