Ford Mustang Bullitt limited edition pays homage to Steve McQueen and the greatest car chase in cinema
Ford Motor Co has pulled out all the stops to commemorate 50 years of the most legendary car chase sequence in cinema. To celebrate 50 years of the 1968 film Bullitt, Ford has launched a 2018 Ford Mustang Bullitt limited edition. Painted in the same understated dark metallic green as the original 1968 car, the Mustang which Steve McQueen drove in the film, to chase down the baddies in a Dodge Charger. Not only that, Ford has even located the original 1968 pony car and shot it alongside the newly-launched 2018 car for the Detroit Auto Show, aka the North American International Automobile Show (NAIAS). Mind, this is no show pony. For, Ford Motor has also updated the specs on the Ford Mustang Bullitt limited edition car with manual transmission, the same white cue ball-style gear shifter knob as in the original among performance upgrades.
The biggest nod to the car of yesteryear is the lack of badging on the 2019 limited edition Mustang just as the original. The 2018 Ford Mustang Bullitt also receives all the Mustang GT Premium and Performance Package options, bumping the horses to 482PS, and 570Nm. This gives the car a 13kph bump in top speed to 263kmph. There were two of the original cars, one of which was used to perform all the stunts, while the clean car was kept ready for closer shots. The stunt vehicle was sold to a salvage yard, while the other car vanished for good. Ford has managed to trace down the stunt car and showcased it alongside the new avatar. Deliveries of the Bullitt Mustang with the Dark Highland Green paint are expected by mid-2018.
Here are some more images for you: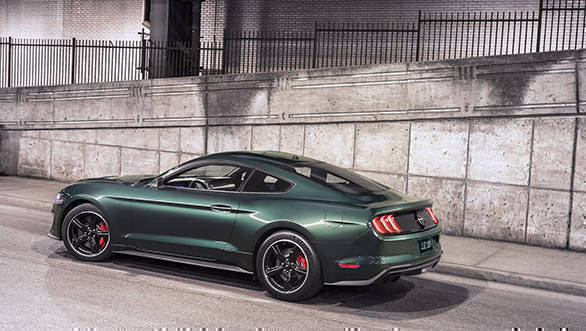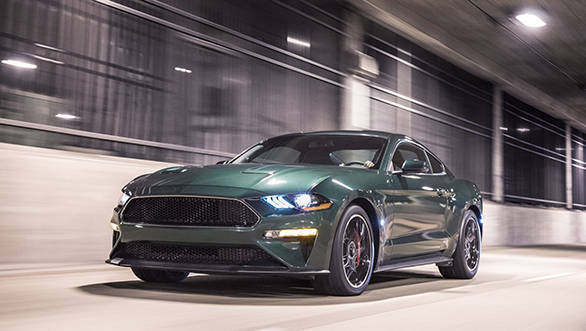 Price (Ex-Delhi)
Starts Rs 74.62 Lakhs
Related Stories