Ford building new centre of excellence for training in UK
Ford Motor Company is constructing a new state of the art training facility at its site in Daventry in the UK. The company is investing millions of pounds for this purpose and has also announced a new higher apprenticeship course in IT.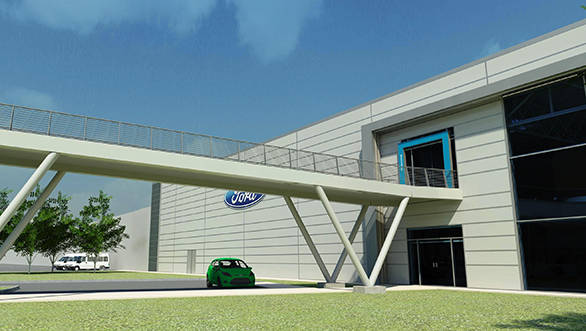 Rendering of new training facility
The facility will be constructed in addition to the huge Parts Distribution Centre (PDC) present there. It will be a single facility, combining what is now the Technical Training Centre and the Henry Ford College. The new establishment will be based on the design of the new look Ford showrooms and will have a 200-seat auditorium, classrooms, vehicle showroom area, restaurant and a lounge area apart from the 'Hello' and 'Relax' areas at the reception.  The construction work will likely be completed by the end of the year and the facility will open by early next year.
Renderings of showroom
The new installation will become the company's training centre of excellence in the UK. Ford will be training adults with courses for various levels ranging from learner, diploma, degree and the quite popular Ford Masters Apprenticeship Programme. Ford trains and recruits students from its various programs for its dealer network in the UK, with the Masters Apprenticeship Programme recruiting as many as 450 apprentices annually.
Rendering of entrance lobby
Jon Wellsman, director, Ford customer service division, says, "With the latest Ford vehicles now demonstrating technology leadership, it is important that our dealer teams receive the highest quality technical and product training. This world-class new facility will enable us to do just that."
Renderings of restaurant
FORD INVESTS MILLIONS IN NEW STATE-OF-THE-ART TRAINING CENTRE
BRENTWOOD, Essex, 12 May, 2014 – Ford is creating a new, state-of-the-art training facility on its existing site in Daventry, Northamptonshire, as part of a multi-million pound investment. The new site will merge the capabilities of two existing Ford colleges – the Technical Training Centre located separately at Daventry, and the Henry Ford College in Loughborough, which provides training for technicians, sales staff and management throughout Ford's national dealer network. Scheduled to open next year, the brand-new centre will replace the existing facilities to become a centre of excellence for training across the country. The new building forms an extension to the existing 150,000 square-metre Parts Distribution Centre (PDC) on the Daventry site. It will deliver courses to adult learners up to Diploma and Masters Degree level, as well as students taking the successful Ford Masters Apprenticeship programmes. The building will include classrooms, a 200-seat auditorium and a vehicle showroom area, in addition to a lounge and large restaurant. Both the interior and exterior of the building will follow the design and style of the new-look Ford dealer showrooms, including 'Hello' and 'Relax' areas in the reception. Jon Wellsman, director, Ford Customer Service Division, said: "With the latest Ford vehicles now demonstrating technology leadership, it is important that our dealer teams receive the highest quality technical and product training. This world-class new facility will enable us to do just that." Ford is simultaneously announcing a series of engineering and business apprenticeship programmes, including a newly-established Higher Apprenticeship in IT, in addition to the extremely successful Masters Apprenticeship Programme, which recruits 450 new apprentices into the Ford dealer network every year. Construction on the new site is expected to be completed in December 2014, and is scheduled to open in early 2015. Ford College manager, Stuart Harris, said: "This new training centre is a fantastic opportunity to consolidate our industry-leading training programmes, enabling us to provide face-to-face tuition in a real-world working environment." # # #