FIA Formula 3 Championship: Jehan Daruvala claims victory in Barcelona
The season-opening round of the all-new FIA Formula 3 Championship got off to a good start for Indian racing driver Jehan Daruvala. Jehan, who competes for the Prema Racing outfit, won the second race held over the course of the weekend, having finished seventh in the first race.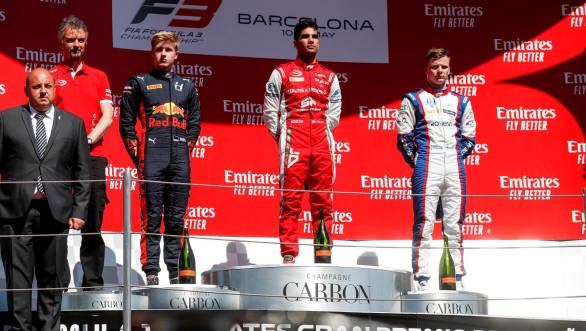 Daruvala on the podium, flanked by second-placed Juri Vips and third-placed Niko Kari
With the reverse grid format being used for the second race, Jehan started second on the grid, and was able to move into the lead in the run up to the first corner. However, the Safety Car was sent out onto the track during the first lap because of an accident that involved four cars at the back of the grid. When the race was restarted, Finnish driver, Niko Kari, was able to benefit from being in the slipstream of Jehan's car. This meant that the Indian driver had to defend hard in order to keep his lead. However, over the next two laps, Jehan managed to open up a gap of over 1.5 seconds, allowing him to move away from the clutches of the chasing driver.
Prema Racing driver, Jehan Daruvala, leads the field at Barcelona
Unfortunately for Jehan, a second Safety Car situation negated the advantage he had built up. But, when the race was restarted, he managed to pull away quickly, opening up the gap at the head of the order to over 1.5 seconds. From thereon, Jehan was able to lead comfortably, even claiming the fastest lap of the race. He crossed the chequered flag 2.121 seconds ahead of Estonian racer Juri Vips who finished second.
Speaking of his race, Jehan said, "During the race I was, let's say, in control, except for the first restart when I didn't surprise the guy behind, enough, so I had to defend. After that, I was just managing the pace. I have to thank everyone at Prema Racing for giving me a fantastic car. I did not overdrive it, although if I needed more I could have pushed in the final couple of laps."
The all-new FIA F3 Championship was created by merging the GP3 Championship with the FIA F3 European Championship, resulting in a 30-car grid. The next race of the series will take place at the French Grand Prix from 21 to 23 June.