FIA F3: Jehan scores Spielberg podium
Jehan Daruvala has managed to continue his podium streak in the FIA Formula 3 championship in 2019. The Indian driver had already finished first in the sprint race at the Catalunya season-opener, and claimed first in the feature race at Paul Ricard as well as third at the sprint race at the same track. He followed this up with a second place finish at the Red Bull Ring in Spielberg, Austria.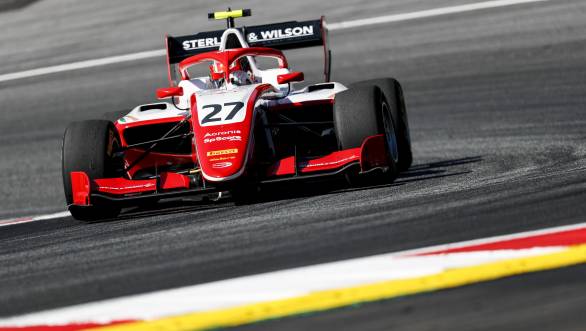 Jehan Daruvala, Prema Racing. FIA Formula 3 Championship, Red Bull Ring, Spielberg, Austria. 28th June 2019.
In qualifying, Jehan was able to qualify fourth out of 30 racers with a lap time of 1:19.934. In a very competitive grid, where the first 22 racers were within one second, it was Jehan's Prema team-mate Marcus Armstrong who was on pole.
During the race, the Indian driver got off to a good start. He tried to overtake into the first corner, but wasn't able to. The leading drivers were Armstrong, Max Fewtrell and Juri Vips. Eventually it was Vips who would win the race, with Fewtrell second and Armstrong third. Despite Jehan's best attempts to get past Armstrong, he wasn't able to, and had to settle for fourth place.
Jehan Daruvala, Prema Racing. FIA Formula 3 Championship, Red Bull Ring, Spielberg, Austria. 30th June 2019.
The reverse grid for the second race meant that Jehan started fifth. When the race began, he was side by side with Armstrong for the first corner. However, Brazilian driver Pedro Piquet spun ahead of them, and while taking avoiding action, Jehan ended up losing positions and found himself down in eighth place.
He then began putting in a number of fast laps, and slowly carved his way up the order. First he picked off Lirim Zenaldi, then Leonardo Pulcini, and finally Fewtrell. A Virtual Safety Car situation over the last few laps meant that Daruvala needed to defend from Fewtrell. Eventually, Jake Hughes inherited the race win, after Schwartzman was handed a penalty for a collision with race-leader Armstrong. Jehan moved up to second place, to take his fourth podium in six races. The Indian driver is currently ranked second in the championship, with 82 points.
Jehan Daruvala, Prema Racing. FIA Formula 3 Championship, Red Bull Ring, Spielberg, Austria. 29th June 2019.
"A lot happened in my race as it was pretty hectic. In turn 1 Marcus and I were side by side, and I had to take avoiding action to go around the spinning car of Piquet. The car was good so I slowly worked my way up. I didn't expect the guys to make it easy but some battles got really close. It took a while to pass Zendeli and we fought a lot with Verschoor too. I got up to fourth, trying to break the DRS of Max. I almost did it but I also almost spun in the last corner, losing control of the car. That was lucky. Then the VSC came out and the final lap was sketchy as well. I knew that Max was in the DRS he was going to attack and I did my best to defend. Even if I'm second I'm not happy, because I wasn't in the fight for the win. I feel like the car was good enough. If I had a good clean start like the others I would have been in the fight for the win," said Jehan.