Ferrari unveils 1068PS, track only ultimate FXX-K
No, we aren't being rude, Ferrari has actually gone and named the track special version of the LaFerrari (another fun name there) the FXX-K. The naming pattern continues from the last gen Ferrari FXX that was based on the Enzo. The K that has been added refers to the KERS (Kinetic Energy Recovery System), or in simple words - the hybrid powertrain. Still, we're sure the folks at Ferrari had a good laugh when they came up with the name.
Like the previous FXX, the FXX-K will be a track only car that cannot be raced in any existing series and can only be driven by clients at specific test sessions organised by Ferrari. The FXX-K makes a whole 101PS more than the LaFerrari and the excess power has been drawn out of both the engine and hybrid powertrain. The 6.3-litre naturally aspirated V12 engine gets several changes including new intake manifolds, more aggressive camshafts and as a result now produces 60PS more for a total of 860 at a screaming 9,200rpm. The electric motor now produces 190PS of power. Total torque? That's in excess of 900Nm. Oh and Ferrari have removed any form of silencing from the exhausts which should result in some ear bleedingly loud aural sweetness.
One look at the FXX-K and you know there's some serious aero going on. The front end has a double decker spoiler with multiple fins while the rear end has an evil looking diffuser and a space age like retractable rear spoiler with smaller fins on it to guide the air more efficiently. Ferrari claims the FXX-K generates 540kg of downforce at 200kmph.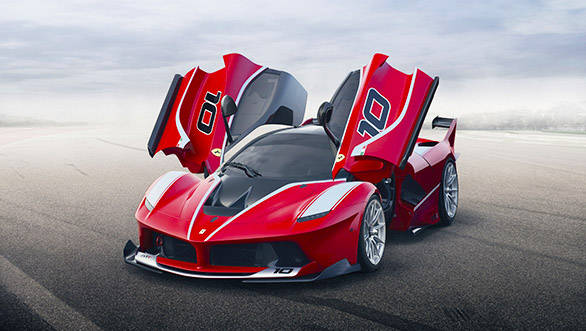 There's no mention of performance but given the extra power, improved aero and massive slick Pirelli tyres (345 section rears!), expect acceleration to be even more brutal than the road car. The tyres are so technologically advanced that they have sensors embedded in them that can relay information on grip levels, both longitudinally and laterally a.k.a in a straight line or sideways. This helps the comprehensive traction control system produce the maximum possible performance. Sensors in the tyres. . . that's how advanced this car is.
Ferrari won't say how many cars will be built or how much each will cost but going by the last FXX programme, expect less than 50 cars, each one costing about Rs 20 crore.