WRC: Memories of Kenneth Eriksson on his 60th birthday
Some drivers are always good value and never fail to impress, for their driving or their personalities. The Swedish driver Kenneth Eriksson is one of them. I have known Kenneth since he first came to the WRC scene as a works VW driver in 1986. That year he won the once-only rally Group A world championship, the next year he won the Ivory Coast Rally. That was the tragic event when Toyota lost some leading team personnel in a plane crash and withdrew from the event. Eriksson was leading the Toyotas before they withdrew, then headed off in the lead towards a momentous debut WRC win for Volkswagen. I got up in the middle of the night on the final morning, to make an interview with the probable winner at a pre dawn rest halt before he was engulfed in the inevitable maelstrom of post-event celebrations. Didn't do that very often!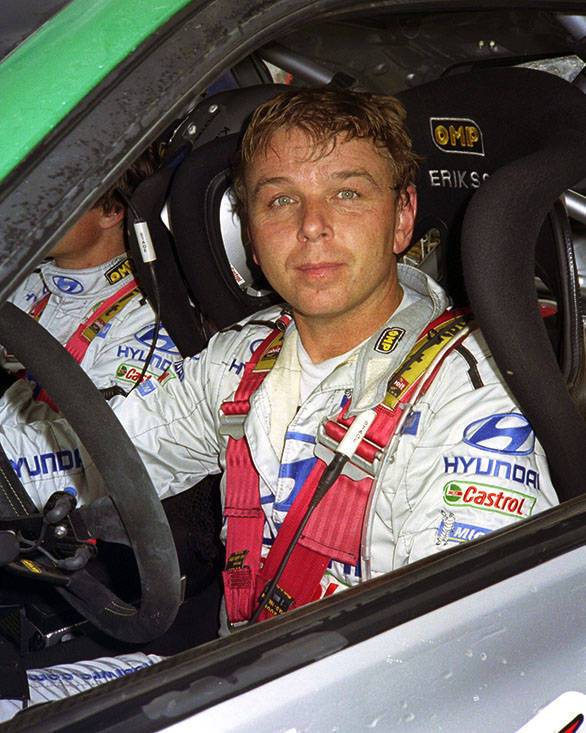 Kenneth Eriksson at the 31st Rally New Zealand - Hyundai's first moment of glory in the WRC
Kenneth moved on in the rally world spending two years with Toyota, four years with Mitsubishi and two years with Subaru, then four years with Hyundai and finally a year with Skoda. Hyundai were in those days in the formative days of international competition, happy to be finally active at World Rally Car level, even with cars which weren't fully competitive. New Zealand is a country where running order is critical, crews accustomed to employing self penalising efforts to avoid running next day first car on the road. After rival drivers incurred voluntary time control penalties, Eriksson enjoyed the moment leading overall on the Friday night, the first time any Korean maufacturer had been in that position. It really was exciting, so I telephoned a journalist colleague back in Sweden. Thomas Lindberg refused to believe me. I was standing close to Eriksson at the time and handed him my phone. All I could hear were expletives from Sweden, referring doubtless to midnight interruptions. Kenneth confirmed "all he talked about were stupid Holmes pranks, and I kept on telling him it was true, we were actually leading the rally!" It would be another fourteen years before a Hyundai won a WRC event, a long time after Kenneth retired from the sport at the end of 2002.
Eriksson and co-driver Peter Diekmann at the Ivory Coast Rally in September 1987, splashing through the stage in their Volkswagen Golf GTI
Kenneth spends his time these days at home in Varmland in a variety of pursuits including hunting, fishing, flying a helicopter and his homebuilt plane, and on specialist engineering projects. He celebrates his 60th birthday today.