WRC 2019 Rally Spain: Murphy's Law
Cameras ready, recorders in hand,
to capture a championship dream that's departed.
Like vultures we circle the garage,
scrutinising a team that's broken-hearted.
It's an odd sort of feeling to be watching, up close, as a driver's championship hopes come crashing down. On the one hand, we're right there in the Citroen Racing garage at the 2019 World Rally Championship round in Salou, Spain. We've essentially been given ringside seats to witness what could potentially be a six-time WRC champion clinching his seventh title. Instead, we see this - the other side of motorsport. Not the jubilation, the champagne showers, the whoops of delight. But, stiff upper lips, faces drawn with worry, and a grim mood that's gripped the garage. It's uncomfortable. And it's very, very real.
Sebastien Ogier in action at the 2019 WRC RACC Rally Spain
It's dark by the time Sebastien Ogier brings his Citroen C3 WRC back into the garage for the overnight service. It's been a very tough day in the office for the Frenchman. He'd begun the Friday well, setting the fastest time over the 7km long SS1 Gandesa stage. And then, almost immediately, things changed. On SS2 - the 19km long Horta-Bot stage - Ogier's car developed a power-steering issue, costing him 44 seconds. By the next stage, he's three minutes down. After SS4, a somewhat defeated Ogier says with the air of one resigned to his fate, "It's very difficult to keep the concentration as we have nothing to drive for."
All things considered, his reaction is perfectly understandable. His hopes of winning the rally have almost entirely crumbled, and his chances of that coveted seventh WRC title have all but disappeared. Of course, the opposition in the form of Toyota Gazoo Racing WRT, and their Estonian missile Ott Tanak, has been formidable to say the least. But this is Seb Ogier - the man who proved it was him, and not just the car. Four years and four titles with the mighty Volkswagen rally squad. And then, when VW pulled the plug on their rally programme in the wake of the dieselgate scandal, Ogier went to the privateer MSport Team and won a title in the face of factory opposition. Not just once, but twice. Now back at Citroen with whom he competed in his initial days in the WRC, another title was almost a given. Almost. But, ultimately, wasn't to be.
Seb Ogier was calm and composed and press-ready despite the fact that he lost the 2019 title at Rally Spain.
For someone who has effectively just lost a World Rally Championship title, Ogier is remarkably composed at the end of the day. He signs autographs and takes pictures with fans for a bit. And then, he finds himself ushered towards us, the flock of journalists waiting in the Citroen garage. He is polite. Someone asks why he's got bandages (presumably to prevent blisters) taped over his hands. He jokes that it's to make himself look a little like a boxer, and mock punches the air in front of him. He's then forced into another photograph or two. He's made to do a quick video saying "namaste" to India. If he really wants to hurl his helmet and gloves, and kick a tyre or two, he doesn't show it. He smiles through it all. And he then excuses himself, and even apologises for the fact that he can't do interviews at that moment, before finally withdrawing for the day.
***
The tools have been tucked away,
the driver is out.
The engine's been dismantled, boxed up, and shipped off,
the No.4 car's cover has now become a shroud.
Ogier isn't the only casualty on the Friday of the rally. His teammate, Finnish driver Esapekka Lappi has had a far worse day, with an engine failure forcing him out of the event. By the end of Friday, Lappi's car has had its engine plucked out of it, boxed up, and shipped back to Paris, where Citroen's finest engineers will examine it carefully to try and figure out what went wrong with it.
Esapekka Lappi was upbeat on the Thursday of the rally, seen here with rally-raid star Laia Sanz. On Friday, however, his rally fell apart
When we meet Lappi, it's around noon on Saturday. He's in his hotel, and, quite naturally, is not particularly thrilled to be missing out on the rally. I can't tell if his deadpan way of talking is to do with the fact that he's Finnish. Or if it's to do with the fact that he is, understandably, sullen. Maybe it's a combination of the two. "On Stage 5, the engine started to misfire, so it started to run with three cylinders. So after two kilometres or three kilometres, it stopped with a big smoke cloud, and huge 'clink clink clink clink' noises. I tried to go as long as I could but then it stopped," he tells us of the sudden end to his rally.
Lappi is young blood as far as the Citroen Racing team is concerned. And talented young blood, at that! He's got the 2014 European Rally Championship title under his belt, and the 2016 WRC2 title as well. In 2017, driving for Toyota, he claimed his only WRC win thus far at his home rally in Finland. According to Pierre Budar, the head of Citroen Racing, Lappi is the real deal. "Lappi is quite new in the championship in the WRC cars, but he has real potential," he tells us, emphasising again, "He's really impressive in terms of potential." But Budar also points out that while in the WRC talent plays a huge role, so too does experience. "I'm quite sure that Esapekka will be able to win several rallies next year. I don't know if he is able to fight for the championship, but step by step. First of all, he has to win some rallies."
Lappi running in the No.4 C3 WRC on the Friday of the rally. Note the number of Estonian flags in support for the man who would soon be crowned 2019 champion
Lappi is in an interesting position. For two years at Toyota, he partnered with Ott Tanak, who, approximately 24 hours after our conversation, will be crowned 2019 World Rally Champion. Now, he's teamed up with Seb Ogier. As far as having strong teammates goes, he's had the very best of them. (Incidentally, he also partnered with Indian rally ace Gaurav Gill back in 2013, the year that Gill won the first of his three APRC titles). As someone who has worked closely with both drivers, he's in a good position to tell us which of them might be the better driver. It's a question that he answers cautiously. "This year Tanak has been quite smart," he says. "Last year he was not smart enough. He was the fastest clearly, but a few times he actually kind of broke the car himself. I mean, yeah, outside it looks like the car broke, but it could have been avoided, let's say." But things have changed since, "He learnt a lesson last year, it looks like," Lappi says of Tanak. "And he realised he doesn't need to win every stage," he continues.
He's unreserved in his praise for Ogier, though. "Seb has proved six times that he is the best." And after thinking for a second he adds, "But Seb is really smart. Seb is really smart." So much so that he believes that Ogier himself is proof that the World Rally Championship is still very much a driver's championship. "Seb won with Volkswagen, which was probably the best car anyway. But then with Ford, straightaway, which nobody thought it was the best car. And now with Citroen fighting again. That proves somehow that it's more about the driver."
***
Handshakes and hugs all around,
shrugged shoulders and the odd sigh.
Not every season of racing,
can end on a high.
It's funny how some scenes that you witness in real life are genuinely just demonstrations of the scale on which happiness is measured. On one side of the WRC Service Park, the cup runneth over - there's pure celebration as Ott Tanak brings his Toyota Yaris WRC car into the garage. He's brought glory to the team by winning the driver's championship title. Somewhere in the middle of the service part, is the Hyundai World Rally Team who are celebrating winning Rally Spain, thanks to Belgian driver Thierry Neuville. There's cheering and a general sense of merriment, but not the absolute hysteria that one can hear emerging from the Toyota camp. And then there's this - the subdued mood within Citroen Racing.
Tough rally or not, Ogier still made the time for his fans
When Ogier and co-driver Julien Ingrassia bring their car into the garage at the end of the rally, there's a cheer from the crowd that's gathered there, and applause from members of the team. Grim though they may be, they do know that everyone has gritted their teeth and gotten on with the job, doing it as best as they can. Ogier and Ingrassia spend a good five minutes walking around the garage and shaking hands with every single member of the crew. He's just about to leave when he notices a little boy (who I've seen standing there for around an hour) waiting for him with a hand-drawn poster that bears the words "Vamos! Sebastien". Ogier goes up to him, has a quick word, signs the poster, and poses for a photograph. See, the record books will show facts and figures and statistics. The fastest stage times, number of stage, rally and championship wins, will all eventually be entered there, where they'll remain for all eternity in boring black and white. But the true essence of motorsport lies in the many-hued emotions that tell the stories that the statistics don't. For that little boy, Rally Spain will be distilled into this one memory. A memory of his hero, who, even in the depths of defeat, made time for him.
Around an hour later, we're at Ogier's hotel, awaiting our turn to interview him. When he does arrive for the interview, he seems very calm. I reckon that having three days to get used to the fact that he was not likely to go home with the championship trophy has something to do with it. But Ogier's philosophy, as I gather from speaking to him, seems simple. Fight as hard as you can, for as long as the battle lasts. And then accept the result. It's the sort of clarity of thought that can only come with many years behind the wheel. And the sort of self-assurance that comes with having already achieved a certain measure of success. "My philosophy has always been the same - I enter a competition, I always want to give my best. And I think the team has also of course tried their best. I think that in sport it can only be one winner at the end. And yeah, we had to face tough competition this year also, and at the end we didn't manage to make it," he says.
Despite which Ogier says that his hunger for winning hasn't diminished, not even after six world championship titles. "I think for sure you can say that when you are chasing the first one you are may be, how you say, more hungry for it than afterwards. But still when you have this spirit of being a competitor, fighter - you don't like to lose, you always try to stay in this position anyway." Time also equals experience and wisdom. "And then on the other hand, you have the experience helping you to be stronger, and you have also maybe the calm of already having done it," he continues. "I guess at the end it is still better… A little bit like wine. When you are ageing in rally, normally you have a good chance to get better," he laughs.
Ogier seen in action at the Riu de Canyes stage at WRC Spain, in what would eventually be his final rally with the Citroen team, with a move to Toyota soon after
It's no secret that most motorsport athletes work hard. Rally drivers are no exception. But Budar and the Citroen crew agree that Ogier's input goes far beyond hard work. Instead, he says, Ogier and Ingrassia have a commitment to perfectionism. It's not a quality that came with success, it's the quality that has led to success. Ogier says that his need for perfectionism is inherent. "Sometimes it can be a bit hard because we are very demanding to the people," he says referring to the team and the crew, "as we are demanding to ourselves. I always try to analyse what I am doing wrong. And even when we win, we always try to work and see what we can do better for the next race, and I think that's the way to stay on the top and to stay competitive in a world championship."
To say that Ogier's been consistently competitive in the World Rally Championship since way back in 2013 when he claimed his first title is an understatement. He's actually maintained something of a stranglehold on the sport ever since. His grip has only loosened a little in 2019. And given what happened at Rally Spain, it really does seem like his hand was forced by mechanical issues. But Ogier is a true champion, and acknowledges that there's a certain standard to the competition in the WRC right now, which boasts a very talented crop of drivers. "Well, of course you have to mention Tanak - he is world champion this year and you never become world champion without talent," he says. "So for sure he's a very good one. But I think the competitiveness of the championship is very interesting. In the moment, you see, there are many drivers capable of going very fast and winning rallies. It's about having the consistency as well, and the last three years now, it's often a fight with Neuville, Ott, and us. So yeah, there is a chance that it will continue like this in the future," he says.
A future that, at the time of going to press, still seems somewhat uncertain. Citroen assures us that they still very much have a contract with Ogier for the 2020 season. Ogier seems to imply that he plans on seeing his one year out with Citroen, and then retire. The rumours, however, still circulate that he's off to Toyota to replace Hyundai-bound Tanak. I ask if, despite saying that 2020 is going to be his final season in the WRC, he's ever tempted to stick around for as long as it takes to equal or beat that "other" Sebastien.
"Honestly no," he says when talking of Loeb's nine titles, "because in my eyes this record is not really important. Because in my eyes I had already more than what I would have dreamt some years ago. I am very proud already of what I have achieved. Of course, you always want more...." he says. "But in the end, I already made this decision, you know, to try to go somewhere else, do something else. There are so many things I still want to do in my life, and yeah, of course, I will always do my best to finish on a high next year," he says.
__________________
Fire, smoke and mirrors,
the future's beyond a fog through which you cannot see.
Crystal balls and tea leaves won't tell the truth,
whatever will be, will be.
Rally Spain was meant to be the penultimate round of the 2019 WRC season. Then catastrophic bushfires broke out across Australia, with tragic consequences and widespread destruction. Holding the WRC season finale there, given the conditions, was simply out of the question.
Over the course of our conversation with Ogier, he talks of how the world has changed in his time in the WRC. "Obviously in eight years a lot of things change and also the context of the whole world has changed," he says. Motorsport, despite the fact that it drives technology forward, is increasingly coming under the scanner for the consumption of resources. There's a high emphasis on efficiency now, certainly more so than there was a few years ago. And the entire automotive industry seems to be headed the electric or the hybrid way. WRC is meant to follow suit. Rumours abound about the possible hybridisation or electrification of the sport. And clarity from the FIA about the rules for the 2022 season is yet to arrive.
Pierre Budar of team Citroen Total WRT celebrates after winning the Rally Monte-Carlo
The lack of clarity, is worrying for teams like Citroen, who need to know what the rules are, before they can commit to their future in the series. Budar says there is concern about whether the new regulations will be ready by December, which the teams believe is of utmost importance in order for them to have enough time to begin designing and building their cars. "Because if we need to go with this new regulation, we have to start development in March or April next year. So it's very very soon. How can we decide to go for it without any clear regulation. So, December is really a milestone they cannot push forward. It's impossible for us," he tells us. He also adds that the sport needs to head in the electric or hybrid direction in order for Citroen to stay in it. "Our first priority to be able to stay in WRC, for the brand, is to be able to use it as a marketing tool, as it is today. This marketing tool has to be in line with what the brand has to develop and sell. And as you know, European regulation, we have no choice than to sell electric cars, hybrid cars. It will be the first priority for the brand for the coming years. So WRC has to be in this direction. If not, there is no point."
But naturally, there are a few concerns about the way forward. Lappi is skeptical about the fact that the cars will have to be fitted with big batteries that could potentially be dangerous. "I don't know how it's possible, if for example if we crash the car, and there is some electricity going off in the car," he says. The reason for his concern, isn't just the safety of the crew in the car, but also the safety of spectators, who often come to help drivers who are stuck in ditches, or have turned turtle. "You know, for me it's too many question marks about the danger, but probably they will solve it," he says, adding, "I am not an engineer, I don't understand anything about this, but I believe something must be changed for the future, and I hope they can do it in a safe way."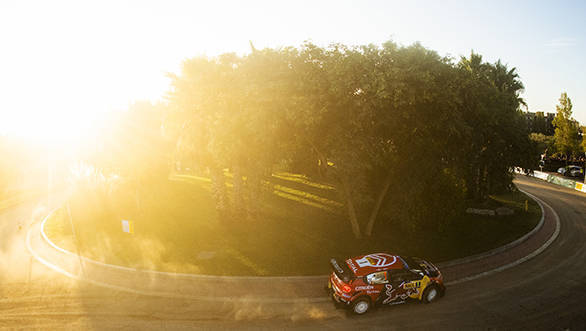 Sunset on Ogier's time with Citroen?
Ogier seems more enthusiastic as far as the changes are concerned. "At the moment, we all know the world is facing a major problem," he says. He talks of how the automobile and motorsport industries have already headed in the right direction, adding that rallying seems to be lagging behind a little. "I'm not sure that electric is the key for the future, but that's one of the elements we need to use right now. And that's what looks better at the moment. But I think in the long term there will probably be better technology coming." And then he adds, "I love nature, and I love the world, and to be honest I'm very concerned also by this topic. So that's something I will definitely be involved in, in the future."
We don't get a chance to ask Ogier what he really means by that, or how he plans to ensure his involvement in the evolution of rallying as a sport, with a retirement on the cards at the end of 2020. This, because he's got to rush off and do whatever it is that rally drivers need to do after exhausting rallies, and in this case, a cruel defeat. Instead, watching him rush off, I find myself thinking of Ogier's resilience. Of how he dealt with, by his own admission, the feeling that the world around him had come crashing down at the end of 2016, when, as four-time WRC champion, he was hung out to dry when VW quit the sport. He'd said that in retrospect, he was happy that things happened exactly the way that they did. It taught him, "you have to use every situation, even if it looks bad at the moment, to maybe make it even better." Sage advice, and a beautiful way of looking at life. After all, what he's just described, is something akin to hope. Murphy's Law or not.
Price (Ex-Delhi)
Starts Rs 9.29 Lakhs