WRC 2016: The quirky cars we didn't get to see in China
The cancellation of the 2016 WRC China Rally means that a major chance to see first-hand some completely different rally cars has been lost to the international world. The national Chinese Rally Championship has for many years been an impressively supported series in terms of variety and exclusivity of cars anywhere, but now the only chance the foreign rally media will get to see these cars first-hand has been when the FIA's Asia-Pacific Rally Championship goes to China.
This year this meant going faraway to the edge of the Gobi desert, close to Mongolia. This helps explain why many of these cars remain little known outside China. Brian Young of Asia Pacific Sports Media, however, was present at the APRC round at Zhangye and secured this collection of images of seldom-seen cars while he was there.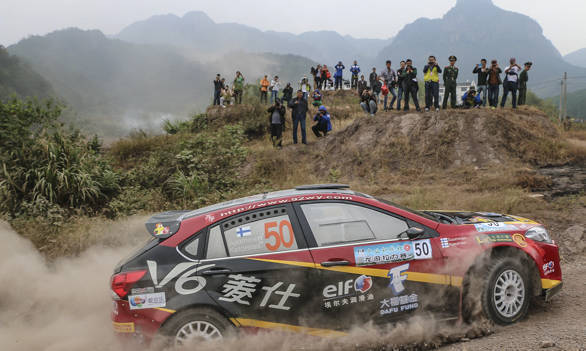 Jari Ketomaa puts the SouEast Ling Shi Turbo V6 through its paces
The JAC Refine S2 was the top car at Zhangye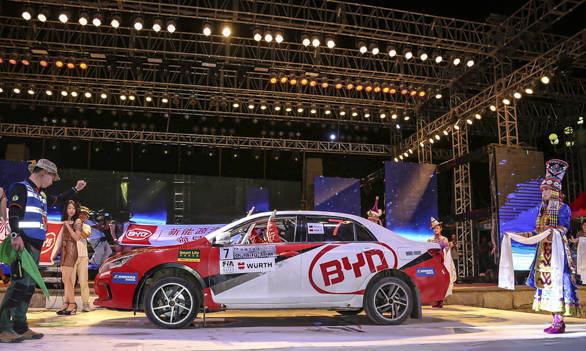 APRC start Mike Young's Hybrid BYD Qin
Chinese national rallying runs to its own rules and classes. The premier class is the S6, which is a surprisingly free formula based on production cars. Their main protagonists are the national FAW-VW team, which run special 2.0-litre turbocharged Golf cars built by Prodrive in Britain. These cars are fitted with old Skoda Fabia WRC engines supplied by Lehmann, and use a lot of Mini WRC components. These cars finished first, fourth and fifth.
Their main rival team is the Subaru Rally team using a latest version Impreza prepared in America by Subaru Rally Team USA, using two cars. One a 2014 version of the American championship Impreza WRX STI 2014, and the other a new modified XV. The biggest team is the Beiqi Saab Rally Team, who run Beijing Automotive Saab D50 cars. These are BAIC Senovas, which are based on old Saab 9-5 cars, but fitted with Mitsubishi R4 drivetrains, Holinger 6-speed sequential transmissions from Australia and Evo X transmission parts. Another local but older model still used in CRC rallying is the SouEast V6 Ling Shi Turbo which, despite its name, was based on a locally made four-cylinder Mitsubishi Lancer Evo X. A team that had been active till the end of 2015 ran a turbocharged version Skoda Fabia S2000, but they have now stopped competition, though two of the delightfully named Shanghai Volkswagen Skoda New Crystal Sharps (new Fabia shape) were entered by the Linky Racing team.
The line-up for the China Rally included Polos, Lifans and Swifts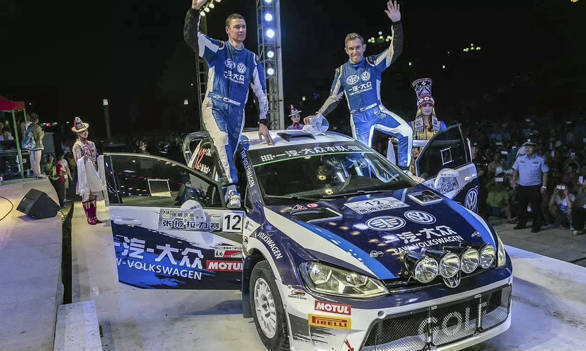 Former APRC Champion Chris Atkinson and navigator Dale Moscatt pose with their VW Golf
The wide range of cars continues in the supporting classes. The top non-S6 cars in Zhangye were various Subaru and Mitsubishis in familiar Group N or Group R4 specification, while Manfred Stohl runs a team of Citroen DS3 R5 cars, which at Zhangye were run in the FIA APRC category which Stohl won outright. The top S4 cars at the event were two-wheel drive Dongfeng Honda Civics, which took the top three places in their category, while another familiar shape won S3, the Volkswagen Jetta, heading three locally built Volkswagen Golfs.
It was further down in the supporting classes, and especially the popular S2 category that really unfamiliar cars were found. Top car at Zhangye was a JAC Refine S2 which finished first, third and fourth, but the winner was only 15 seconds in front of a new Chang Yi Moving XT. Among the curiosities of the category were a couple of rare small passenger Proton-derived Youngman Lotus L3 cars, which are no longer being produced. The smallest class was S1 in which the winner was a Lifan 520, a model already seen in competition last year in the FIA Codasur championsip events.
Rivals were the familiar shapes of a Changan Suzuki Swift and Volkswagen Polo. Perhaps the most unusual category is the special class for hybrid cars, all of them being BYD Qin cars. These cars require special electrical recharging facilities in parc ferme situations. Zhangye saw nine of these cars were entered, one of them running in the parallel APRC rally. Entry levels for CRC events are impressively high, a total of 121 for the recent Zhangye event in addition to the entries for the APRC event, with numerically a large proportion being cars which are seldom seen outside the country.
Li Dawei and navigator Sun Yi pose with their VW Jetta FV7166
The red and white Lotus L3 cars that are no longer produced still compete in Rally China
The calendar for CRC rallies is as fluid as the regulations to which the cars are prepared. This restricts the opportunities for foreign drivers to compete on these events and score championship points for the teams for which they run, but they are not allowed to score drivers' championship points. Normally, only three or four foreign drivers will be active on each CRC event. British driver David Higgins said that there was a 50/50 chance that a published date for a future event would change at short notice! The locations for qualifying events are far flung and conditions were varied.
The city of Zhangye is three-day driving, each way, from Beijing, with no convenient airline connections. The event was held in very high temperatures, a location which the imaginative Chinese federation proposed to the FIA as being a suitable venue for the recently abandoned WRC event. Winter events have been held at Mohe in the far north of the country in minus 40°C, largely run on frozen lakes. Another event has been run out of Jixi, north of Vladivostok and not far from the North Korean border, again as a winter event. Normally the only time foreigners will see these events, and cars, is at the annual APRC event, for many years until this year held at Longyou, north of Shanghai. It really seemed that finally the world of the WRC would have a chance to see these cars compete on a supporting event this year at Huairou but that never happened. These cars are destined to remain secrets from behind the bamboo curtain for another year.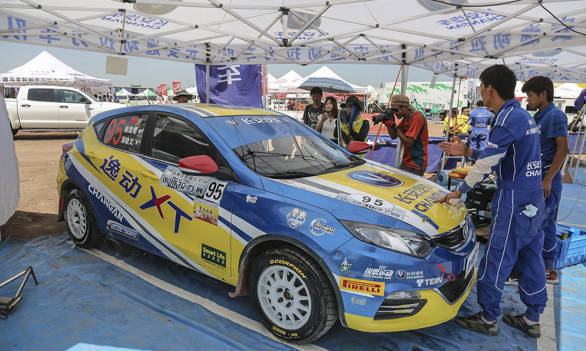 The Chang Yi Moving XT took second place at the event
Price (Ex-Delhi)
Starts Rs 17.94 Lakhs
Price (Ex-Delhi)
Starts Rs 14.78 Lakhs
Price (Ex-Delhi)
Starts Rs 6.17 Lakhs