TVS Scooty Zest long term review: After 1,917km and one year
I genuinely have nothing to report about the Scooty Zest. It's been a perfect couple of months, fuss free and stress free. I truly have nothing to say. So this is about as good a time as any to talk about just how good TVS are, where reliability and build quality of their products is concerned. Around three years ago, TVS did face a few issues with their two-wheelers, especially their small displacement scooters and step-throughs. TVS, like every other manufacturer, use lean burn technology in their engines which results in better fuel efficiencies. This resulted in a few cold start issues, especially in winter. Those issues seem to be a thing of the past now. My scoot hasn't exhibited any problems to date and I'm quite satisfied with the way it's behaved these few months. Even the fuel efficiency that I had a few doubts about initially is optimal for a scoot her size.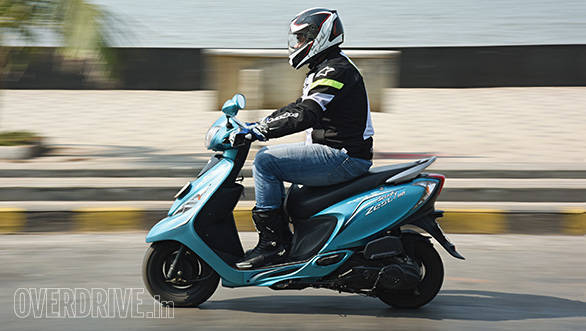 There was, however, this one time in between where my battery drained out but that's only because my cleaning guy turned on the light switch while cleaning up the scoot and it was left on for a week. I wasn't in town to realise what he'd done and returned to a flat battery. On returning, however, one good kick, to the kickstart that is, and a few runs around the block and things were back to normal.
My time so far with the Scooty Zest has been enjoyable and without any real issues. So now I'm quite looking forward to the next stage in the TVS story. That happens to be the association with BMW that kicks off with the promising new G 310 R. Reliability will be a large focus area, especially since TVS love engineering their motorcycles to the T and sometimes they do tend to go overboard. Same with BMW, who over engineer their vehicles and I do hope they keep it simple in the upcoming motorcycle.
Total Mileage 1,917km Date acquired Nov'14
This month:
Mileage 377km  Fuel 9 litres  Efficiency 44.7kmpl