TVS Scooty Zest 110 long term review: After 8 months and 1,540km
The Zest, a small compact scooter, instantly had my friends letting me know just how odd I looked on it. Big guy on small wheels was definitely an instant recipe for an evening conversation where I was the butt of many jokes. While I did find that image hilarious, the Scooty Zest is anything but funny. It's a brilliant little scooter and one that is keeping me mobile within home territory without having to either walk in this heat or take out the car. So far I've had little to complain about except for the horrible turn indicator chime which I've often fantasised about gruesomely stabbing to death. Then again it's a feature many other step-throughs have, so my feelings towards it obviously put me in the minority.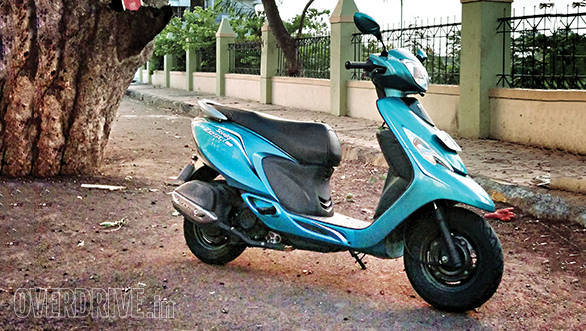 The little Zest is nonetheless a brilliant scooter. Superb aesthetics and a well endowed package, it has everything you'd need in terms of practicality. Simple hooks to hang small grocery bags. A cavernous under seat cargo bin that's large enough to hold my medium sized lid. There is a useful pocket on the inside of the front apron which is practical and does not intrude into your leg room. However, it's capacious enough to hold enough of those small things you always end up buying from grocery stores, though on the flip side, things tend to accumulate in that bin and stay there.
On the reliability front, the Zest has been doing reasonably well. In between, I did have a bit of a scare when the fuel efficiency went for a toss. In less than a week or in just under a hundred kilometres, I almost ran the fuel tank dry. I'm still not sure what caused that but the very next week, things seemed to have normalised. There is, however, a slight judder that creeps in at low speeds (which has something to do with the service) and sometimes the engine feels like it's gasping for breath (which I'd just put down to bad fuel). I suspect the spark plug needs to be cleaned as do the air and fuel filters. The Zest is anyway due for a service soon - hopefully it should return back to smooth running.
Total Mileage 1,540km Date acquired Nov'14
This month:
Mileage 1,110km Fuel 25.8 litres Efficiency 43.0kmpl
More from OVERDRIVE on the new TVS Scooty Zest 110:
TVS Scooty Zest vs Mahindra Gusto vs Suzuki Let's
Price (Ex-Delhi)
Starts Rs 59,925
Related Stories