To B or not to B: WRC's greatest Group B machines
Group B! Hear the term and the mind immediately conjures up images of impossibly fast rally cars with incredible amounts of power under their hoods, and ridiculously daring drivers strapped inside of them, going flat out! The mere sight of a Group B machine tearing up the countryside, reeling in corner after corner, mile munching like a hungry wolf, is terrifying and awe-inspiring all at once. One wouldn't be wrong in saying that just watching these cars is an experience in itself - an eyeball-popping, ear-drum shattering, heart-stopping experience! Imagine, then, what it must have felt like to drive these machines. It certainly was not for the faint of heart. The cars were very light, very powerful, and as a consequence, very dangerous. It's really no surprise that this particular class of machines "burned too bright for this world" (to quote Emily Bronte, who we suspect wouldn't have approved of rally sport anyway!). Between the years 1982 and 1986 the "golden era" of rallying witnessed some pretty horrific crashes, leading to the deaths of competitors and spectators alike. When a crash resulted in driver Henri Toivonen and co-driver Sergio Cresto losing their lives, though, it signalled the end of the Group B class. But even with all the tragedy associated with it, Group B cars are still very much unforgettable. Here, we take a look at five of the most iconic Group B cars of all time.
Audi Quattro
The Audi Quattro is possibly THE most iconic of all Group B machines. While it was initially built to Group 4 regulations and debuted in 1980, the boffins in Ingolstadt worked hard to make it the all-conquering Group B monster that it eventually became. The car is popular not just because of that massive wing in the back, but also because it is the first four-wheel drive rally car. And proof that manufacturers' fears about using 4WD in rallying were misplaced - sure the systems were complex and heavy, but when built right, they were also very, very potent. In its pre-Group B era, Michele Mouton piloted a Quattro to victory at Rally Sanremo, becoming the first-ever woman to win a WRC event. The car managed two other wins the same year, with Hannu Mikkola winning in Sweden and Great Britain. Between 1982 and 1984, the Quattro, Quattro A1 and A2, and Sport Quattro were responsible for Audi winning two manufacturer's titles and two driver's titles (including back-to-back championships for Mikkola and Stig Blomqvist in 1983 and 1984). The Quattro last won a WRC event in 1985, with Walter Rohrl winning Rally Sanremo. With Toivonen's death in 1986, though, Audi pulled out of Group B rallying at once, and that was that. Which doesn't mean the Quattro didn't go on to have other success - think Pikes Peak in 1987, with Rohrl flying up the hill and claiming the event's first sub-11 minute time. The stuff of legends.
Lancia Delta S4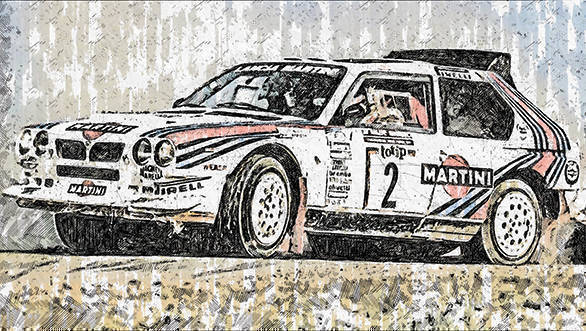 It's ironic that one of the best-remembered, most brutal, Group B cars is also the machine that led to the category's demise. The Lancia Delta S4, was the replacement for the rear-wheel-drive Lancia 037, and what a replacement it was. The car was supercharged and turbocharged, had a 1.8-litre Abarth engine that made 550PS, had 4WD, and weighed just 950kg. The fact that it was a formidable weapon in the right hands was proved in its very first outing, with Henri Toivonen winning the 1985 Lombard RAC rally. Technically, Toivonen won back-to-back events in the car, winning the opening rally of the 1986 season too. Tragedy struck at the Tour de Corse the same year though, when Toivonen lost control of his car and crashed. The details of the crash are sketchy, with no eyewitnesses around who might have been able to explain what happened. What is known, though, is that the crash was particularly nasty, and both Toivonen and co-driver Sergio Cresto, perished, trapped inside the burning wreckage. All in all, the S4 took five wins in the WRC, with three more trophies coming in after Toivonen's death. After the 1986 season, the car was retired, and the Group B era was officially over. Despite this, the S4's successor, the Group A Delta would end up becoming one of the most successful WRC machines of all time.
Peugeot 205 T16
What do Timo Salonen, Juha Kankkunen, Ari Vatanen and Michele Mouton have in common, other than the fact that they're ridiculously fast drivers? Well, they all drove the Peugeot 205 T16 at some point in their rallying careers. Or, well, they all flew the car! Look at pictures of the 205 T16, and it's almost always airborne, with that unmistakable giant spoiler in the back, and that unforgettable four-colour Shell livery down the side. So, what makes the 205 T16 so special? Well, the car was unique in that it was turbocharged and had a 16-valve cylinder head - hence the T16 moniker. What made it truly iconic, though, was that it in beating newer and more powerful machinery, it proved that it had plenty of fight! The 205 T16 claimed back-to-back titles, with Timo Salonen winning in 1985, followed by Kankkunen in 1986. Quite a feather in the cap for the then Peugeot team chief, and current FIA President, Jean Todt. That's not to say that the 205 didn't have issues. Like all other Group B cars it ended up being far too fast for its own good. Case in point - Ari Vatanen's near career-ending crash at Rally Argentina in 1985. Vatanen's car was airborne and flipped over multiple times at speeds of close to 200kmph. The injuries were so severe, that he had to spend 18 months recovering from both the physical and mental consequences of the crash. The 205 T16 would go on to win back-to-back Dakar rallies, with drivers Vatanen and Kankkunen, in 1987 and 1988.
Ford Escort RS200
Ford originally intended for the Escort RS1700T to be their Group B challenger. However, the model was meant to be rear-wheel drive, while the cars that were winning in Group B were already all-wheel drive. With this in mind, the company scrapped ideas of modifying the RS1700T, and instead began a group up new design, codenamed "B200", indicative that it was a Group B car, and so would need 200 homologation units. The result of their work was the Ford RS200 rally car - a car that looks so unusual on a rally stage even by today's standards, that it left people with their jaws hanging open back in the day. The RS200 was the only Group B car that wasn't based on a road-going car, and wasn't a silhouette car either. Instead Ford made the car exactly the way they wanted, specifically to rally in the Group B class. Which is why the car's results are somewhat disappointing. Many believe that since Ford began with a blank slate, they could have done absolutely anything that they wanted, and exploited every loophole in the Group B rulebook to create a juggernaut. Ultimately though, the RS200 found itself outdone by more powerful machines. It had a glass fibre body, and made 400PS, but was heavier than its rivals, and never quite got over the low RPM lag from its turbo charger. Its best-ever finish was a third-place at its first ever rally, the 1986 Rally Sweden, which really is a shame. What might have been, if Group B had carried on, and the RS200 had been worked on some more to iron out its flaws, we'll never know. But as far as we're concerned, the RS200 goes down in history as one of Group B's best-looking machines. We want!
Porsche 959
A bit of an unusual pick for this list, perhaps, but one that we've included here because we'd love for it to have competed in the Group B category of the WRC, which it was originally built for. The 959 "Group B" Supercar was the intended replacement for the 911 SC/RS. Yes, that famous Rothmans and Shell Oil blue, gold and red liveried machine that had some amount of success in the WRC. While the 911 SC/RS did decently enough, it never won a WRC rally, with two third-place finishes in the 1980 Monte Carlo Rally and 1985 Tour de Corse being its best finishes. It really was the 959 that was meant to be the car that could finally start winning against those powerful 4WD rivals that they were up against. Which is why all efforts were made in the development of the Porsche 959, which came with a 2.9-litre sequential twin-turbo flat 6, which put out 444PS. It was rear-engined and four-wheel drive, and seemed like it had the makings of a great rally car. But development on the 959 allegedly took longer than expected, and the car was only ready and homologated for the 1987 season, by which time Group B was no more. Since wasting a perfectly good rally car is never an option, Porsche took it to the Paris-Dakar Rally, where after issues in the 1985 event, it came back to win the rally the following year, piloted by Rene Metge. In fact, it was a 1-2 finish at the Dakar, with Jacky Ickx in second. And a modified version of the 959 - the 961 - took part in the Le Mans 24 in 1987.
Illustrations: OVERDRIVE