The Porsche sedan: 10 years of the Porsche Panamera
Porsche has long had the distinction of making some of the world's best handling sportscars. And it's a reputation that extends to the company's first ever sedan - the Panamera, first seen in 2009. Before it, the Cayenne, launched in 2002, represented the only other way to ferry the family around in a Porsche - both arguably far, far less stylish than any other Porsche. That's not to say Weissach's finest didn't play around with the idea of a four-seater Porsche before, led by big man Porsche himself...
Porsche Type 530 - Early 1950s
In the 50s, the lithe Porsche 356 was stretched, given larger doors and a higher roof and called the Type 530 - the first ever proper four-seater Porsche.
Porsche 911 4-door prototype - Mid 1960s
Dreamed up in the mid-60s, a few years after the Porsche 911 went on sale, this prototype was the first four-door Porsche. The suicide doors probably made it as close to a Rolls-Royce as Porsche would ever want.
Porsche 928 prototype - Late 1970s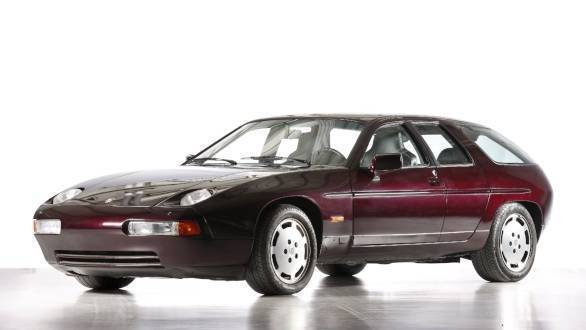 The supposed replacement to the Porsche 911, the 928 was the first Porsche Grand Tourer. And Ferry Porsche, son of Porsche founder, made the first four-door version of it - he even liked it enough to keep as his personal car!
Porsche 989 - Late 1990s
Bolstered by strong 928 sales, Porsche developed the 989 prototype  with a new front engine, rear wheel drive layout. It didn't make it to production, but its styling lives on in the Series-993 911 and the first-gen Panamera. Not to mention its option of a V8 engine.
Porsche Mirage concept - Early 2000s
An idea that can't be shook, the four-seat Porsche was back as three design studies - the Mirage, Meteor and Phantom. This time, all three came together to make it into production, lending final shape to the Porsche Panamera.
Porsche Panamera G1 (2009-2016)
The first-generation Panamera might not have been pretty but represented Ferry Porsche's dream - a four-seater Porsche, with sportscar-handling, just like a Porsche should have.
Porsche Panamera G2 (2016-present)
Finally, styling catches up with its dynamic prowess - with more 911-inspiration than ever before. This four-seater sedan even went to the Nurburgring and matched the 997-series 911's time there - a blistering quick 7 min 38 seconds.
Price (Ex-Delhi)
Starts Rs 1.45 Crore
Price (Ex-Delhi)
Starts Rs 1.38 Crore