The complete Dakar 2018 report: Sainz of greatness!
What does it take to compete in the Dakar? An incredibly sharp mind, even sharper reflexes, and a combination of courage, determination and resilience. Add to that commitment, discipline and a certain penchant for risk taking, and you'll begin to understand what the brave individuals who compete in the world's most punishing off-road rally-raid are made of. But it isn't enough to just have all these qualities. Certainly not if you want to win the Dakar. No, to win the Dakar you need to put yourself through months of preparation - a crazy charade that helps you rehearse for an outing that will, in the end, be entirely unscripted. After all, there are no guarantees in an event as unpredictable as this. Sand dunes give way to fesh fesh, which in turn gives way to river crossings, mountain passes and camel grass. Scorching heat, flash floods, rain, altitude sickness are all par for the course. Which means that while it takes a special human being to compete in the Dakar, it takes a superhuman individual to win the Dakar. Here's a look at 2018's finest. The people who proved to be so invincible, they might as well have been brought to life by Jerry Siegel and Joe Shuster!
Carlos Sainz
Fifty-five years old. An age that most accomplished gentlemen would associate with slowing down, kicking back with a cigar and a good book, and perhaps making the practice of the recreational siesta a regular, guilt-free affair. But Carlos Sainz is no ordinary gentleman. He's a double world rally champion (1990 and 1992), who also has the distinction of having won the Asia-Pacific Rally Championship (1990), the Race of Champions (1997), and the Dakar Rally. Twice.
Carlos Sainz took his second Dakar victory at the ripe old age of 55, proving that age is just a number, but both form and class are a state of mind.
The first time in 2010 when he took his Volkswagen Touareg to victory. And now this year, at the ripe old age that we've already mentioned. Sainz won this edition of the Dakar in Peugeot's mighty 3008 DKR, giving the French manufacturer a fitting farewell at the event.
And if you think that this win was all down purely to raw talent and a little bit of luck, you're wrong. Even someone as skilled as Carlos Sainz goes into the Dakar extremely well prepared. In addition to regular training and aerobics, Sainz underwent some fairly intense high altitude training to help him prepare for the event. He slept in a tent that simulated high altitude conditions for a whole month before the Dakar, and he also went bicycling with a mask over his face that would regulate oxygen supply to give him a feeling similar to when he'd be up in the mountain passes in Bolivia.
Here's Carlos Sainz on his way to victory at the 2018 Dakar. Doesn't that Peugeot 3008 DKR Maxi look menacing?
What he possibly didn't expect, was the fact that just before he set off on the Dakar, he'd receive news that former WRC co-driver Luis Moya had suffered a cerebral aneurysm. As Moya lay recovering in the hospital, fortunately having suffered no long term effects, Sainz, via Twitter requested that his old friend refrain from giving him frights of this magnitude just before the Dakar. He then motored off from Lima to Pisco to compete in the first stage of the 2018 Dakar. Sainz, however, would only find his groove in the rally after the halfway point at La Paz. By the seventh stage, which he'd win, he'd also manage to take the overall lead in the cars category. All through the Dakar, though, proceed with caution seemed to be his motto. "Every stage is difficult, it's just a question of survival," Sainz would say. He didn't just survive, though. As you know already, Sainz won the 2018 Dakar with co-driver Lucas Cruz. It wasn't easy - he got stuck in the sand, had a puncture or two, and had to deal with a penalty, that was later rescinded, for an alleged collision with the quad of Kees Koolen. But, like the champion that he is, he triumphed.
Later, while speaking of his win, Sainz would pay homage to his former team boss at Toyota, the late Ove Andersson, with whom he claimed his two WRC titles. "I'm sure wherever he is he will be very, very happy," said El Matador. Just another one of those motorsport moments that brought on the waterworks, then.
Then there were…
The Dakar is a rally of attrition. Every single year before the victor claims the spoils, there are rivals who try and prevent him from doing so. Rivals who fall by the wayside for various reasons. Sainz had to deal with his own team-mates - Cyril Despres, Sebastien Loeb, and Stephane 'Mr Dakar' Peterhansel. This, in addition to 2011 Dakar winner, Toyota's Nasser Al-Attiyah, and Dutchman Bernhard Ten Brinke.
There was stiff competition from the very fast Toyota of Nasser Al-Attiyah.
Despres, who has won the Dakar five times on a motorcycle, lost so much time after a crash, that it put him out of contention for the overall win. Which meant that he'd eventually come into play as a wingman, first protecting Sainz, and then, when the need arose, stopping to help Peterhansel.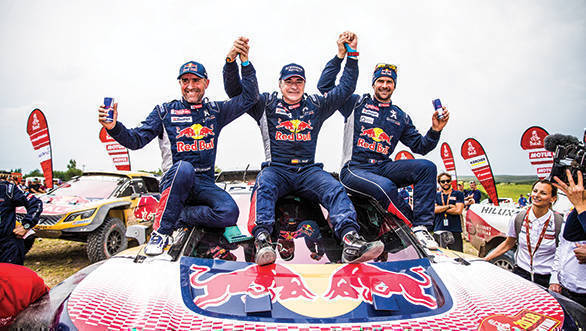 Sainz's competition also came by way of Peugeot team-mates Stephane Peterhansel, Cyril Despres and...
Loeb's 2018 Dakar hopes would fall apart when he'd land in a sandbowl during the fifth stage of the rally. Just getting the car pulled out of the bowl would lose him three hours.
... this man - Sebastien Loeb!
And given that co-driver Daniel Elena severely injured his tail bone, Loeb would have no choice but to pull out of the rally. His retirement was made all the more sad by the fact that he'd said, ahead of the rally, that this Dakar was likely to be his last. Three Dakar attempts, but no victory - tough for the nine-time WRC title winner. Giving Sainz the closest fight, would be both Al-Attiyah and Peterhansel. But the 2018 Dakar wasn't to be theirs.
Matthias Walkner
Never say never. Possibly one of the most overused idioms in the world since Charles Dickens first used it in his masterful Pickwick Papers. However, perfectly applicable in the case of the Moto category of the 2018 Dakar. For the better part of the rally it looked like victory in the event would go to either Yamaha's Adrien van Beveren or Kevin Benavides, or perhaps even Honda rider Joan Barreda Bort. Then, when things went horribly wrong for the riders in question on the tenth stage of the event, KTM's Matthias Walkner showed up, said, 'Thanks very much, I think I'll take the overall lead, then!' and wouldn't relinquish it after. He'd ride onto the podium at Cordoba, somewhat in disbelief that he'd actually won the Dakar!
KTM's Matthias Walkner didn't think he'd win the 2018 Dakar Rally. But here he is, all smiles after!
Walkner's win at the 2018 Dakar rally was his first at the event. It made him the first Austrian rider to ever win the Dakar in the Moto class. The only other Austrian to make it to the top of the Dakar podium was Peter Reif, who back in 1997, won the truck category in a yellow and red Hino Ranger. But it's orange that we're concerned with right now. Walkner's win also ensured that KTM took their 17th consecutive Dakar win in the Moto class, 18th in all, which makes them the winningest manufacturer at the event - a remarkable achievement indeed!
Here Walkner is seen on a very dusty stage at the 2018 Dakar Rally
Walkner is no stranger to the Dakar though. He first competed in the event in 2015, but didn't finish. Things got worse for him in 2016, when he crashed so badly that he broke his femur, and spent much of the year recovering. In 2017, though, things began looking up. Walkner finished runner-up to team-mate Sam Sunderland, and carried that momentum through to the last race of the 2017 season - the Oilibya Rally of Morocco - which he won. Winning the 2018 Dakar, we imagine, is a little more satisfying!
Then there were…
… So many others who fell by the wayside. The retirements amongst the frontrunners in the 2018 Dakar began with the 2017 champion Sam Sunderland. The KTM rider was leading the pack, having won the first and third stages of the 2018 edition. But a crash on the fourth stage meant that he retired with an injured back. Next to lead the Moto class was Yamaha's Adrien van Beveren, a man so skilled in the dunes that he's acquired the nickname "little prince of the sand". Van Beveren would take the overall lead on the fourth stage, and hold onto it until the beginning of the 10th stage.
Competition for Walkner came in the form of Kevin Benavides, amongst others
But the Frenchman would be caught out in a crash so severe that it would result in a broken collarbone as well as injuries to his thorax and spine. Honda rider Joan Barreda Bort, or Bangbang as he's affectionately called, would also impress.
Joan Barreda Bort was particularly impressive astride his No.5 Honda CRF450 Rally - he broke his knee, and rode on to win that very stage!
Perhaps impress is too mild a term to use for a rider who goes out onto a stage, crashes, breaks his knee, continues riding, and wins the stage (the seventh of the rally, in case you were wondering). Heroics aside, though, the injuries eventually caught Barreda Bort out, and the Spaniard retired from the Dakar on the 11th stage of the event.
Eduard Nikolaev
We've said it once, and we'll say it again. The Dakar wouldn't be the Dakar if not for those magnificent blue and white Kamaz trucks leaping out over sand dunes, and trundling across vast tracts of land, leaving a trail of dust in their wake. They are the very representation of just how massive the Dakar is.
Here's that mighty Kamaz. Eduard Nikolaev piloted this to yet another Dakar win!
When the Kamaz dwarfs you, and the landscape dwarfs the Kamaz, you know that there's something pretty ridiculous about the motorsport madness in question.
What then of the pilot of a monstrosity such as the Kamaz Master? Well, Eduard Nikolaev, is a special sort of man, because piloting a truck in the treacherously soft sand of the Peruvian desert requires a certain knack. You're probably not born with it, but if you're anything like Nikolaev, you'll work towards it, master it, and set about collecting a series of trophies for being so skilled at it. Let's not forget that the Russian driver began his Dakar career as a mechanic and took his first win as a co-driver for the legendary 'Tsar of Dakar' Vladimir Chagin in 2010, before becoming a driver himself. He has since claimed three Dakar wins as a driver - 2013, 2017 and 2018!
And, given that Nikolaev claimed his third Dakar win, there really was nothing to do other than to toss him up into the air by way of celebration!
Over the course of this year's event Nikolaev held the overall lead in his class every single day, save for two. It was a pretty solid performance for the 31-year old, who is now acknowledged as Kamaz's number one driver at the Dakar. There's really no question why!
Then there were…
… those Ivecos. Yes, while the Kamaz attempted to race towards victory, there was a strong fight being put up by the Dutch Italian outfit - DeRooy Iveco Racing. Federico Villagra, former WRC driver, put up a strong fight against his Russian rival, claiming multiple stage wins at the event. In fact, his attack was so strong, that with two stages left in the 2018 Dakar, Villagra trailed Nikolaev by one measly second in the overall standings. However, he couldn't stop the victory heading back to Kamaz. The Argentine settled for second place in the truck category, while Ayrat Mardeev, Kamaz's other Dakar winner, had to settle for third overall.
Ignacio Casale
We've already established that competing in the Dakar is one thing, and winning it is another thing entirely. Winning it after having led every single stage of the event is, then, exceptional. That is exactly what Chilean Ignacio Casale managed to do.
Ignacio Casale won every single stage in his class at the 2018 Dakar
He won every stage of the Quad category of the event, never letting go of his lead even once. And thus he took home his second Dakar win in the Quad class.
It helped him to overall victory - no wonder he's looking so pleased here, Casale is!
Seeing as we're talking of phenomenal people, we might as well let you in on a little something about Ignacio Casale. He's a noteworthy chap, having competed in the Dakar in trucks, on a motorcycle, and on quads too. In fact he finished runner up in the truck category of the event last year. And his 2014 win in the Quad class earned him the distinction of putting Chile on the top step of the Dakar podium for the very first time. Winning Dakar 2018, for Casale, was even better than winning it in 2014. The 30-year old rider has stated that he wants to enjoy what he does to the maximum. Judging by the huge grin on his face after every stage of the event, he's doing just that.
Then there were…
… none. That's the way the rhyme goes. And, if we're to be entirely honest, that's also all there is to say about the competition Casale faced at the 2018 Dakar. 2015 Dakar winner Rafal Sonik retired after breaking his tibia and fibula on the fifth stage of the rally. Even though Argentines Nicolás Cavigliasso and Jeremías González did put up a bit of a fight, as did Russia's Sergey Karyakin, Casale really wasn't threatened.
Sanz and sensibility
There are women who take part in the Dakar. If you haven't heard of the terrific Jutta Kleinschmidt who won the Dakar for Volkswagen back in 2001, you've got some reading to catch up on. But an overall win in the motorcycle category for a woman?
Some day we hope Laia Sanz wins the Dakar...
That's something that we're still waiting to see. The woman that we're banking on, though, is Laia Sanz. All of 32 years old, Sanz is 13-time Women's Trial World Champion and ten-time Women's Trial European Champion.
... until then, here's a picture of her doing what she does best!
She's competed in the Dakar since 2011. And while she might have only finished 12th astride her KTM in the 2018 edition of the event, she's hoping to grow, and better her best finish of 9th place in 2015. We're certainly rooting for her!
Price (Ex-Delhi)
Starts Rs 33.99 Lakhs