Summer vacation road trips!
The summer vacations are always an interesting time for parents and kids alike. Neither party knows exactly what to do with each other. Then the summer kicks in, temperatures rise and everyone's unhappy. It is at times like this that families turn to outings and activities. Here are three of India's top driving roads, and since we're on the subject, international ones that should be on your bucket list too!
What constitutes a great driving road?
Some might say it should be a perfect ribbon of tarmac snaking its way through gently rolling countryside. Others would prefer to be serenaded by breathtaking scenery all around and wouldn't insist on super smooth bitumen when it comes to their perfect road. Naturally it comes down to personal choice, but we in OVERDRIVE believe a memorable driving road should be dictated by the experience it leaves you with. A truly great driving road doesn't need to be fast or beautiful so much as it has to sear a memory in your brain that lasts a lifetime. And in that vein, we have come up with a list of eight driving roads that we have experienced and will never forget. This isn't a defining list of the best roads in the world but simply some of the best we have experienced yet.
The best Indian
driving

roads
Munnar to Ooty
Rated among the best roads in world, the Munnar - Ooty route consists of 240km of tarmac that winds its way through lush Kerala and into Tamil Nadu before beginning the ascent for the queen of the Nilgiris. The experience involves driving through some lovely forested roads, often accompanied by rain and a nip in the air. The roads throughout are narrow and winding. Part of the experience is having to keep an eye out for the infamous maniacal Kerala bus drivers!
Photo: Google
Link to the route
Nearest airport/railway station: Cochin International Airport/Aluva railway station
Driving time: 6 hours 30 minutes.
Places to visit: Doddabetta Peak and Pykara Falls.
Manali to Srinagar
A must do on any enthusiast's wish list, this is a gruelling drive not for the faint of heart. The road is only open for a few months in the year, and conditions vary from super smooth tarmac to absolutely no road at all. The severe cold and high altitude only makes this more of a challenge. But what puts this 900km, 4-day journey on our list is that it offers some of the best views of nature anywhere on this planet. Prepare to be overcome with awe for the scale and majesty of the Himalayas when you do make this trip. It's a feeling that never quite fades, no matter how many times you return.
Photo: Google
Link to the route
Nearest airport/railway station: Bhuntar Airport, Kullu/Jogindernagar railway station
Driving time: 21 hours 15 minutes
Places to visit: Pangong Lake, Leh and Shankaracharya Hill, Srinagar
Jaisalmer to Bikaner
Rajasthan has some of the best roads in the country - fast and smooth. This 300-odd-kilometre stretch down NH15 will have you drive through the thick of Rajasthan where you can experience the local cuisine and culture at every rest stop along the way. There's also a variety of forts, havelis and temples worth visiting as well the region's famous sand dunes. This trip is mostly about soaking in the beauty of Rajasthan while driving down some smooth and thoroughly enjoyable roads.
Photo: Google
Link to the route
Nearest airport/station: Jaisalmer Airport/Jaisalmer railway station
Driving time: 4 hours 45 minutes
Places to visit: Junagarh Fort, Bikaner and Gajner Lake, Bikaner
The international superstars
Stelvio Pass (Italy)
This Italian road is one of the highest in the Alps and also one of the most famous. There are plenty other wonderful roads that similarly traverse these mountains, but Stelvio Pass is one of the most iconic. Stelvio is famous for its set of 48 hairpin bends that make for magnificent photography and also some very memorable driving as you stitch your way up the pass. Located in the province of Sondrio, Stelvio attracts a series of enthusiasts on all forms of machinery, including bicycles, and you might want to try avoiding the road on weekends.
Photo: Google
Link to the route
Driving time: 3 hours 30 minutes
Transfagarasan highway (Romania)
Many associate Romania with Count Dracula, but to us, it's the home of the fantastic Trasfagarasan. This 90km long stretch of tarmac winds its way through the mountains and was originally built as a military route. Today it joins the regions of Transylvania and Wallachia and traverses some of Romania's tallest peaks. The road's collection of tunnels, viaducts and endlessly varying corners of different camber and elevation make a drive on this road a fitting addition to the bucket list.
Photo: Google
Driving time: 3 hours
Great Ocean Road (Australia)
Most of the roads on this list are up in the mountains, but as the name suggests, the Great Ocean Road hugs the Australian coastline for nearly all of its 243km distance. Speed limits make this more of a relaxed road trip where you can get to see some amazing natural rock formations and marvel at the pristine beauty of Australia's legendary coastline.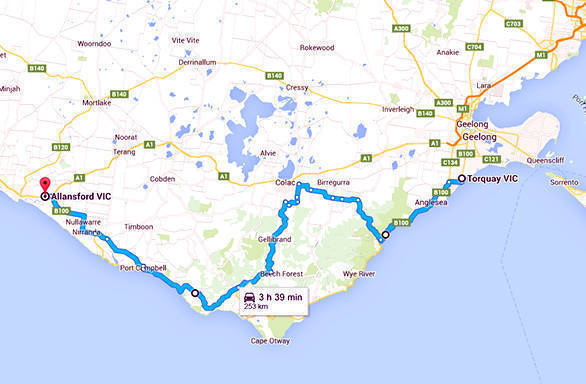 Photo: Google
Link to the route
Driving time: 4 hours
Pacific Highway 1 (USA)
USA has some legendary roads but our favourite is the Pacific Highway 1. Like Australia's Great Ocean Road, the Pacific Highway 1 hugs the coast, this time in California and is largely about the scenic vistas. The road begins in Monterey and takes you through a collection of cliffs, the beautiful Bixby Bridge, and state parks and is peppered with iconic eateries along the way.
Photo: Google
Link to the route
Driving time: 3 hours 30 minutes
Khasab to Ras al Khaimah (Oman)
This may come as a surprise, but Oman has some of the finest driving roads on this continent. The region is mountainous but also on the coast and features long ribbons of race track smooth tarmac. The roads are unpredictable and leave no room for error with large boulders strewn across the roadside which only adds to the challenge. The 90km stretch from Khasab to Ras al Khaimah is particularly beautiful as it hugs the fjords along the Omani coast and has the sea on one side and a sheer cliff on the other.
Photo: Google
Link to the route
Driving time: 1 hour 30 minutes