Rishi Kapoor, the star who romanced in the Maruti Gypsy
With Rishi Kapoor gone, Indian cinema has lost one of its finest actors and stars. We at OVERDRIVE will also miss him and would like to pay a tribute to him by highlighting a couple of his songs picturized in a Maruti Suzuki Gypsy.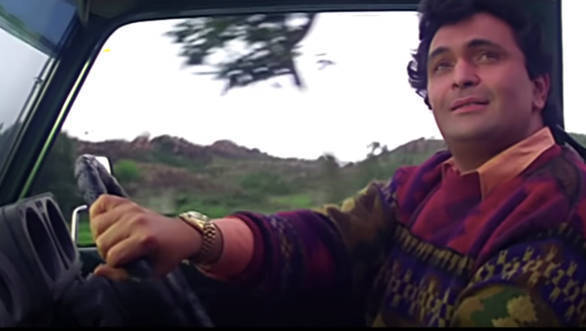 The Gypsy which was launched in December 1985, can well be termed as India's first real SUV. It became a massive success and is now an iconic vehicle with a huge fan following.
Surprisingly, the Maruti Gypsy has not featured as prominently in our films as some other vehicles. And even when it's been filmed, it's really only been used in action sequences or as a police vehicle, etc.  But fortunately there are a couple of Rishi Kapoor romantic songs, where he is picturized driving a Maruti Gypsy very nicely. In fact, in both these songs, the Gypsy plays a fairly important part.
The last film made by the legendary Raj Kapoor (father of Rishi Kapoor) was Henna, which released in 1991. Raj Kapoor died while the film was being made, and his elder son Randhir took over the direction and completed the film. His younger brother Rishi Kapoor played the lead role and is seen driving a red Maruti Gypsy in the song "Der Na Ho Jaye"
The song starts with the Maruti Gypsy's headlights piercing through a dark and rainy night. Rishi is driving a completely stock and original Gypsy on a challenging mountain road and there are several good shots of it going around corners with the windscreen wipers working hard to clear rain water. There are couple of nice in car shots too, and this song sequence was apparently shot on the Srinagar Gulmarg road.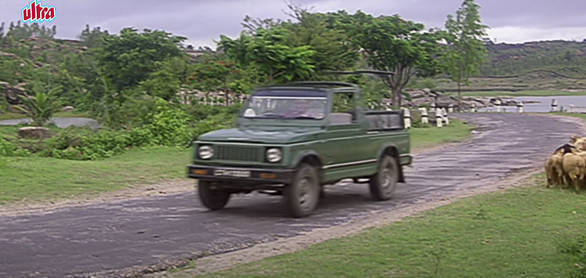 In 1993, the critically acclaimed and super hit film Damini released.  Meenakshi Seshadri plays the title role in this woman centric film and Rishi Kapoor is her devoted husband.
In the song "Jab Se Tumko Dekha" he drives a green Maruti Gypsy without the soft top. The song has Rishi driving the Gypsy on a very picturesque road with lots of greenery and in a fantasy kind of shot it even has the heroine Meenakshi, sitting on the bonnet looking through the windscreen at him.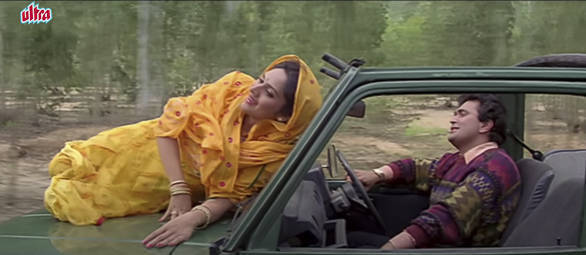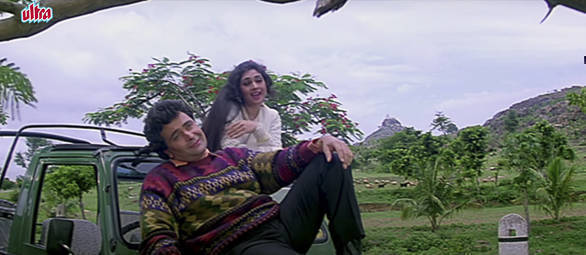 Interestingly in both songs, Rishi Kapoor is driving a Maruti Gypsy MG410, the one with the 1 litre engine and narrow track. This was because the Gypsy MG410W (W for Wide) with the wide track, was only introduced by Maruti in 1993.
Rishi Kapoor will of course be forever remembered by his fans. Maruti Suzuki Gypsy lovers can also pay their tribute to this great actor by watching these songs.