Riding to Komic: 4,587 metres above sea level on 100cc bikes
"I can't believe I have gotten myself into this again!" I said to myself, the Hero Splendor I was astride crawling up the steep incline at a 20kmph in first gear, engine crying itself hoarse, almost ready to die. Barely a few metres ahead was Ashok, riding the Suzuki Hayate at a similar pace, with a slight advantage thanks to his feather weight. In my rear view mirror I could see Alan almost ready to jump off and push the Honda Dream Yuga, the bike barely climbing. Lack of oxygen in the air only made matters worse – for us and our motorcycles. What kind of lunatics ride bare-bones, 100-110cc commuter motorcycles at more than 4,500 metres above mean sea-level? This isn't even funny – the situation we are in.
The poor roads and sore behinds forced us to ride up on the pegs most of the way
It was my brave idea to want to revisit Komic – a micro-village in Himachal Pradesh, whose claim to fame is it being the highest inhabited village in the world. I had first visited the place four years back – for the 2008 anniversary issue when we rode three archaic scooters – a Bajaj Chetak, a LML Vespa and a Kinetic Honda from Chandigarh to Komic and back. On that ride, we had successfully established the fact that the beauty of the Himalayas can be enjoyed on a shoestring budget, even on something as non-descript as a primitive scooter.
The plan
More recently, the 100cc commuter segment has come back to life with Honda and Suzuki entering it. These motorcycles form the core of our bike industry given the Indian obsession with fuel efficiency. These motorcycles are usually some of the toughest – there are hardly any fancy bits on them. They are built to a budget and are meant only to move people from point A to point B. But how would these motorcycles fare in adverse conditions, far, far away from their comfort zones is what I'd set out to see. That's when I got the ridiculous idea of revisiting Komic – on 100cc commuters. I chalked out a plan, deciding to start from New Delhi, ride to Komic and back in one week. I took along Alan and Ashok for company and set out with the Hero Splendor, Honda Dream Yuga and the Suzuki Hayate. This time the challenge was tougher – we were all by ourselves, without any back-up or support vehicle. So with all our basic essentials crammed into two saddle bags, we headed out.
The long drone to Chandigarh was hot work and we often stopped for refreshments along the way. These four coconut sellers are all from Kerala
Would these bikes make it? Would we be able to prove that 100cc commuters can survive a brutal 1600km ride on near nonexistent roads without any back-up? Was this trip a wise decision, or was it time to plead insanity? The questions clouded my mind.
Day 1: Towards Chandigarh
The target was probably the simplest – head out of Delhi and ride 240km to Chandigarh. Arrow straight, smooth NH1 on which I have ridden and driven dozens of times. Piece of cake? Not quite. Our motorcycles were small in size and displacement, not fast, and  not meant for covering big distances. The Dream Yuga was the biggest here, and prior experience with the bike told me it feels slightly better than the Splendor Plus and Hayate even when pushed. But this Honda is all about delivering the goods and at the end of the day is a 110cc commuter. The Hayate had proved to be more comfortable than the other two in our comparison test, but I was not sure how it would feel about being ridden for hours together at near full clip. The Splendor Plus, I knew for a fact, does not like being ridden hard or fast, and is the least comfortable with the narrowest seat. Also, its riding position is such that my knees are above the fuel tank – not very comfortable, no? To make matter worse, Ashok and I were wearing leather jackets in the Delhi heat. We looked like jokers in the sweltering heat, but it was in the hills that these jackets would prove their worth. The icing on the cake was the GPS guiding us out of Delhi via the shortest route – which turned out to be through the lanes of Sadar Bazaar in old Delhi, essentially an old-world market with hand carts and cycle rickshaws dominating the narrow roads.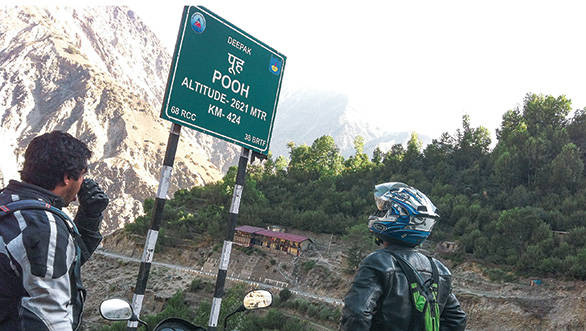 No, Alan is not reacting to the sign board, he's just popping his ears as we head up the mountains
Once on the highway it was a different story though. A wide, open highway and three riders in full riding kit astride 100cc commuters, with luggage strapped on it, was a sight not to be missed. For its incongruity or for its hilarity, take your pick. Throttles wide open we were headed northward, but it was only a matter of time before the highway drone got to us. After riding 100km we stopped for lunch at Karnal, and gorged on my favourite stuffed parathas and lassi.
Post-lunch, a bike switch had me take the Splendor, which I managed to sit on. The sumptuous lunch made matters worse, the highway drone already making us drowsy. Several sections of the highway had diversions as flyovers were under construction, apart from which the rest of the ride was a flat-out affair. We entered Chandigarh four-and-a-half hours after we set out from Delhi, which is not a huge difference as compared to bigger motorcycles, or cars for that matter. So the three bikes cleared the first day's ordeal, and quite impressively for that matter. We were tired of the drone, not the bikes.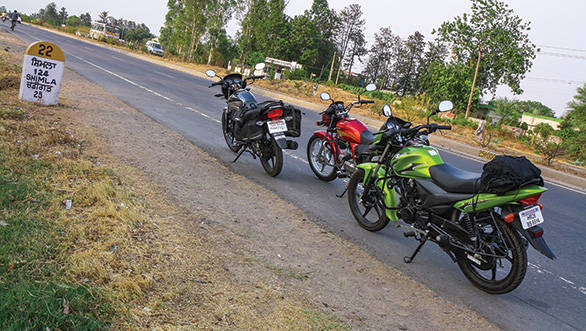 En-route to Chandigarh
 Day 2: Highway to Himalaya (on 100cc bikes)
Shimla is 120km away from Chandigarh. Cross the (too) popular hill station and end the day at Rampur, a small industrial town a further 100km north. 220km in a day on a motorcycle sounds like a breeze, doesn't it? But trust me that was not the case.  To say hello to the Himalayas you need a high five, not a low 100cc, ideally. Getting out of Chandigarh was easy, and we were soon on the Himalayan Expressway – a beautiful highway from Zirakpur outside Chandigarh to Parwanoo in Himachal Pradesh, designed and constructed just like most expressways in the country, with the added bonus of being surrounded by natural beauty as opposed to concrete jungles we usually see.
The ride had been good, we had come along successfully so far. Time for cautious optimism?
Cutting through the Shivalik hills, the Expressway saves Shimla-bound tourists the trouble of passing through the congested towns of Kalka and Pinjore. People in Shimla are law abiding when it comes to following traffic rules. These people understand and respect the presence of other road users, and do not cut lanes or overtake from the left. This is of utmost importance in the hills given that most roads have mountains on one side and a deep valley on the other. I so wished people in other cities in our country would understand the same.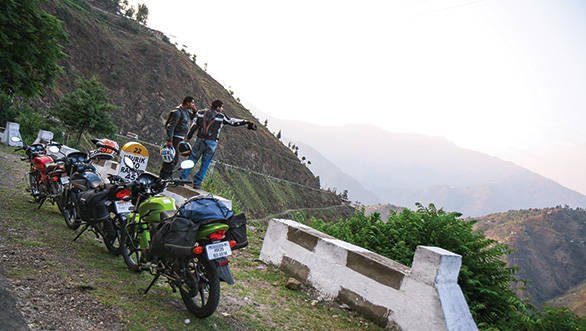 Alan acts like he is the human GPS
Despite it being a weekday, Shimla was chock-a-block with tourists which was a bit surprising, and vastly more annoying. We crossed Shimla and finally stopped for lunch at Sanjhauli, aka Chhota Shimla. A quick chat with the restaurant owner told us that from here on progress would be slower as the quality of roads would soon deteriorate. Making up time on the bad roads was difficult, but we were hurrying, not wanting to ride in the dark. At the same time no backup meant that we had to ride cautiously. The DreamY was the only motorcycle with tubeless tyres, and hence the only bike that could be ridden for a while even with a puncture. The Splendor Plus and Hayate were my concern, since they would need to be attended to immediately in the event of a puncture. With about three hours of light and well over a 100km to cover the challenge seemed to be getting tougher.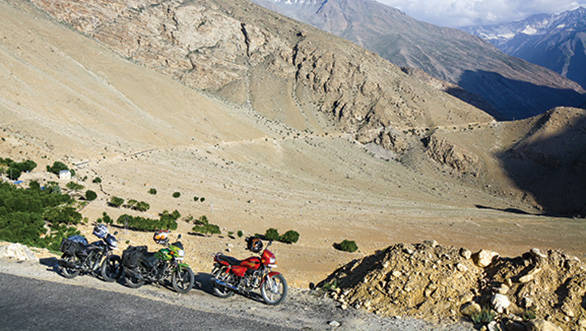 The bikes against the calm backdrop
We took a break at Narkanda around 5:30pm for tea. The air started getting chilly, but past Narkanda roads became surprisingly smooth, giving us a chance to wring open the throttle. By then fatigue had crept in – the day's riding was enough to tell us that all three motorcycles were as good as each other when it came to rider comfort. The two new motorcycles – the Dream Yuga and the Hayate have not broken any significant ground as far as comfort is concerned, and are only marginally better than the Splendor Plus with wider seats. The Hayate was the best of the lot with its seat being the softest. The Dream Yuga has a wide seat too, but it could have been softer.
We made it to Rampur just after it got dark, only to realise that the Splendor's cone set bearing had begun to loosen. But the ride had been a good challenge, one that we had surmounted without any problems. Time for cautious optimism.
 Day 3: Bike trouble
Attending to the loose cone set on the Hero Splendor, the unwieldy design meant we had to remove the handle bars to tighten the nut
We knew the day was going to be the toughest of the ride. We wanted to reach Kaza, a small town in Himachal Pradesh, 284km away, and we knew the terrain would only get worse as we progressed. The day began with searching for a mechanic to fix the Splendor's cone set. Once done, we set off, but the average speeds were alarmingly low – by lunch we had only reached Reckong Peo, 100km from Rampur, and meaning that we were averaging a paltry 25kmph. Covering 184km by dusk seemed next to impossible. And the Splendor's cone set had come loose again. Another hunt for a mechanic saw us fritter away almost one more hour. The DreamY and Hayate were unaffected by the rough terrain, and had no trouble though. But that was not all for the Splendor – an hour later, its exhaust pipe detached itself from the cylinder, creating a racket that was loud enough to get us all the attention possible. The serious issue here was that one of the mounting bolts on the flange had fallen off, and I knew from experience that finding a matching bolt is not easy. More time was wasted in our futile attempts at finding a mechanic. I am not exaggerating, but the Splendor's noise ricocheting through the hills seemed loud enough to cause small landslides.
An open exhaust is super loud in the canyons
After a while Alan, who was riding the Splendor threw up his hands - he had had enough of the racket. I took over, thanking God for not forgetting to carry ear plugs. Getting to Kaza seemed impossible, and we settled for a more modest plan - to end the day at Nako, one of the few villages en route.
Nako is famous for its natural lake, and though just a small village is popular with tourists given its natural beauty. We ended the day having covered 184km in ten hours. That's like riding from Pune to Mumbai in ten hours. En route we passed a few groups of bulleteers who couldn't help but stare (in awe, I hope) at three fully kitted riders astride 100cc commuters. They certainly had the laugh of their lives I am convinced, but we were busy trying to not cause a landslide at the time. The tranquility of Nako was shattered by the Splendor's racket, causing us immense embarrassment. But locals only smiled, even as a few others bulleteers sniggered at us. Peace was restored by a good Tibetan meal. The bikes took a breather in the meantime - they were performing well, I thought, apart from the Splendor's niggles. So far, so good.
Day 4: To Komic and back
The challenge today was to get to Kaza and ride on to Komic, 26km away from Kaza and try and make it back to Nako. Locals laughed at our plan, saying it was almost impossible to ride to Kaza and come back to Nako in a day. But we couldn't really hear them, to be honest because the Splendor was talking at the same time. With our hearts in our mouths, we set off. The immediate challenge was to cross the treacherous Maling Nala.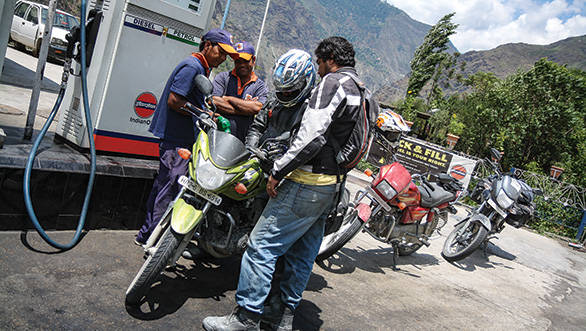 With bikes like these, fuel stops were few
The last time I rode through Maling Nala, we were stranded for seven hours thanks to a land slide. I like to call it 'Malignant' Nala. But the Hayate gave me another reason to worry. The bike just didn't want to climb the steep incline leading to Maling Nala, despite Ashok, the lightest of us riding it. Barely a couple of kilometres from Nako, and the bike was sputtering and choking non-stop. Lack of oxygen at altitude had caused the carburettor to get flooded, a problem that only the Hayate faced. We quickly pulled over and drained the carb by pulling out the drain screw. And before we could put it back, 'Butter Fingers' Alan dropped the screw. We somehow extracted the screw from the chain cover, losing precious time. Thankfully Maling was all clear, except for the water crossing which the three bikes crossed in a jiffy. Thereafter there were no roads. I mean it – no roads at all. The best way to ride then was to stand on the footpegs and wring the throttle open, praying the bikes didn't pick up a puncture. We crossed the famous Tabo monastery on the way, but despite my wishes I knew we couldn't afford to stop for even a quick photo-opp, or indeed, a prayer.
The next four hours had us blast - I use the term lightly, of course - through a dozen villages. Roads or no roads, there was no stopping if we had to make it back to Nako. But two hours into the ride, and the Splendor ran out of fuel – the 'free-flow' exhaust was causing the bike to consume more fuel than the other two, and some fuel from the DreamY and Hayate was used to get to Kaza. We tanked up the three bikes in Kaza and found a mechanic as well, who managed to finally silence the Splendor's exhaust. Then began the climb to Komic. This time riding to Komic was relatively better than the previous time, when the scooters were moving at a walking pace. That said, the bikes were barely going above 20kmph, and shifting to second gear was a luxury. But finally we did make it, taking over an hour to climb to Komic from Kaza.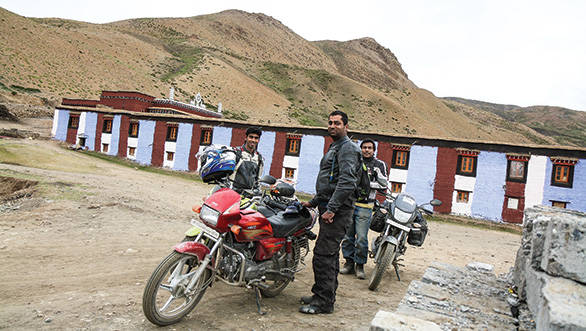 The Buddhist dwelling in Komic
Once on top, the feeling of having made it was second to none. Suddenly all the fatigue, stress and tension had vanished into thin air. There we stood, with three 100cc commuters, at 4,587 metres above mean sea-level. I don't think any other 100cc motorcycle apart from these three will visit Komic. Call us stupid, but we had achieved something which most people will not even think of doing -   admittedly for excellent reasons.
With a population of about 20 people (a monk from the local monastery told us), there was hardly anything or anybody around. Not even a shop. It was a different world altogether. We were in a place where no one bothered about the share market, fluctuating currency rates, cricket, football, movies, motorcycles... The monk offered us tea and led us to his little room, and we embraced the offer - we were thirsty and a full five per cent of the village population might have been offended if we'd declined. But time was ticking away, and we knew it wasn't over yet.
Quickly we rode down to Kaza, the downhill slope helping big time. Throttles wrung open, we stood on the pegs, going much faster, and not really worrying about the road conditions. And finally when we did get back to Kaza at about 7 in the evening, people were shocked. It was an unbelievable achievement to have ridden more than 250km to Komic from Nako and back in a day. The bikes had helped us achieve the insurmountable, without any trouble. We did get relief in Komic.
Day 5: The descent
Having returned to Nako the previous day, we had a four hour head start that morning, but Shimla was still a formidable 289km away. According to GPS driving time for the distance was about five hours, we had a good hearty laugh at its folly. But having achieved our mission we were 'high' – well, we were at quite an altitude, and were raring to go.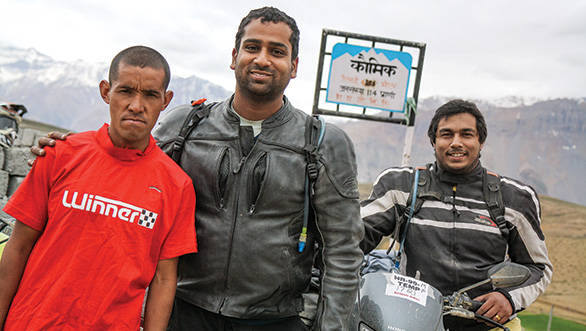 We met a monk who was kind enough to invite us into his
wee house for an extremely welcome hot cup of chai
After the previous day's off-roading, we knew riding fast would not be a problem, and so targeted reaching Shimla before dusk. This time progress was suddenly much quicker than the onward journey, and we were almost flying through even the worst of stretches. Most of the sections were downhill, helping us go much faster than we had while climbing up. Imagine our surprise then, when we entered Shimla at around 4:30pm. Encouraged by the achievement we decided to ride on to Chandigarh, knowing that we would now have good roads to ride on that would allow us to go faster. We reached Chandigarh 12 hours after we had started from Nako – that's 400km ridden in 12 hours on 100cc bikes. I guess what goes up slowly can come down really, really fast. Effectively, we had saved one full day – we would get back to New Delhi on day six itself, instead of day seven!
After all that we had seen and done in the past week on these puny 100cc commuters, the 240km back to New Delhi was a piece of cake. And so the craziest week of my life came to an end – a week that saw me achieve something unimaginable with Ashok and Alan. The bikes had passed what I would call 'the acid test' with flying colours. None of the bikes had any significant problems despite the epic battering they had to absorb and endure over the week, and we didn't have even a single puncture throughout the ride. This is proof enough of the just how rugged these bikes are. The Splendor Plus does feel old compared to the Dream Yuga and the Hayate, but honestly speaking these two can only be accused of evolution, not revolution. In terms of feel, they are slightly better than the Splendor. In terms of comfort, they are definitely better though, the Splendor's single biggest issue being its narrow seat. Also, the Splendor demands more effort while riding than the other two. In order to extract the kind of performance the Hayate and Dream Yuga deliver, the Splendor really needs to be pushed hard.
But overall I was quite pleased with the three motorcycles, and the experience. Visiting the Himalayas has always been special, but these three bikes had made it surreal. With one more tick on my to-do list, I am now thinking what should be ridden to Komic next - if not just for the ride to catch up with this monk who makes the greatest tea I had in my life.
Price (Ex-Delhi)
Starts Rs 1,00,000
Price (Ex-Delhi)
Starts Rs 54,909