Quick Charge: China's EV supremacy
I'm not sure how many people reading this have heard of the BYD Yuan. It isn't particularly memorable looking, and from some angles it takes substantial inspiration from the Ford Ecosport. So if you spot this small SUV in a crowd, you wouldn't really give it a second glance.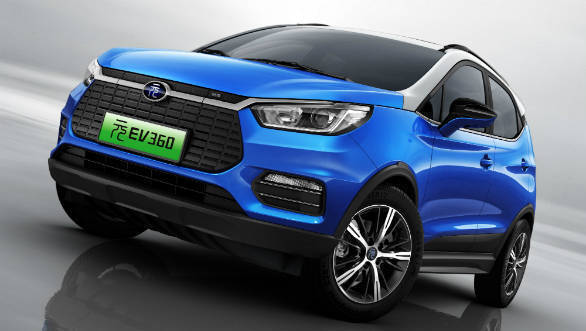 BYD Yuan
But you really should. It's the second most popular EV in the world, after the Tesla Model 3, around 14,000 having already been sold in 2019. Unlike the Model 3, it however only costs around USD 25,000. Range is a sizeable 360 km too. Most importantly though, it serves as a perfect representation of the scale and prowess of the Chinese electric car market.
The numbers
China is emphatically the world's largest car market. More than 23.7 million cars were sold in China in 2018, thats a third of the entire world's sales. In perspective, 17.34 million cars were sold in the US and India was a distant 3.4 million.
This isn't even the most astonishing bit. Pure electric vehicles and hybrids are classified as New Energy Vehicles in China and the production and sale of these provide for numerous government sops. Over 788,000 plug-in EV were sold in China in 2018, 56% of all EVs sold globally. USA was second with 138,000, mostly helped by the Model 3. India isn't anywhere in the fray, 1200 EVs were sold here in 2018. In fact sales declined in India by 40 percent while sales in China have grown 68.4 over the past year. This is even more significant when you consider that the Chinese car market is actually shrinking. Overall passenger car sales dropped by 4.1 percent in 2018.
Why is this happening?
Its the result of logical economic sense. The right government policies can play a very strong role in shaping any new industry and China has done just that. The primary reason for this is the country's well-publicized issues with air pollution. The government has taken a hard stance on this and decided to target industries that contribute to pollution. Fines and other entry barriers have been implemented. It also wants to wean itself off fossil fuel imports, given that it doesn't produce enough to meet its own requirements.
China is also very committed to control climate change, and is a signatory to the Paris Agreement. By 2030, it wants 40 percent of the cars being sold there to be EVs before banning conventionally powered cars by an as yet unspecified date. Further, the Chinese government wants to be at the forefront of this new industry and has worked closely with related industries and local authorities to create an ecosystem conducive to EVs.
China is also today the highest consumer of automobiles, which means it will in the future be the highest consumer of petroleum. Currently it stands behind the United States in consumption, but China wants greater energy independence. The only way to do this is to increase the number of New Energy Vehicles.
The government has put these plans into action by offering subsidies to buyers of EVs. Until recently, all EVs with range more than 150 km were eligible to be partially paid for by authorities. Subsides from the central and local governments can go up RMB 50,000 for a car with more than 400 km range. But now, in a bid to spur more growth, increase competition and bring more technological innovation in this field, EV subsidies are being pulled back. The range criteria has already been increased to between 250 and 500 km. Further, a credit system has been put in place for manufacturers.
BAIC-BJEV EU Series
Under this system, automakers selling more than 30,000 cars a year will need to accumulate new-energy vehicle credits amounting to 10 percent of their output in 2019, which will increase to 12 percent in 2020. Each NEV can score between two and six credits. How much they score will depend upon the model's range and top speed. To score one credit point, a vehicle needs to have 100 km range and a top speed of 100 kmph. A formula is then applied using the range to get a base score which is then combined with an adjustment factor (0.5 to 1.2), depending on the car's weight and energy consumption, to get a final score.
Firms who miss their required credits will be able to buy credits from competitors who have more than they need. They may also face fines in the form of delayed approval of new models or shut down of production lines manufacturing I C engine powered cars. Effectively, the car-makers will start subsiding each other.
Spurring on…
There's more than just this. BYD, makers of Yuan we spoke of earlier, started life as a maker of lithium ion batteries in 1995 and is now the country's largest EV maker, and the world's second largest. A connection that needs no explaining. China has spent over USD 10 billion in subsidising battery makers since 2012. Consequently there are now over 60 such suppliers, the two biggest being CATL and BYD. What these firms lack in technology against global rivals like LG and Panasonic, they make up in value. Seven of the world's ten largest lithium-ion battery makers are in China. CATL and BYD are second and third after Panasonic. Infrastructure is also in place. It is expected that China will have 500,000 charging stations by 2020.
Chinese EV buyers also get many perks which makes owning these cars attractive. Foremost of these is that they do not have to be a part of the country's registration plate lottery system. An expensive proposition, where registration plates can sometimes cost as much as the car. EVs are given a green plate along with the car. Also there are EV specific lanes on the country's road networks and EVs also have more access to crowded parts of certain cities where conventionally powered cars are taxed.
Unlike India, where the unique FAME2 Rs 10,000 crore incentive policy has just been announced, the Chinese government has reworked policies from the USA and the EU to suit its needs. These are of exponentially larger scale and cover more facets of the industry.
Who's taking up the challenge?
Look at the top ten EVs sold in China in February 2019 and you know exactly who's calling the shots. Nine of the ten entrants come from homegrown brands. The two biggest ones are BYD and BAIC. There's an astounding 60 plus brands making EVs. All other major car manufacturers like Geely, SAIC, FAW, Chery, Changan and Great Wall Motors have an entire line-up of EVs.
Volkswagen GTE
But foreign carmakers haven't cashed in yet. The domestic manufacturer's price advantage and the government's protection of the industry being major hindrances. Only six percent of the EVs sold in China in February came from foreign brands. Volkswagen accounts for most of these at three percent, followed by Tesla's one percent. The Volkswagen Passat GTE is the only foreign brand car to feature in the ten popular EV list.
Tesla Model 3
But this trend is set to turn on its head. The government rolling back subsidies means that the smaller, domestic market EVs will stop being good value. Further, the new credit system means that foreign makers will have no choice but to comply. Authorities have also now allowed foreign brands to set up operations without a local partner. This will aide competitiveness. The first effects of these changes are already showing. Global carmakers led by Volkswagen, Daimler and GM have announced they will invest USD 135 billion in the coming years on the Chinese EV market. In perspective, there isn't any major EV investment by foreign car makers in India and Mahindra, the most active in the EV space, has put in about USD 5.5 billion so far.
Xpeng P7
Startup Culture
EVs are a tech heavy proposition, cars themselves are now more connected than ever before and the scope for growth in China is massive, only 4.5 percent of the cars sold in China carried some electrification. This leaves a lot of room to play with and start-ups are swooping in.
The biggest names seem to be on par with global competitors. Nio, Byton, Xpeng and Karma Automotive are big names and all have plans for or have already launched electric hypercars or super-SUVs.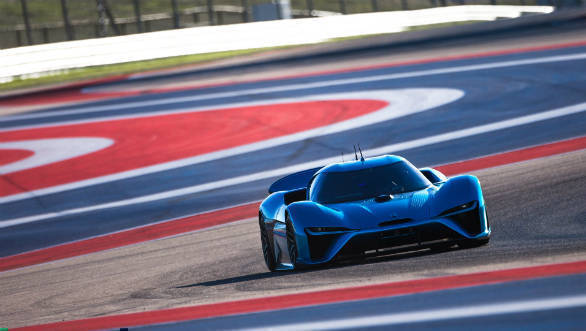 Nio EP9
NIO is at the forefront of this, its 1,360 PS EP9 hypercar has set a Nurburgring record and gets from 0 to 100kmph in 2.7s. It costs USD 1.2million and is being sold in limited numbers. The company also has a 650PS, 500 Km range EV SUV, the ES8, to compete with the Tesla Model X. It packs as much tech, but for half the price.
Others like Byton and Faraday Future are set to launch SUVs by the end of this year. All these start-up have seen massive funding from major corporations and car-makers. Nio has raised over USD 2.5 billion from investors like Tencent while Byton, yet to sell its first car, has received over $500 million from investors like FAW.
Audi AI:ME
Colour: Aurora Silver
Auto Shanghai 2019
This year's Shanghai Motor Show seems like the world's window into a very interesting development. It's growing to be one of the largest and easily the most important motoring event of the year. Every major automaker was present and several new EV concepts were showcased, far more than at any other auto show anywhere else in the world.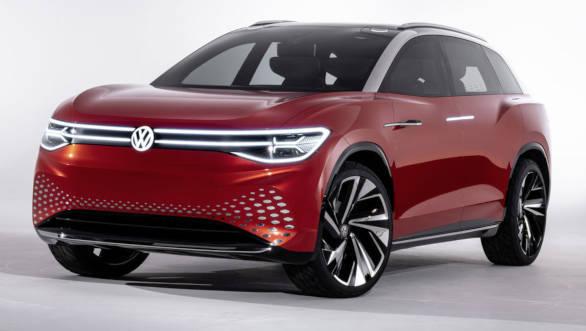 Volkswagen I.D. Roomzz concept
Given the trends, foreign carmakers dominated the scene. Volkswagen showed the ID Roomz, previewing a big three-row EV SUV. Audi followed with the AI:Me a city roundabout concept with flexible seating and masses of space. Of most interest to us in India was the unveiling of the electric version of the Renault Kwid, the City K-ZE. Other showstoppers were the Aston Martin Rapide E, the brand's first electric car and the Skoda Vision E, an electric coupe-SUV concept.
Chinese startup Singulato unveiled its Toyota eQ derived citycar, as part of its deal to use Toyota tech, while Xpeng and Nio previewed EV sedans, the P7 and ET Preview. All with big power and range.
Geely Geometry GE11
In the larger scheme…
We are firmly in the EV age. Traditional car makers and their markets haven't responded quickly enough to the changes that are needed. This allowed Tesla to gain ground and China, the world's largest oil importer to be an industry leader. Big car makers however now have another shot at the EV pie, and claw back ground lost to manufacturers like Tesla.
With the regulations put in place, EV tech will see massive investment and innovation. Batteries are set to become lighter, more energy dense and cheaper. Who knows? You might finally find an electric car that is as involving as a petrol-powered one.
The intent that China has shown, and the regulation and infrastructure changes brought about as a result also serve as a great blueprint for countries still finding their way around this space, India being one of them. We have the workforce and capital needed for this, and the scope too. India only has 22 cars for every 1000 people, along with advantages like less government interference in industry.
So if in the next five years you find yourself driving an EV that does everything you need it to, cheaply and with no compromise, you know who to thank.
Price (Ex-Delhi)
Starts Rs 4.5 Lakhs
Price (Ex-Delhi)
Starts Rs 30.2 Lakhs