Product Review: Triumph Carbon Tech Gloves
Triumph sells a lot of very reasonably priced gear in India but most of it is aimed at cold weather riding and touring. We've tested one of the touring jackets and a pair of waterproof gloves out and found them great bang for the buck. Unfortunately Triumph in India doesn't have too much sport or track biased gear to offer.
While trawling through Revzilla last month, I found a pair race spec Triumph gloves that were on a big discount. In the images they looked excellent, featuring a full gauntlet, triple wrist closure, lots of elasticated stretch panels and appeared to be awesome value for the 60 something dollar asking price. Despite the fact that Revzilla didn't have one of their usually spot on reviews up for these gloves, I decided take the plunge. After all, they were working out to be far, far more affordable than the $160 odd Dainese full gauntlets I had my eye on. I had a pair of the Triumph gloves shipped to me when I was at the iconic Sebring Raceway to cover the awesome Lamborghini Super Trofeo World Finals.
The Glove looks impressive and has comprehensive finger and knuckle protection
At first sight, the gloves are great. The leather feels thick and durable and the triple closure system provides a really secure hold on the cuff of the jacket. Protection on the top of the glove is comprehensive too, with a big carbon fibre knuckle guard and a mix of smaller carbon fibre and hard plastic guards for the thumb and first three fingers. The little finger doesn't have any hard protection but gets a double layer of leather which should hopefully help keep the glove intact when it meets tarmac. There is some minor venting on the back of the cuff but I won't call these highly ventilated gloves. So far they have been fine in Mumbai, but I haven't experienced them in the thick of summer just yet.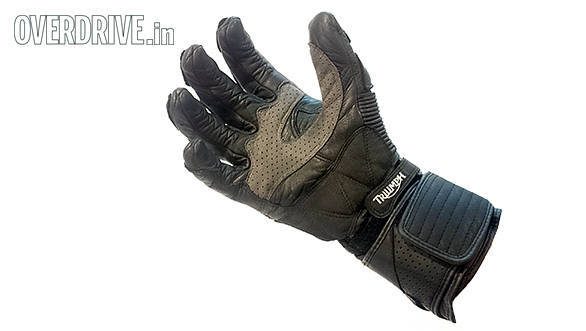 Triple wrist closure ensures a firm fit
My problems with these gloves however lie in the underside. Triumph or whoever has made these gloves for them (there's no information anywhere) has used a weird crisscross stitch in the bottom of the fingers to generate the pre-curve ( a must have feature in sporting glove). The issue is that this feels grainy on the fingers when riding. That however, is but a minor irritant. The big issue is that this glove has next to no scaphoid protection aside from a thin Clarino strip and some negligible padding stitched onto the leather. In an accident, instincts almost always ensure that the palm of your hand meets tarmac first. Good scaphoid protection is vital in a glove and this in itself is a deal breaker for me.
The lack of comprehensive scaphoid protection is a serious issue
Then we come to the second disappointment - fit. I have large hands that fit most brand's idea of L or XL. According to Triumph's size chart, I am an XL. My fingers and thumbs fit well without any nasty stitching digging in under the nails but for some reason this glove feels excessively large and unnatural on the hand. All the digits are far too fat and the glove simply doesn't follow the old 'fit like a glove' adage. It feels cumbersome on the bars and there's also a fat seam on the side of the left thumb that always digs into my thumb. It's a constant irritant that the right hand glove is free from.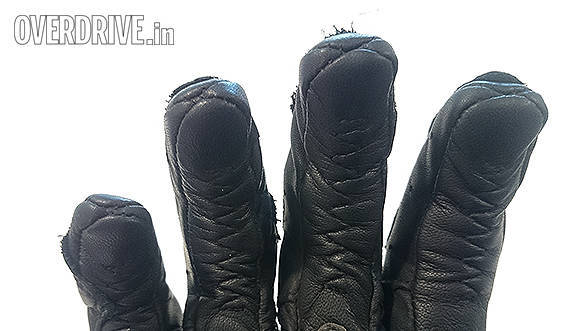 Criss-cross stitching under the fingers to generate the pre-curve feel rough and grainy
Will I suggest these gloves should they come to India or will I buy them again? Never. My only solace is that I paid half of the $120 dollar asking price. The lesson here is to avoid buying things like gloves where good fit is vital without trying them on first.
Available at revzilla.com
Rs 4,797 on discount
Rs 8,109 full price
For more product reviews from OVERDRIVE, click here
To stay at the cutting edge of automotive news in India, follow us on twitter (@odmag) or on facebook (facebook.com/odmag). Or download our app from theiOS orAndroidapp stores today