Product review: Grand Pitstop puncture repair kit
Grand Pitstop makes two types of puncture repair kits. We used both kits over the last few months and while we've not been able to fix any naturally occurring punctures, we did try their kits on punctures we made on our own. The first type of kit is called a Tyre Puncture Gun and uses a spring loaded gun-type device while the second is called a Pocket Tyre Puncture kit and uses an Allen key to drive the plug into place. Both kits use a nozzle that you have to drive into the puncture. Once inside, the nozzle is used to drive a rubber mushroom into the puncture by way of the gun or the Allen key driver. The advantage is that the rubber mushrooms apply more lateral pressure on the puncture than regular puncture sealant which makes for a more secure seal. Both kits take a matter of minutes to use and don't need a second person to assist. We recommend the gun, despite being larger to carry around since it takes very little effort to use when compared to the Allen key device, Grand Pitstop says that they are already working to resolve this.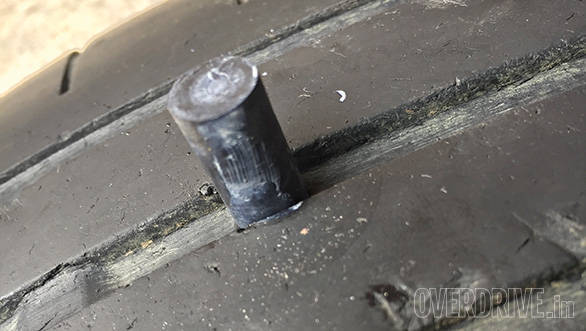 While the entire kit isn't exactly cheap, what we like is that it is a one time investment. All the consumable bits like the rubber mushrooms and lube can be reordered from their website for very little money. They even sell some portable CO2 canisters that can be used to re-inflate your tyres. Grand Pitstop guarantees that the kit is much more durable than regular puncture sealant. We like it because it looks sturdy, is compact and takes very little time to use.
Price: Rs 2,667 – Rs 3,340 at grandpitstop.com
For more product reviews from OVERDRIVE, click here