Product Review: Crampbuster throttle assist
Anyone who's ridden long distances will be familiar with wrist fatigue. Holding the throttle open for hours a day gets hard on the right wrist. The Crampbuster is a simple but surprisingly effective solution. It is essentially a plastic contraption that snaps onto your throttle and allows you to hold the throttle open or make inputs using the base of your palm. It's that simple.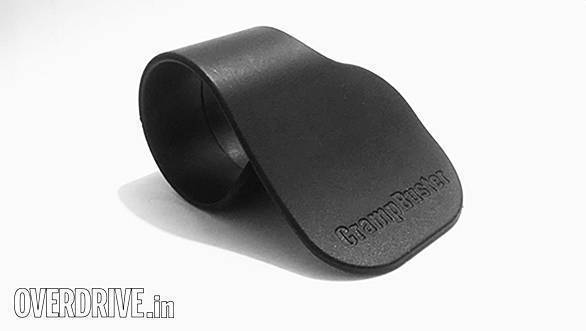 Simply snap the Crampbuster onto your throttle and you're ready to go
The device has been designed by Crampbuster itself and anything else you see online is an imitation. To install it, you simply put the included rubber loop on your handlebar and stretch the device open and snap it onto the bar over the rubber loop - that's it. In a clever bit of design, the Crampbuster rotates freely upward or clockwise but holds onto the handlebar on downward movement. Effectively, it can be rotated out of the way for when you don't want to use it.
The device rotates freely upwards (if you want to get it out of the way) but holds its position with downward pressure.
The Crampbuster works great on the highway, especially on bikes with fat and heavy throttles. It can be used in town as well but doesn't offer the same sense of throttle control as a regular grip on the accelerator. The Crampbuster works best on bikes with mild throttle response and isn't a great match for reactive bikes like the KTM 390 Duke or a sharp sportsbike.
By applying pressure with your palm, the Crampbuster reduces the effort required to control the throttle on long rides
It isn't available in India but Crampbuster will ship it to you from its website, and a number of sizes are available. At the price, it's great value and a useful tool for tourers. Imitations are available for less, but we have no idea of how well they work. For such a small sum, you may as well buy the real deal.
Rs 700
Price (Ex-Delhi)
Starts Rs 2,52,928