Product review: AGV Corsa helmet
The AGV Corsa looks identical to the Pista GP race helmet but it offers the practicality of a street lid with features like adjustable ventilation and added comfort. This helmet has been designed, developed and tested together with Valentino Rossi. I was on the lookout for a top of the chain helmet and decided to opt for this AGV. While the Pista GP shell is made of carbon-fibre, the Corsa is made of composite fibre, Aramid and carbon-fibre. This hybrid construction still makes it a very light helmet (1,350gm) especially when compared to similarly priced top-level helmets.
The wind tunnel tested Corsa is one of the most aerodynamic helmets around and looks like it too. The V-shaped front end and the rear spoiler not only add to the styling but also maximise aero at higher speeds. The spoiler is designed to detach in case of impact to increase passive safety. In terms of visibility, AGV has increased the field of vision significantly when compared to the GP-Tech (Corsa's predecessor). The taller visor is ideal as it offers better line of sight even in a full-tuck position. The visor features an anti-fog coating and is also equipped for tear-off strips, provided with the helmet.
The Corsa is available in four shell sizes and seven different head sizes ensuring a great fit for almost everyone. I am a size ML but couldn't find a Corsa that size. However, I ended up opting for a size L and swapped the inner liner with an ML as both these sizes use the same shell. The cheek pads can be customised too. All one has to do is add the additional thicker pad provided in the box. I added the extra padding and it's a perfect fit now. In a first for any helmet, the crown pads can be moved too for a better fit. The inner padding and liner are completely removable and washable too.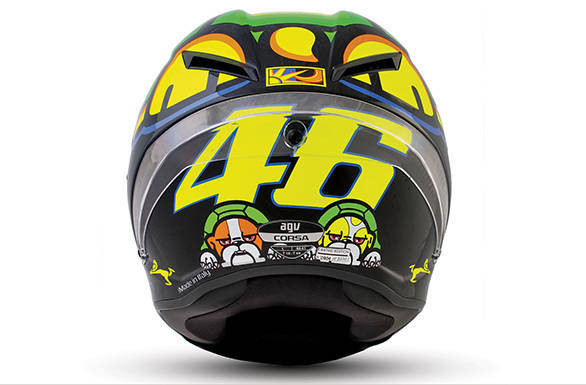 Soundproofing isn't the best around but ventilation is impressive thanks to four front intakes and two rear extractors. The closing and opening of the front vents, however, could have been smoother. The Corsa starts at Rs 59,000 in India and at this price is on par with the other top-level helmets. The Corsa Tartaruga (Turtle) you see here is a limited edition Valentino Rossi replica that the racer used in the 2013 Mugello GP and is priced slightly higher.
Available for Rs 59,000 at dainesedstore.in or facebook.com/jvpromoto12
For more product reviews, click here