Pantera RX6 Rallycross car driven: Growing wings!
Yeehah!
I've just jumped a rallycross car, and it's taken me back to my childhood. Back to when I used to watch The Dukes of Hazzard (or The Duke Boys, as we called it in Germany) and their General Lee '69 Dodge Charger doing insane jumps. I suddenly feel free, light, and weirdly enough, safe. That last bit is down to the fact that the double wishbone suspension with 250mm of travel, on my Titans RX Pantera RX6 is working very nicely. With each lap, and each jump, I'm getting more and more confident, and feeling encouraged to fly higher and further. It didn't start out like that though…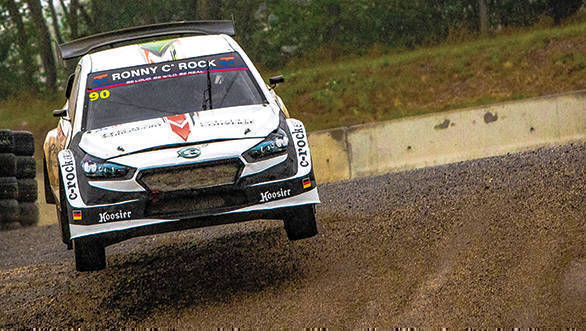 … Before my first jump in the Pantera RX6, I remember asking Toomas 'Topi' Heikkinen, if I'd end up damaging the car if I jumped it. See, I'm more used to cars that really stick to the tarmac. But he'd tested the car before and told me not to worry - just go flat out and don't think about any damage was his advice. So I stopped thinking about damaging the driveshaft or powertrain. Instead I focussed on keeping my foot on the throttle and the car straight in the air, accepted that I wouldn't be able to see the ground for a little bit each lap, and enjoyed the sensation of flying. Lap after lap after lap. Like I said - yeehah!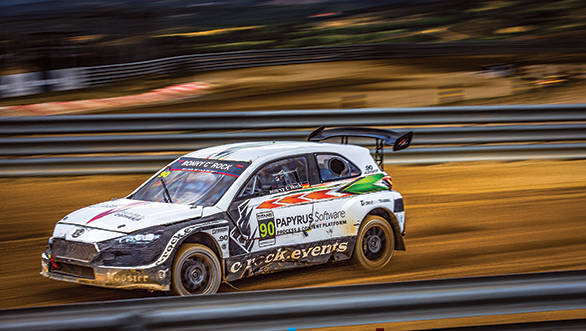 The Pantera RX6 rallycross car that I'm talking about is a single-make machine - available with different body shells although what's underneath them is identical - manufactured by MJP Racing, and built and used in a championship called Titans RX. The car weighs approximately 1,150kg, and comes with a 2.3-litre Ford EcoBoost engine that makes a rocket-like 540PS (supported by an anti-lag system) and 750Nm torque. This is a power-to-weight ratio that is equal to the supercars in the World Rallycross Championship. The car comes with 4-wheel drive, which creates a tremendous amount of traction on absolutely all types of surfaces - tarmac, dirt, mixed gravel, wet, muddy, slippery, and anything else you can throw at it.
Between races, I spend some time picking the brains of these two rallycross geniuses - Timmy and Kevin Hansen. Probably the best in the rallycross world right now!
All those tech figures that I've told you about translate to a claimed 0 to 100kmph figure of 2 seconds. Honestly, given that I've had the opportunity to launch this car in a race situation around 100 times, I can assure you that the feeling you get behind the wheel is pretty close to their claim. Launch it right, and it feels like an arrow that's been shot straight out of Hawkeye's bow. It's really that quick. But launching it right, is tricky. You have to follow a specific procedure absolutely perfectly. First, put the RPM limiter and the anti-lag in the right position in relation to the grip level that you expect. Then, press and hold the clutch, and put the car into gear. After this, press the limiter button with your left thumb, hold the handbrake with your right hand, and fully press the accelerator pedal. Now you're ready and waiting. When it's time to go, synchronise the release of the clutch, the limiter button and handbrake to millimetre and millisecond precision. If one of these three elements is out of sync, you will stall the engine. And trust me when I say, having done it myself, that stalling an engine at the start line of a race, is not something you'll ever want to repeat! If I'd have been allowed to switch the limiter button to right on top of my handbrake, I'd have loved to do it - it would have made life a lot easier on those race weekends. But that's wishful thinking!
Now, assume you have the perfect launch, and manage to get going, you feel like what you're strapped inside is really a very loud, very angry beast. Honestly, my office for six race weekends last year sounded quite a lot like a bad-tempered lion - I couldn't hear anything above its continuous and endless roar. I also must say that the Pantera RX6 was unlike any other race machine that I've ever driven. The very nature of rallycross is that it's more primal. So not only is it a sport of who is the toughest, quickest, and fastest, but it's also a brutal sport with much more contact than you'd expect between the cars. And the sort of impact that you wouldn't be able to imagine these cars could handle - but they do! Within the car, even though you're in a closed cockpit, you're somehow more exposed to the elements. You smell the fuel, the rubber, the exhaust fumes, and every now and again you even get a face full of dust! I'm telling you - this really is no sanitised GT3 cockpit.
Strapped into the car just before the race start
To drive the Pantera RX6 on dirt, you need to be aware of how to set up your car for maximum traction, but at the same time, for good rotation. Because rotating this car perfectly is the key to a fast time. The trick is to flick the car correctly while you enter the corner, so that it's already pointing straight by the time you hit apex, and you can exit the corner like you're being slingshotted out of it. Technically, this means that the front of the car needs to be lower than the rear, and the front rollbar needs to be disconnected, which helps you rotate the car faster. Driving the RX6 on dirt, and flicking it from corner to corner, honestly makes me think of my winters spent driving on ice. It is a very precise machine, and also a testament to how much rallycross cars have evolved over the last few years. When I think back to the time I got to drive a World Rallycross car back in 2014, I remember it being very soft, with plenty of roll. The Pantera RX6 behaves the way you'd expect a stiff touring car would. In fact, on tarmac, the car does remind me a lot of a touring car. You need surprisingly little steering input to rotate the car and make it go exactly where you want it to. The trick to being quick in this car, is to manage to rotate the car by being precise with just your accelerator and steering, as opposed to relying on using the hydraulic handbrake.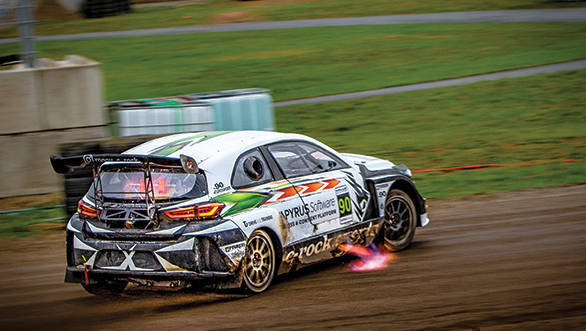 Note the flame that the Pantera RX6 spits out when the ALS and the RPMs are on absolute edge!
Driving this car in the wet is fun but requires extreme precision on the accelerator to minimise loss of traction. Given the fact that it is a 4WD car, the Pantera RX6 felt safe, and easy to control. But you need to be very conscious that your anti-lag system is in the right setting, to make sure that you don't lose too much traction. If you're unfortunate enough to end up out on a wet track on the dry Hoosier tyres, there is a pretty high chance that you'll drift around the whole circuit, which will make setting a good lap time really hard. But on the wet weather Hoosier tyres, you'll have a reliable amount of traction, which means you can trust yourself and the accelerator pedal. Thinking back, there's another complication that I remember in the rain - the windscreen tends to fog up very badly, leading to almost no visibility, which means you're driving blind around the circuit. Only the very experienced drivers and their crews know exactly how to deal with a situation like this.
The Pantera RX6 makes quick work of the highest and widest kerbs we've seen all season at the Montalegre circuit.
It's now been six months since I last drove the Pantera RX6, and I can honestly say that I miss it. Because when I look back at what it's like to be inside the car, there are three things that come to mind. The first - the fun factor. It's extraordinary, because there are almost no cars other than the WRX Supercars that have such an insane acceleration capability. And I say this having driven the Bugatti Veyron. The second - the adrenaline rush. The fact that the car is so powerful, makes you feel like you're actually at the controls of the X-Wing Starfighter - I almost changed my name to Luke! The third - a shift in perception. The closest I can come to explaining this, is by comparing it to driving on the German Autobahn. On an unrestricted stretch of the Autobahn, you can drive over 200kmph for quite a distance, which means that when you have to then drive at 50kmph, you feel like you're standing still. This sort of perception change is what I think I've experienced after driving the Pantera RX6 over six race weekends. Having to get used to the acceleration, and the various other intricacies that driving this machine involved, has taught me a lot and made me a more complete driver. And that's really all that I ever want every single time I sit inside a race car. Okay, a couple of trophies wouldn't be too bad either.
Type 2.3L turbocharged inline 4-cylinder
Max power 540PS@6,800rpm
Max torque 750Nm@5,000rpm
Gearbox 5-speed sequential
Suspension (F/R) Double wishbone (250mm travel)
Drivetrain 4-wheel drive, 3 differentials
Kerb weight 1,150kg
Performance 0-100kmph in 2s
Price (Ex-Delhi)
Starts Rs 12 Crore