OD SUV Slugfest: Volvo XC40
Volvos have always been different and known for making safe and sensible vehicles, which are increasingly getting acclaim in India.
Styling and street presence
The XC40 is surely one of the best designed modern-day SUVs. Its proper SUV like shape and proportions are balanced and it has a purposeful stance. The styling is striking as are the bold and unmistakable front grille and beautifully detailed headlights and taillights. The sharp lines and the pointedly carved rising rear quarter glass, along with the thick C-pillar, impart a sprightly sense of strength. It may not have a dominant street presence, but absolutely stands out from the crowd.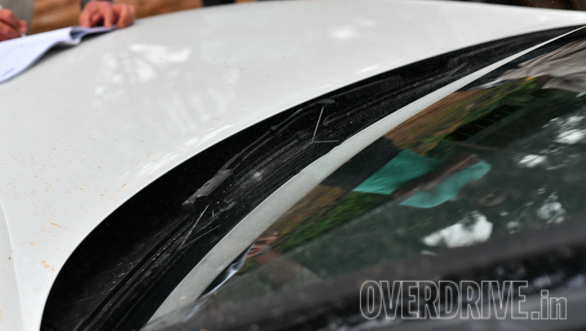 Seating and visibility
The high seating presents a commanding view of the road ahead. The wipers energetically clean a large portion and interestingly, each wiper blade has two water spray outlets with two jets on the edge and one in the centre. This combination works methodically and clears the windscreen of any unwanted elements.
All-terrain capability
The 211mm ground clearance is outstanding and the XC40 has an all-wheel drive with modes like Comfort, Eco, Off-road, Dynamic and Individual that allow you to somewhat adapt a drive mode to your requirements. The modes change the driving characteristics, altering the response of the steering, gearbox and brakes. The off-road mode maximises traction in difficult terrain and hill-descent control is activated with start/stop being deactivated. The off-road mode can be activated only at lower speeds and if the specified speed is exceeded, another mode gets engaged.
Practicality
Various inventive storage spaces demonstrate that a lot of thought has gone into the design. In fact, the front door pockets are large enough to fit a laptop or hold three 1 litre bottles! Boot space is 460 litres and the luggage area is intelligently designed to 'fit your life into your car' as Volvo says. Spare wheel is a space-saver.
Touring ability and performance
The engine packs more punch than the specs suggest and the XC40 is an agreeable touring partner. The impressive fuel economy results in a range of about 700km, despite the smallish 54 litre tank.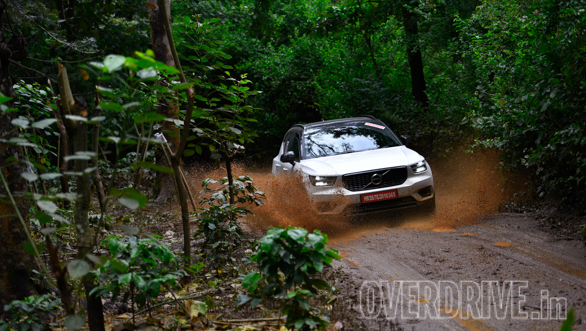 Stage timing
3m 36.55s
The XC40 feels secure and the AWD and off-road mode appear to have been engineered more for safety than speed, as the timings suggest. It's got good brakes, handles well and feels stable and confident even in the slush, but is not a lot of fun to drive.
Specifications
Price: Rs 55.14 lakh (on-road, Mumbai)
Engine type: 2.0D/190PS/400Nm
Fuel Economy: 14.62kmpl
Fuel capacity and Range: 71l/1050km
2WD/AWD/4WD: AWD
4WD lock: No
Diff Lock: No
Ground Clearance: 211mm
Dimensions (LWH) mm: 4,425 x 1,863 x 1,652
Wheelbase: 2,702mm
Weight: 1,735kg (kerb)
Off-Road Driving Modes: Yes
Headlight Washers: Yes
Boot Capacity: 460l
Also Read,
All about the OVERDRIVE SUV Slugfest
Price (Ex-Delhi)
Starts Rs 39.9 Lakhs