OD garage: TVS Jupiter after 13,000km and nine months
So far the Jupiter has been running smoothly on good and bad roads in Mumbai. This is why even though I started riding it with just 800km on the clock, it's only taken a few months to bring the odometer to over 13,000km. I can easily refer to it as my Old Faithful for having firmly held its position as my preferred ride to work.
All this joy and beauty continued until the rains came and played spoilsport. There was this one day that saw hours of ridiculously heavy rainfall and flooded roads. All of a sudden my happy commute became a struggle. Every 300 metres or so the engine would shut off and I'd have to pull the choke and start off again. I suspect that the exhaust was under water or the water was deep enough to reach the spark plug. Of course the water hid the bad roads and potholes which made my ride even more challenging. But hey, Old Faithful's suspension handled unexpected bumps and jolts very well. But it wasn't before long that the scooter shut down once more and now refused to start. So I pulled over, had a hot cup of chai and then tried again. That day it took me more than two hours and the Jupiter battled long stretches of water logged streets. I intend to send her back to TVS for a quick check-up to detect any long-term damage. But I haven't gotten around to it because the scooter hasn't shut down unexpectedly since.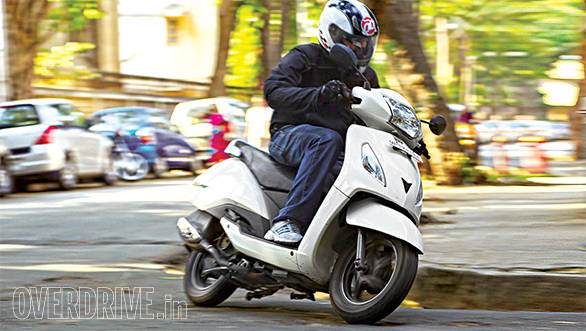 What else has changed 13,000 kilometres down the line? It feels like the brake liners have been worn thin and are due for a replacement. I plan to get that done too when I give the bike in for its fourth service. Which is in fact, due. And that, I guess, will be my next report.
I have been thoroughly enjoying the ride on my Jupiter and it's proved to be the perfect companion for my daily commute. However, a motorcycle might just be a better option for those days of freak rainfall. For every other day I'll be happy to stick with my trusty Jupiter.
Total Mileage 13,098km   Date acquired  Dec'13   THIS MONTH: Mileage 5,533km   Fuel  134.25 litres   Efficiency 41.2kmpl
Price (Ex-Delhi)
Starts Rs 54,349