Meet Sirish Vissa, the head of Volkswagen Motorsport India
I have been watching Sirish Vissa for the last two seasons of the Volkswagen Vento Cup and he's this calm, collected character who always walks around with a big smile on his face. So, when I saw him for the first time with his feathers ruffled, at the first round of the Ameo Cup, I was intrigued. What could have possibly happened that's got one of the most cheerful characters on track, looking that ticked off?
Turns out one of the fire extinguishers in one of the racecars went off while it was in the pits. I'm not sure if someone set it off by mistake or if something actually went terribly wrong, but that was not the reason Vissa was annoyed. From what I understood, none of the fire extinguishers in the cars had been activated during the first race, which the crew had only just realised. That's quite a big deal. And while it might not have been his fault, as the head of Volkswagen Motorsport India, all eyes were inevitably on him. But I realise that these mistakes and emotions only make him all the more human - like you and me. And like you and me, Sirish Vissa has always had big dreams - some of which have come true, some of which are still a work in progress and some of which haven't borne fruit.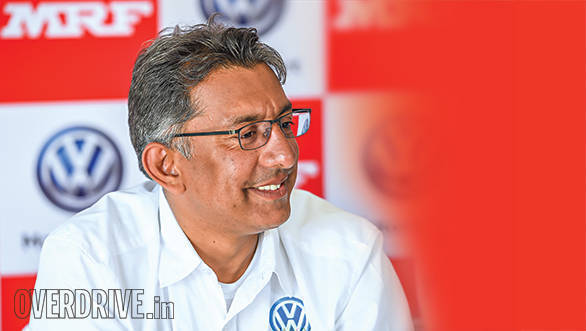 "I wanted to drive racecars. I still enjoy driving cars," says Vissa. "I realised very quickly, thank god, that I'm not quick enough," he admits without any regret or sadness. In fact, he says that even if he could go back in time, and if the circumstances were right when he was younger, he would still pick becoming a race engineer over a racecar driver. "I always knew I wanted to be involved in motorsport in some way, shape or form. It was when I actually started getting closer to the point of getting involved and working in it, that I realised I'm much better off behind the wall using my head, than I am using my instincts to drive," he says unswervingly.
Vissa traces his engineering curiosity back to when he was a kid, "I've always been fascinated with cars and bikes and literally anything with engines. I've always been fascinated with technology too. My parents used to go mad because every little thing in the house used to be taken apart - whether it's alarm clocks, radios, stereos, everything and then attempted to be put back together, unsuccessfully most of the time." But the first event he was a part of that involved wheels was when he was just a few years old - "If you ask my parents, they'll say my first-ever sporting event was a tricycle race they entered me in, which I won, thank god," he says grinning widely. But his fascination with vehicles came while growing up around two of his uncles - one of whom was into cars and the other into bikes.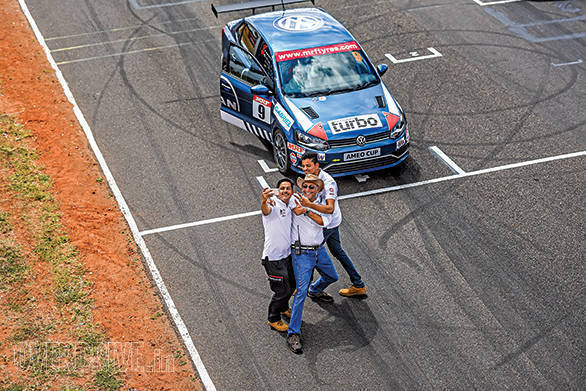 Sirish Vissa is one of the most cheerful people you'll meet on the track - always with that hat, always with that smile. Here, he pauses to take a selfie with his crew
His big break in motorsport came when he moved to the US with his parents. "Suddenly, motorsport became a lot more accessible. All through my school days, I had lots of friends who were into cars. So we used to go out and rebuild engines, go drag race and do track days," he says. But it wasn't all just fun and games because he used to work summers with several people involved in motorsport. One of his odd jobs was working in a store at the Indianapolis Motor Speedway, selling parts to IndyCar teams.
Even while studying mechanical engineering, at the Purdue University, Vissa refused to just go through the motions, like a lot of other people might, just to get the degree. He got involved with the society of automobile engineers, then did the Formula SAE programme and the Baja programme, when he used to "bug the hell out of people for sponsorship". And all that effort paid off because he got another big break with one of the companies that he used to bug, Pi Research - a company involved in making data acquisition systems. "They sort of got tired of me calling them all the time and said, 'No-no, you just come and start working for us. We've got job for you,'" says Vissa. He worked there for around five years as a technical support engineer in different series starting with karting, then moving up to Formula Ford, IndyCar and also sportscars. "By that time, I was also being contracted out to be assistant race engineer for different teams because I enjoyed doing all of it. I used to travel 25-26 days a month. It was a lot of fun!" he says and then adds with a smile, "And I had the energy to do it then."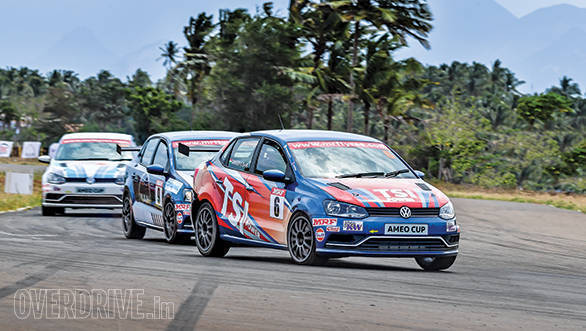 The Ameo Cup racecar is one of the best racecars in the country, fully put together by Vissa and his team
His next big career jump came when Tony Dowe, the then manager of Panoz Motor Sports, put him in charge of the design and development of all the control systems, and made him an assistant engineer. He soon became a race engineer and started running his own car with Panoz. "I finished fifth at Le Mans, which is the highest finish for a Panoz at Le Mans. And I'm damn proud to have been there for that!" he says with a gleam in his eye. But when Panoz decided to stop the Le Mans programme, Vissa decided it was time for a vacation in India. When I asked why he chose to stay here, he shrugged and said, "Something just clicked." The economy in India was just growing and he set up a small manufacturing facility, worked there half the year, and then went back to the US for the other half to do some consulting services. In 2009 he decided to stay here full time, after which he met Prithviraj Siddappa "who put the base [of Volkswagen Motorsport India] together".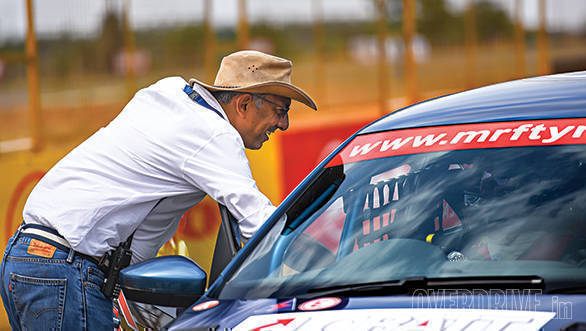 Vissa checks up on one of the drivers before the formation lap
Vissa has been a part of the programme ever since, and took over as the head of Volkswagen Motorsport in 2014 when Siddappa took up a position at VW Germany. Since then, one of his biggest dreams to come true as the head of Volkswagen Motorsport India is the Ameo Cup racecar. "From the time I've taken over [as head], one of my goals was to bring the programme in-house," he says. And like with most changes, it's a gradual process. His first step was to localise some of the parts and the servicing of gearboxes. He then began making the chassis of the Vento Cup racecars locally. And now, his first masterpiece, the Ameo Cup racecar, is fully designed, developed, tested and built right here in India. And it's probably one of the best racecars in the country!
It's the most powerful racecar Vissa's team has made yet, and has proved to be as reliable as ever, during the first round. In fact, Karminder Singh, who qualified on pole position for Race 1, set a time of around 1min 9sec, which is as quick as the fastest Indian Touring Car on the track. And Vissa is extremely proud of it. You can tell just by the way he talks about the car, with that smile and that glint in his eyes. You can tell that he loves it. You can tell that this is his baby.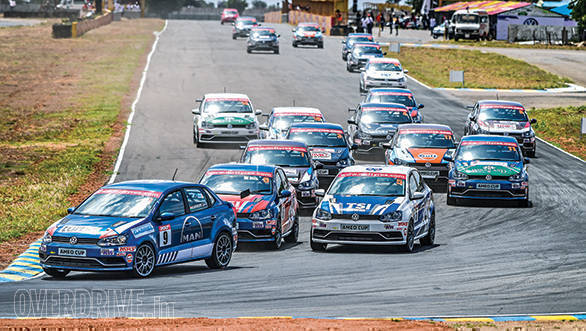 Karminder Singh (No 9) leads as he enters C1 at Kari Motor Speedway
But this isn't his big dream. "I would love to see Volkswagen Motorsport India in a situation where we are developing cars and technology for motorsport use, for export," he says as he doggedly thumps the table with his fist. But again, it's a gradual process, he says. "In terms of where we are going, it isn't something that we can do overnight. You know, for us to get to the stage where we did the roll cages, it took us about two years. But now we're comfortable with it."
Vissa is all for pushing his team - pushing them beyond what they think they can do. "The goal is that I don't want to get involved in micromanaging all of this. Which I can do, and I'm sure I can do some of the detailed stuff a little better just because I have so much more experience with things. But the idea is to get the team to learn so that they can get to the situation that I'm in, in a few years' time," he says rather sternly.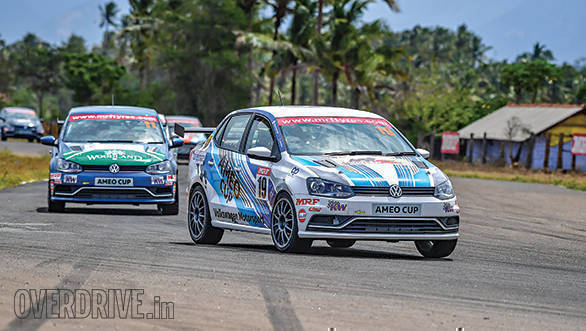 One of the biggest mistakes Vissa wishes he could undo from his younger days happened at the 2000 24 Hours of Le Mans, when his car finished fifth. "I should have been much higher. That's the year that Audi did their first 1-2-3. I should have finished ahead of the third Audi. If I had done my job right, I would have. But being a young engineer, I was cocky, and I made a slightly wrong choice in terms of the damper settings at the front. We lost time because we had to change the front splitter. Even then, when the car came in, I could have fixed it. But I didn't, and I had to do a second splitter change," he says, still sounding quite regretful.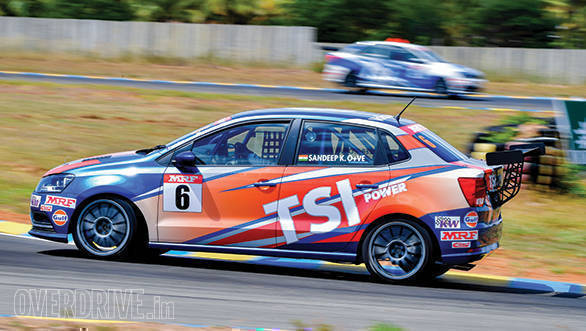 Sandeep Kumar (No 6) drove impressively in Race 2 to take the win ahead of Singh and Dhruv Mohite (No 19)
But Vissa also says that he is so much more mature because of that. "The great thing about my team is that they are all in the same mindset that I was in back then. I feel happy to be able to mentor these guys, kick them a little bit, make them think, and challenge them to be able to do the things that they've done now." Giving every person an equal opportunity is another thing he's learned from his younger days. "When I was in the US, nobody looked at me any different. I was given the opportunity to do a job and I was able to do that job. I'm not extraordinary! I'm an average guy," he says firmly. "And if I was able to do it, why can't anybody else. And that's the question I ask myself, and the team. I say, 'Look, I'm an average guy. If I could do all of this, you guys are smarter than me! Why can't you do more?'"
So, here I am, adding the words "Why can't I" ahead of everything I've wanted to do. And I guess the answer is, I can, if I still really, really want to, given the current circumstances. But, like Vissa here, I'd rather focus all my attention on the few things I know I'd be able to see through completely in this lifetime, rather than leave a hundred and one things unfinished. I'm not saying don't reach for the sky. Heck, reach for the stars. Just make sure you're reaching for the right ones though.
Price (Ex-Delhi)
Starts Rs 8.78 Lakhs