Interview: Thierry Neuville on piloting the new Hyundai i20 in the WRC
All of 26 years old, Thierry Neuville is another example of the rapid drop in the age of drivers competing in the World Rally Championship. Not only is Neuville being recognised for the rate at which he is getting up to speed with the many challenges of the World Rally Championship, what is also noteworthy is that the young driver has been signed on by the fledgling Hyundai World Rally Championship outfit. On the one hand it shows Hyundai's faith in the young driver and his ability to grow in the sport over the course of the next three years. On the other hand it also shows Neuville's own ability to accept a challenge and grow and develop with a new outfit. Something similar to what Sebastien Ogier has already done when he signed on with Volkswagen in 2012. We caught up with Neuville in the media zone at Rajd Polski and asked him a couple of questions.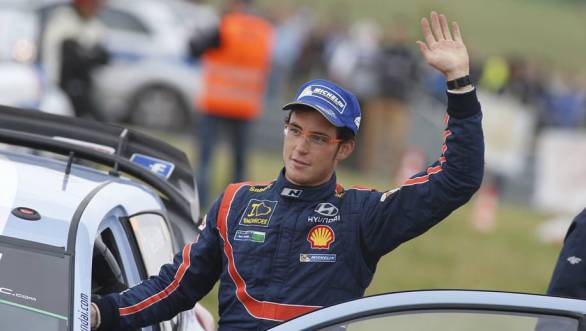 Third place at Rally Poland was Thierry Neuville's second podium in the 2014 WRC with Hyundai
OD: What were the challenges of driving the new Hyundai i20 WRC given that it was an unknown quantity?
TN: Yes, exactly. It was unknown. But of course I think I was now doing five-six years working hard to get a manufacturer seat in a good car. Of course, I knew the first year was going to be very difficult. There's still a big job to do. But, for the future, of course, we know what we need to do to make a good car to be competitive for the future.
OD: Did you at any point feel it was a risk to sign on for three years with an unknown quantity?
TN: No no. I think, of course it is a long term contract, but I am pretty sure that we're going to be competitive in the future. And it's always interesting for drivers, especially for a young guy to know you're going be there for the next few years and that you have the time to develop something to be in the front and be as quick as possible.
OD: But you weren't involved in the development of this particular car, so was that something that played on your mind initially?
TN: Of course, but I knew that there was going to be a new car for next year. Of course I wasn't involved in the development in the beginning of this car so much. When I drove it first it was not really perfect. but we make already a big progress on every event. And now we're going to start with the development of the new car for next season and then I will be much more involved. And then I think we are going to be quicker than we are at the moment.
OD: Can you tell me what areas of development have been the most significant so far?
TN: So far we worked a lot on the suspension and chassis, because the chassis was bending too much, as well on the right side of the car. And now there are some evolutions on the engine coming. Probably still not enough, but we are going to do another step forward.
OD: And what about the development plan for next year?
TN: We're going to start to run in the next month with the new car. This car will be introduced later on in the season, not in the beginning but from then on we hope to be competitive quickly and that the car is reliable as well.
Price (Ex-Delhi)
Starts Rs 6.8 Lakhs