Interview: Pol Espargaro
OD: You've come here straight from Sepang and you were faster than your team-mate on the final day of the test session, does that help?
PE: Yeah! I am a little bit tired, but it's normal. Yes (I was faster than Bradley Smith), but not by much. But maybe now we are little bit faster in one lap.
OD: And it is really important to be quicker than your team-mate.
PE: Yes, it's important. One friend said the first enemy you have is your team-mate. After that, the other ones. And he has to be your best friend as well.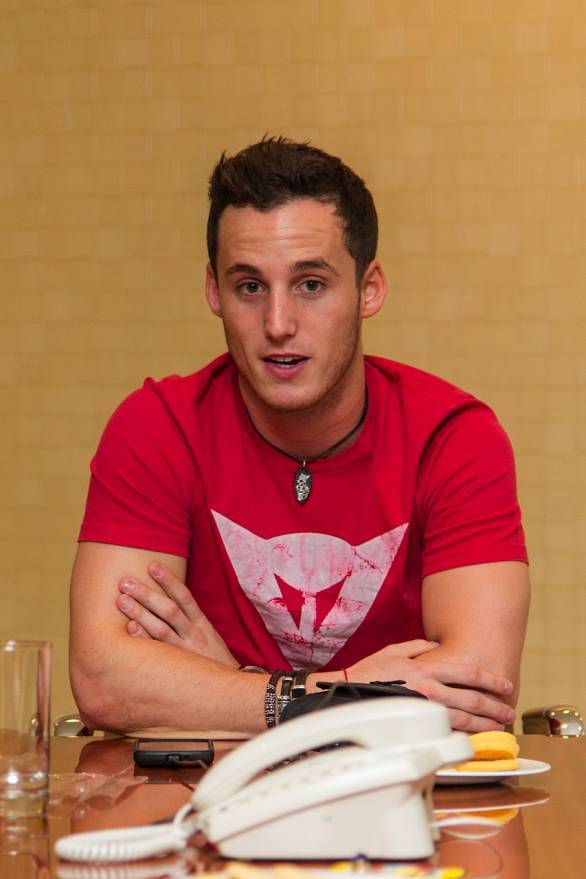 OD: Do you know Bradley Smith? Do you guys get on well?
PE: Yes for sure. I was with him in 125 class in the Spanish championship, afterwards in the world championships, and then in Moto2 and now in MotoGP. So we are of the same age, more or less, and we are fighting together for a lot of years.
OD: How much information sharing happens with your team-mate?
PE: A lot. A lot. Not with your team-mate, but maybe with the old Yamaha set. They have a different way to work as compared to other brands. So at the final of the day we have information of all official riders and my team-mate to share, to compare. It's nice because I'm new in MotoGP, I don't know how to ride right now, I have a lot of information, so that's good for me.
OD: Can you talk a little bit about the Sepang test? You've said that you wanted a very step by step approach to coming to terms with the motorcycle.
PE: It was so good. I have to be really happy because we got our target. That was never crash, get a good lap time and also try to make some long run and understand the bike. We did everything. For sure me as a rider, we want more, but it's good and Yamaha was happy with us because we didn't crash it. That was the first target of Yamaha to not lose the initial confidence. So we have to be happy, I know a little bit better the team, that is also important and everything was going so good.
OD: You signed your 2014 contract with Yamaha last August. Did that put more pressure on you for the Moto2 championship itself?
PE: Someone said to me that you have more pressure because you signed with Yamaha. I said maybe it's the opposite – I have less pressure. Actually if I won or didn't win the world championship, I was in MotoGP too, because I signed a contract. Maybe it was a little bit better to enjoy the Moto2 races, to look at the Moto2 championship as a funny championship, not with pressure. I think it was a little bit better to sign in August because I was a little more relaxed and a little better.
OD: But realistically you can never look at it as a funny championship or be more relaxed.
PE: Yeah, actually in Moto2 it is difficult to be relaxed (laughs). When I was in the middle of the season I was always thinking 'You have to do good'. When you start riding motorcycle, your objective is Moto GP someday. So it's our dream to be there, to fight there with the best riders. For us it is big pressure to speak with a brand like Yamaha, to try and be in the team as I am, finally we did. So when I did it I was more relaxed. I said that I did a good job; they are looking at me now. So I am in MotoGP and let's finish the work with Moto2 now.
OD: Last year wasn't entirely easy; you had a couple of crashes early on in the season that made the championship a lot harder.
PE: Yeah. You know, I think I was too energy, too power. I had too much energy - sometimes you have to focus that energy. The energy is so good and power is so good and if you focus it, for sure it's better. I was too excited at the start of the year. I tried to win the world championship in the start during the first five races and I think that is not the way. So it was a good experience for me to understand how it's hard to win the championship and you have to be relaxed the whole season. Just thinking race by race and trying to make as less mistake as possible, because for sure it's so important to be on the motorcycle during the last 5 laps of the race.
OD: It was pretty close between you and Scott Redding through the season. Can you talk us through Japan, though? It was the high point for you.
PE: Yes Japan was my race. I will always remember Japan. Everything really started in Australia. He crashed and he broke his arm. I said okay, that's my opportunity, I was on my favourite race track and I won there for second year consecutively. So when I was in Japan with Scott, I was dogging him and smelling him. For me Australia was special, but Japan was too special because it was the finish of the championship for me. It was the most nervous moment in my life when I was on the exit on the second start of the race because there were so many crashes. Wow! It was looking impossible because that track is tough. You arrive at the final straight and there is one right corner where you need to brake a lot and all riders want to brake more than you and normally there are lot of crashes. I was hoping that nobody hits me at the rear, and it was a good opportunity to win and then the championship.
OD: And in terms of this season – what's the atmosphere been like at Tech3 so far?
PE: So far I couldn't believe that the team has been so good. You know that when you are in a new team it is difficult to understand the relationship. The feeling between the rider and the mechanics. Well we were working together in Malaysia and it felt as if we were working for almost two years now. We have very good relationship and we understand each other so good. They are French, I'm Spanish, we speak in English. So I thought that the things will be difficult, but it went so good and I am so happy that the team is so great.
OD: What are your initial impressions of the M1?
PE: Good. For sure difficult. It's not that easy. It's not an easy bike, because a lot of electronic systems that control wheelie, control traction, there are many things on this bike that I haven't understood perfectly as of now, I need more time to understand it. But it seems like not a difficult bike, it's a bike made for rookie rider and it's a pleasure to ride a Yamaha because it's a good brand and one of the most important in the world. We have to focus in the test to try to be a little faster. We were at 1 second off the lap record of the track at Malaysia on my first time on a Yamaha Moto GP bike so we have the reason to be happy.
OD: Any specific areas of improvement that you are looking at?
PE: Well we have many, many, many things to improve right now. The brakes are sophisticated with the carbon disc. We have to control it because right now we know how to use it, but we didn't control it. We should know how to ride the bike; but the bike is riding me, not me the bike. So we have to keep working, keep understanding the bike, focus on the work and listen a lot to Japanese people because they know a lot about the bike – it's their baby. So I have a lot to understand about the bike and need to start to think how to be fast. But right now we have many, many things to improve.
OD: What are your goals for the first few races of the season?
PE: I really don't know as of now because, we have many tests before the start of the season, one in Malaysia again and one in Qatar. I think we have a lot of aspects to improve, so for the first race we really don't have any targets yet because we have many things to do. In Malaysia we tested the control traction, we didn't test any electronic map, and we also have to try to be fast on all tyres. So there are many things to test and I am not able to think about the first race and where will we finish in Qatar. So I'm really focussing on the next test. Maybe after the Qatar test we will plan about races. At the moment it's a crazy thing to speak about the races.
OD: Is it added pressure that your brother has done really we in the Sepang tests?
PE: Yes it's quite a pressure because Aleix has done so good. So impressive, because nobody expected that Aleix will go so fast. I am so happy because he also had to be on a good bike and with a good team, and finally he is there. I hope we don't fight much in the races. But it seems like it will be a funny championship for us. And we have to enjoy the opportunity that we have now - two brothers on two bikes in top ten positions in MotoGP. I don't know if it happens many times in racing, so we have to enjoy the moment.
OD: So do you guys race each other aggressively?
PE: We will see. I think you have to be on the corner, on the last lap, fighting together for one position and you really don't know what you will do. For sure you are now thinking about the hypothetical moment that you are fighting with him and you think that I will do this and that, but for sure when you are on that moment I don't know what will happen.
OD: You also said something about improving your corner speed and braking, the areas that you specifically want to improve.
PE: Well still I am not good at braking. Still I have to brake a little bit harder, I have to brake a little bit earlier, so I have much work to do in that aspect because we are not as good for example in acceleration. There are some corners that we are good, but in Malaysia you have to brake a lot harder, so we have to understand how to do it and start to brake a little bit more and work a little bit more on that aspect.
OD: The bike must be a lot harder on you physically.
PE: Yes, especially because I don't know how to ride it softly or smoothly. So when I will ride the bike smooth for sure I will finish the practice a little bit more fresh. But right now I finish so tired and I can imagine 20 laps in Malaysia doing at the same lap time. Now it's really difficult to think about it because right now I am riding it with too aggression and tension. I will have to ride it smooth and I am sure I will be faster and everything will be easier. But I am not in the position to ride like that because I have to still understand the bike.
OD: Has your training regimen changed as well?
PE: Yes, I am doing some things differently. But right now I am sure what to change. Because I was in Valencia after the race and Valencia is a short track, it wasn't hot, with cold weather and my physical condition was good during the season and I was at 100 percent. But now after the break I know what to improve, I know how to be a little more fit and for sure for next practice I will be much fitter.
OD: As a rider what do you think of the Open Class?
PE: Of Yamaha in the open class, Yamaha bikes are so good. They did an amazing job and they are competitive as my bike. Maybe they are a little bit more competitive cause they have the soft tyre and a little bit more fuel. We are fighting for it, to keep the fuel until the last lap. That for Yamaha has been a little difficult. But the Yamaha Open bikes have some litres more which makes it easier and gives them long life in the race. On the Honda side – they are not so good, the speed of their bike is not so good for one, and the riders are not so fast. So may be they will do something in the next test and their bike will be more on the top. But right now the best one is Yamaha for sure.
OD: Does it help going into the MotoGP series as reigning Moto2 champion?
PE: Yes it is a little bit better, it gives you a little more confidence. You come as a world champion and the other riders know you. That means you get a little more respect from the other riders and your own confidence is higher. So it's pretty good to be world champion and start Moto GP. The Yamaha bosses said during my contract signing that you have to first be world champion and after you will see that everything will be easier. So they gave me the reason, and everything is going better.
OD: Are there any specific riders you are keeping an eye out for?
PE: Yes for sure there are many talented riders in Moto GP, with whom I would want to fight. For example semi-official bikes we have to be fighting with are Stefan Bradl and Alvaro Bautista. And also in the open class – like my brother. For sure we have to keep in mind the other top riders and try and be with them as Crutchlow did last year with that bike. So may be one race we can fight some laps with the official bikes. But that is not our target. Our target is to fight with the semi-official bikes. To be the first semi official bike and if we can do that then we should be happy because we have met our target.
OD: Any particular tracks you are looking forward to.
PE: I love for sure the Spanish tracks because I am a Spanish rider. But I love Phillip Island and I won there the last two years. It is an aggressive track and I always enjoy there. I want to race on a MotoGP bike there because it will be an amazing track to enjoy.
OD: As a rider of course, safety is a big concern. You have had some incidents in the last couple of years, does that worry or concern increase when you move up to class like Moto GP?
PE: Yes sure. For that we wear one of the best leather suits in the world – Dainese – to keep us safe. They have DA and a lot of technology to keep us safe. Year by year they are improving and we are a little bit more safe, so I think they are doing a good job and they are helping us to keep riding the bike without injuries. So for sure it's a dangerous sports and we know For sure we know where we are and what we are doing and we have to respect other riders. Thanks to Dainese because with them everything is a little bit easier.
OD: But psychologically does it affect your mind when something happens?
PE: Yes, for example Simoncelli. When he crashed I think it was bad luck, but ti was a big disaster. Normally when you crash you go out of the track or out of the asphalt. Marco was crashed and keeping the bike like a fighter, to try and restart with the bike. And well it was unfortunately that some riders touched him with the bike. It was a disaster. It was not normal. So we have to remember him. Remember that motorcycling is a dangerous sport and remember to respect the bike and the other riders and forget that action because it was a complete disaster.
OD: Is that why you wear a little amulet of sorts?
PE: When I did my first race in 2006 in the world championship I did it with a piece of that bike and I wear it now for 6 years or 7 years. So it is so nice.