Indian racers abroad and their plans for the 2019 season of motorsport
Over the course of the last few years, we've seen the number of Indian racers competing in championships abroad, increasing exponentially. We've also seen Indian motorsport athletes move from merely taking part in events and finishing them, to scoring points, podiums and victories. In 2019, we've got a sizeable number of riders and drivers taking to the international stage, although there do appear to be a few prominent names missing from the roster, with some choosing to focus instead on their 2020 campaigns. Nevertheless, here's your handy guide to who is racing where in 2019, how they did last year, and what you need to watch out for from them in the upcoming season of motorsport.
Motorcycles
KP Aravind
2018 season: Dakar Rally, Panafrica Rally
Best finish: NA
2019 season: Dakar Rally and select rally raids around the world
KP Aravind
The 2018 season of motorsport was not easy for Sherco TVS rider KP Aravind. His second attempt at the Dakar Rally was cut short when he crashed on the ?fth stage of the event, suffering a broken leg. This resulted in him having to miss most of the season, which was far from ideal. Aravind's return to the cross-country rally-raid scene at the Panafrica Rally in October 2018, didn't go according to plan either. Aravind crashed on the ?rst stage of the rally, ending up with a broken wrist. This meant that before the 2019 season, Aravind had no more than a handful of days in the saddle. Going into the 2019 Dakar Rally with next to no training wasn't particularly easy for the Sherco TVS rider, but even with an injured wrist still in a brace, Aravind managed to make it to the ?nish of the Dakar in 37th place overall - his ?rst ?nish at the event. It's a strong start to his 2019 campaign and the Indian rider is hoping to carry this momentum forward to upcoming events this year. While TVS hasn't yet con?rmed the rallies that Aravind will take part in this season, they have said that they will compete in three or four events as preparation for Dakar 2020. These include the Merzouga Rally and the Rally of Morocco, with the remaining events still to be con?rmed. For Aravind, the goal this year will be to slowly improve his ?nishing positions, and aim for an even stronger performance at the next edition of the Dakar.
CS Santosh
2018 season: Dakar Rally, Merzouga Rally, Desa?o Inca Peru
Best finish: Dakar Rally - 34th, Merzouga Rally - 19th, Desafio Inca Peru - 14th
2019 season: Dakar Rally and select rally raids around the world
CS Santosh
CS Santosh's 34th place ?nish at the 2018 Dakar Rally was his best ?nish at the event thus far. The rest of the season, however, proved to be tricky for the Hero MotoSports Team Rally rider. A crash during the third stage of the 2018 Desert Storm forced Santosh into retirement, and left him nursing an injured neck. When he recovered, Santosh competed in the 2018 India Baja, and had a very real chance of winning the rally, except that a penalty for a missed waypoint pushed him down the order to second place. The season-ending Desa?o Inca Peru brought Santosh his ?rst top 15 ?nish internationally - he was classi?ed 14th. But the start to the 2019 season hasn't been ideal. Santosh crashed out of the 2019 Dakar, injuring his hip. However, he's already put that setback behind him and is busy training for the 2019 Merzouga Rally. Other rallies that the Hero MotoSports Team Rally rider will compete in this year, are likely to include the 2019 Desert Storm, as well as the Silk Way Rally in July, the Atacama Rally in September and the Rally du Maroc in October. These are, however, subject to con?rmation. The aim for Dakar 2020 will be to make inroads towards that Top 20 ?nish that he's long spoken of.
Rajiv Sethu
2018 season: Asia Road Racing Championship AP250 class
Best finish: 13th at MMRT, India; 13th at Buriram, Thailand
2019 season: Asia Road Racing Championship AP250 class
Rajiv Sethu 
Rajiv Sethu begins his third season in the Asia Road Racing Championship's AP250 category in 2019. It's been a steep learning curve for the IDEMITSU Honda Racing India rider in the championship, but Sethu has managed to improve steadily. While he ended the 2017 season 46th overall, he ?nished the 2018 season 27th overall, with two 13th place ?nishes being the highlight of his season. His domestic racing campaign included the Super Sport 165cc category of the Indian National Motorcycle Racing Championship, where he ?nished runner-up. Putting all of that circuit racing experience to good use, is the aim for Sethu's 2019 campaign. And, judging by his performance at the ?rst round of the championship, at Sepang, Sethu is well on his way to doing just that. He ?nished the ?rst race 11th, and, despite crashing early on in the second race, recovered to ?nish 13th. This gave him a total points haul of eight over the course of the weekend, the most he's managed to score at an international race weekend. Continuing to improve is the aim for the remaining races in 2019.
Senthil Kumar
2018 season: Thai Talent Cup
Best finish: 17th at Round 1, Races 1 & 2, Buriram
2019 season: Asia Road Racing Championship AP250 class
Senthil Kumar
Seventeen-year old Senthil Kumar makes his debut in the Asia Road Racing Championship's AP250 class this year, riding for IDEMITSU Honda Racing India. Kumar impressed Honda India last year, after his debut international season, racing in the Thai Talent Cup. Over the course of one season of racing, he managed to ?nish races and score points. This, combined with the fact that he took third overall in the Pro Stock 165cc championship in the 2018 INMRC, resulted in his promotion to the AP250 class this year. The goal for 2019 is to learn how to dice with the rest of the riders in what is a very competitive grid, and ?nish in the points as often as possible.
K Rajini
2018 season: Malaysian Superbike Championship
Best finish: 1st place Round 1 Race 1 - Sepang, 1st place Round 4 Race 2 - Sepang
2019 season: Asia Road Racing Championship 1000cc/ MSBK
K Rajini
At 37 years old, K Rajini is well on his way to becoming the granddaddy of Indian motorcycle racing. The 2015 Malaysian Superbike Champion, (who has in the past also won the Losail Road Racing Championship) returned to this very series in 2018. The difference was that he piloted an RACR Yamaha YZF R1 in the championship, as opposed to the Kawasaki ZX10R that he'd used in 2017. However, Rajini was once again plagued by budgetary issues, and the lack of sponsorship became a telling factor in his performance. Despite scoring podiums and race wins over the course of the season, he had to pull out from the last race of the championship when rain came down on the track, and he didn't have wet weather tyres for his motorcycle. This meant Rajini ended the season third in the championship. For 2019, he plans on competing in the Asia Road Racing Championship's 1000cc class. He has already competed in the ?rst round of the season as a wildcard entry, where he crashed out of the ?rst race, but recovered and ?nished eighth in the second race. Rajini is still attempting to put together the budget for the entire season of the ARRC, however, if that doesn't materialise, he will compete in another season of the MSBK in 2019. On the domestic front, he will continue to run his RACR racing team. That wildcard entry in Moto2, however, seems like it's still out of reach.
Open wheel/Prototype:

Jehan Daruvala
2018 season: FIA Formula 3 European Championship
Best finish: Victory at Spa
2019 season: FIA Formula 3 Championship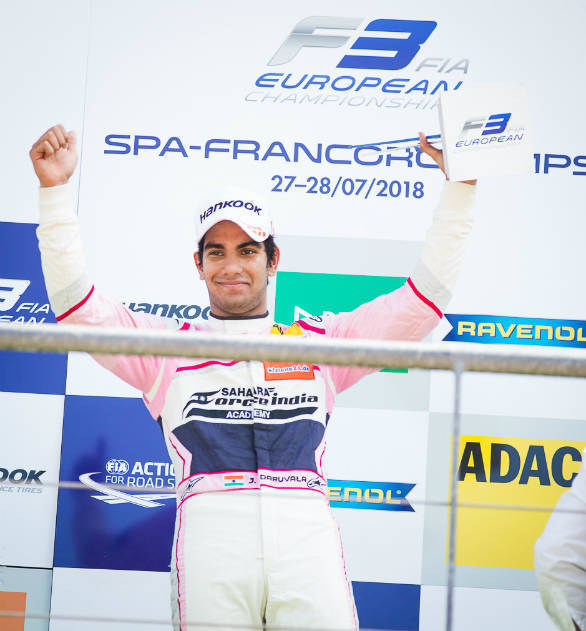 Jehan Daruvala
Jehan Daruvala's second year in the FIA Formula 3 European Championship was a mixed bag. The Indian driver, who competed for the Carlin racing team, managed to score three podiums of the ?rst four rounds of the championship, before ?nally taking victory at Spa Francorchamps. However, Jehan wasn't able to continue this form through the second half of the season. He only managed to score a handful of points in the last ?ve rounds, DNFing in four races towards the end of the season. This meant that Jehan could do no better than 10th in the championship, a disappointment given that he ?nished the 2017 season sixth overall. In 2019, Jehan will compete in the revamped FIA Formula 3 Championship, switching to Prema Racing, with whom Mick Schumacher took the 2018 title. The 2019 cars feature an all-new Dallara chassis, paired with a 3400cc Mecachrome engine, and also feature the Halo protection system seen on current F1 cars, as well as the DRS mechanism. Over the course of the eight-round championship, Jehan will have to cope with driving on F1 weekends, and holding his own on a grid of 31. Finishing in the top 10 will be crucial on his quest to moving up the ladder to F2, and maybe someday, F1.
Krishnaraaj Mahadik
2018 season: British Formula 3 Championship
Best finish: Third place at Spa, third place at Donington
2019 season: FIA Formula 3 Championship/2019 Euroformula Open
Krishnaraaj Mahadik
In 2017, Krishnaraaj Mahadik only competed in two rounds of the BRDC British F3 championship. He still managed to ?nish ?rst for the Double R Racing team at the sprint race at Brands Hatch. He followed this up with a complete season in the series last year, where he managed to take ?ve podium ?nishes over the course of the season, ending the championship fourth overall. In 2019, Mahadik plans to carry out a testing programme with a couple of Formula 3 teams, and is likely to do a few races towards the end of the season. The championships that he is considering, are the FIA F3 Championship or the 2019 Euroformula Open (Spanish F3). The goal for 2019 is to test and prepare himself for a full season of racing in 2020.
Kush Maini
2018 season: BRDC British F3 Championship
Best finish: First at Rockingham
2019 season: Formula Renault Eurocup
Kush Maini
Kush Maini had a successful debut in the BRDC British F3 championship in 2018. Other than the victory that he took at Rockingham, Maini managed eight podiums, two pole positions, and put up a ?ght for the championship title. Unfortunately, though, the Lanan Racing driver ultimately had to settle for third overall. In 2019, Maini switches to M2 Competition, for a season in the Formula Renault Eurocup. The championship comprises a 10-round calendar, serving as the support series for the Monaco Grand Prix and for the Spa 24 Hours. Maini has said that he is aware of the challenges of competing in this particular series, with ?ve of the 10 tracks being all new to him. Maini, however, has already shown decent pace, having run in the top ?ve at the pre-season tests at Magny-Cours. Can he challenge for the title?
Arjun Maini
2018 season: FIA F2
Best finish: Fifth at Baku (sprint race), with at Monaco (feature and sprint races), fifth at Paul Ricard (feature race)
2019 season: European Le Mans Series, 2019 Le Mans 24
Arjun Maini
Twenty-one year old Arjun Maini makes a switch from single-seater racing to sportscar prototype racing in 2019. This move comes after a dif?cult season in the FIA F2 series, where Maini competed for the Trident team, and ?nished 16th in the championship. For the 2019 season of racing, Maini will compete for the RLR motorsport squad in the European Le Mans Series. He will partner Bruno Senna, and Canadian gentleman driver John Farano, with the three sharing driving duties in the team's Oreca 07 prototype. What's more? Given that the RLR team is the reigning ELMS teams' champion, they earn an automatic entry to the 2019 Le Mans 24, in which Maini will compete. The fact that this is his ?rst year in a new category of racing, means that getting to grips with the machine, and the long-distance format is crucial. Everything else - points, podiums, wins - will be a bonus. Maini maintains that his ultimate goal is still Formula 1.
Tin top/GT Cars:

Advait Deodhar
2018 season: NASCAR Whelen Euro Series - Elite Club Division
Best finish: Champion - Elite Club Division
2019 season: NASCAR Whelen Euro Series - Elite 2 Division
Advait Deodhar
Although this is stock car and not GT3, Advait Deodhar's debut racing season in Europe went very well. The Indian driver competed in the NASCAR Whelen Euro Series' entry level category - the Elite Club Division - and won the championship. While Deodhar began the season with the Mishumotors team, winning in his ?rst race for them at Valencia, he continued his winning form, despite switching to the BVR Motorsport team. Deodhar successfully defeated championship rivals Clemens Sparowitz and Andreas Kuchelbacher, to take home the crown. In 2019, he returns to the championship, competing in the Elite 2 Division. He will drive for the Dexwet DF1 Racing team, that will also ?eld the legendary Ellen Lohr in the series' Elite 1 Division. While Deodhar is set on competing in the entire season, he has currently con?rmed his participation in the ?rst three rounds of the championship - Valencia, Franciacorta and Brands Hatch. He is still putting together funds for the rest of the season, and is determined to win the Elite 2 Division championship title.
Narain Karthikeyan
2018 season: Super Formula Japan
Best finish: Fifth at Sportsland SUGO
2019 season: Super GT Series
Narain Karthikeyan
2018 was Narain Karthikeyan's ?fth consecutive season (sixth in all including the 2001 season) in the Super Formula Japan series, often considered the fastest single-seater series outside of Formula 1. Driving for the TCS Nakajima Racing out?t, Narain managed to secure a season-best ?nish of ?fth place at Sportsland SUGO. However, he ended the year 16th overall in the championship. For the 2019 season, Karthikeyan ?nally switches from single-seater racing to GT car racing, competing in the Super GT Series. Narain's association with Nakajima Racing continues, and he will drive a Honda NSX-GT for the team this year. Karthikeyan isn't the only former F1 driver competing in the Super GT championship in 2019. Heikki Kovalainen, and 2009 F1 champion Jenson Button, are also set to take part in the series.
Aditya Patel
2018 season: Blancpain GT Series Asia
Best finish: Sixth place at Ningbo
2019 season: TBC
Aditya Patel seen here with team-mate Mitch Gilbert
In 2017, Aditya Patel and teammate Mitch Gilbert ?nished second overall in the Blancpain GT Series Asia. The duo lost out on the championship title by one single point. And while the two OD Racing drivers hoped to carry that form onto 2018, it wasn't to be. There was teething trouble with OD Racing's new partnership with WRT. And the duo could only manage a best ?nish of sixth at Ningbo, which also meant that they ended the season 17th overall. For Aditya, arguably the country's most successful GT racer thus far (he has a class victory at the Nurburgring 24 under his belt), 2019 appears to be a period of ?ux. His future as an Audi India racing driver is currently uncertain. At the time of going to press, Patel said he was unsure of his 2019 plans, and was instead focussing on the launch of the X1 Racing League.
Armaan Ebrahim and Anindith Reddy
2018 season: Lamborghini Super Trofeo Asia (Rounds 1-3)
Best finish: Second place at Sepang
2019 season: TBC
Armaan Ebrahim (right)
Armaan Ebrahim and Anindith Reddy make up the only all-Indian driver pairing that we have on this list, which is why we've clubbed them together. While Ebrahim had a decent amount of experience in the Lamborghini Super Trofeo Asia series, having won the Pro-Am title in 2016, and then graduated to the Pro Class in 2017, Reddy was the rookie in the championship.
Anindith Reddy
Nonetheless, the Ebrahim-Reddy pairing seemed to work very well, and the duo managed to take a second-place ?nish in their very ?rst outing at Sepang. While they didn't manage any more trips to the podium in 2018, they still managed to ?nish in the top ?ve on more than one occasion since. At the time of going to press, their plans for the 2019 season of motorsport remain uncon?rmed. Ebrahim, however, confessed to having most of his attention focussed on his Asian F3 team, as well as on the upcoming X1 Racing League.
Akhil Rabindra
2018 season: GT4 European Series
Best finish: Fourth overall at Brands Hatch
2019 season: GT4 European Series
Akhil Rabindra
Akhil Rabindra's second season in GT cars proved to be challenging. The Indian driver piloted a BMW M4 GT4 for the 3Y Technology team, where he partnered Belgian driver Stephane Lemeret. Rabindra and his teammate managed to put in a decent performance in some rounds of the championship, the high point being their fourth place overall at Brands Hatch. However, they could ?nish no higher than 18th overall in the championship, which was far from ideal. In 2019, Rabindra will continue in the GT4 European Series, switching to the ProSport Performance team. He will share driving duty with Swiss racer Florian Thoma in an Aston Martin GT4. Finishing (much) higher up the order will be the goal.
Gaurav Gill
2018 season: WRC2
Best finish: 12th in class, Wales Rally GB
2019 season: Testing and development for Team MRF
Gaurav Gill
With three Asia-Paci?c Rally Championship titles, and six Indian National Rally Championship titles under his belt, it really was time for Gaurav Gill to step up to the World Rally Championship. Well, Team MRF managed to do four rallies in the WRC2 category in 2018, although they competed as a non-priority entry, running on MRF tyres, instead of the of?cial Pirelli, Michelin or DMack tyres. It was a sign of their commitment to world championship rallying some point in the future. For Gill, behind the wheel of an M-Sport Fiesta R5, there was a lot to learn. At his ?rst event in Sardinia, Gill ?nished 28th overall and 13th in the RC2 class. Rally Finland didn't quite go according to plan, but Gill made a strong comeback, taking 12th in class at the Wales Rally GB. Rally Australia could have seen Gill top his class, before a mechanical failure put an end to his rally. Despite missing eight stages, Gill was still the fastest of all the R5 cars at the event, which is commendable. In 2019, OVERDRIVE has learnt that MRF and Gill will not do an entire season of rallying in the WRC2 category. Instead, the team is focussing on a very strong testing and tyre development programme. Big things are expected in 2020. Meanwhile, Gill's INRC title defence with Mahindra Adventure will continue.
Amittrajit Ghosh
2018 season: One round each in the European Rally Championship and Latvian Rally Championship
Best finish: ERC3 class victory at Rally Acropolis
2019 season: Partial campaign in the European Rally Championship and the Latvian Rally Championship
Amittrajit Ghosh
With two Indian National Rally Championship titles behind him (2012 and 2013), Amittrajit Ghosh decided it was time to start taking steps in the direction of international rallying. The Mahindra Adventure driver, who is based in London, began his 2018 international campaign by competing at Rally Talsi, a round of the Latvian Rally Championship. Competing in a Baltic Motorsport prepared Fiesta R2, Ghosh managed to ?nish ?fth in the rally's LRC3 category. The reason Ghosh took part in Rally Talsi, was because with a limited budget, he found it prudent to use a competitive event close to the ERC's EKO Acropolis Rally as training. It was a plan that worked well, and Ghosh put in a strong performance at Acropolis, winning the rally's ERC3 class. For 2019, he plans to do a partial campaign in the ERC, with some rounds of the Latvian Rally Championship thrown in for good measure. His hunt for a third INRC title continues, with Ghosh also competing domestically for Mahindra Adventure.
Shahan Ali Mohsin
2018 season: Msport X30 Karting Championship, National Karting Championship - Junior and Senior categories
Best finish: Msport X30 champion - Junior Category, National Karting Champion - Junior Category, Second runner-up in the National Karting Championship Senior Category
2019 season: Formula 1600/Euro JK 19/ MSPORT X30 Karting Championship, National Karting Championship Senior Category
Shahan Ali Mohsin
Shahan Ali Mohsin had a tough start to the 2018 season of karting, having to skip the CIK FIA Academy Trophy that he was scheduled to compete in. This was because an old injury sustained in the 2017 National Karting Championship ?ared up when he was competing in the Trofeo Andrea Margutti in Italy, forcing him to pull out of the round. He did, however, make a comeback, competing in the 2018 MSPORT Karting X30's Junior Category, where he won the title. He also won the title in the National Rotax Max Karting Championship's Junior class. While he took part in the championship's Senior class as well, Shahan missed out on the title in the category, ?nishing third overall despite retiring from two rounds with engine failures. This year, Shahan has already made the switch to single-seaters, becoming the youngest driver to ever compete in the MRF F1600s. In addition to the MRF F1600s, Shahan will compete in the entire season of the Euro JK 19 championship, as well as continue karting in the MSPORT X30 and National Karting Championship's Senior categories. While he hasn't yet con?rmed the international events he will compete in this year, he already has a very packed schedule for 2019. All of which is set to prepare him for his debut European single-seater debut in 2020.
What's more...
There are plenty of other Indian racers competing abroad in 2019. Akash Gowda, who competed in the F4 SEA championship last year, is likely to compete in the F3 Asia series.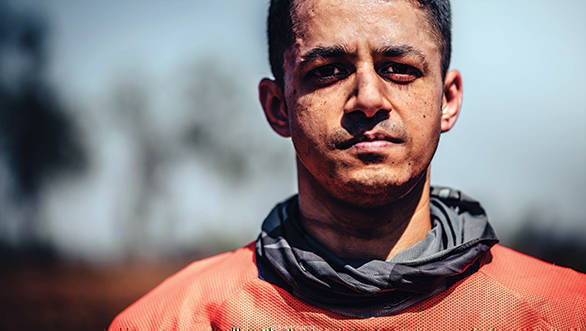 Ashish Raorane
Meanwhile, Ameya Vaidyanathan, who had a tough 2018 season after an unfortunate crash at the Norisring, might make his return to single-seaters. Aishwarya Pissay has already begun her international rally campaign in 2019, having competed in the 2019 FIM Bajas World Cup in Dubai. TVS Racing has con?rmed that they are likely to support her at more international events. Also competing in the world of cross country rally raids is Ashish Raorane, who has signed up to do two rounds of the FIM Bajas World Cup this year, with more races likely if he manages to drum up the requisite ?nances. More additions to the two-wheeler international circuit racing scene, include IDEMITSU Honda's Mohamed Mikail and Kritik Habib competing in the 2019 Thai Talent Cup. Privateer Simran King has also begun to compete in the Bahrain Superbike Championship.
Price (Ex-Delhi)
Starts Rs 83.4 Lakhs