Indian racers abroad and their plans for the 2016 season
Winter vacation for racecar drivers isn't really all it's cracked up to be. Of course they get some time off from the racetrack, but there's still plenty of work to be done. Those lucky enough to have confirmed race seats for the upcoming season of motorsport manage to spend some time testing. Others begin the mad dash to sponsorship meetings and meetings with prospective teams, all in a bid to get a drive for the year ahead. When silly season is over, though, it's all worth it just to be out there on the racetrack or rally stage, as the case may be, giving it all they've got. Here's a list of Indian drivers racing abroad and the series they are competing in. Some confirmed. Some nearly.
Gaurav Gill
2015 season
Asia Pacific Rally Championship,
Indian Rally Championship
Best finish
First place at APRC New Caledonia
The only Indian to win a major FIA championship, 2013 Asia Pacific Rally Champion, Gaurav Gill is all set for another assault on the APRC in 2016. While Gill will continue to drive for Team MRF, this time he gets behind the wheel of a Skoda Fabia R5, yes the same turbocharged Fabia that's being used in WRC2. Having to head into the first round of the championship without having tested the car, however, will put considerable amounts of pressure on him. Ably co-driven by Glenn Macneall, Gill will have to fend off some fairly stiff competition this year too. While his MRF team-mate hasn't been confirmed yet, we expect it to be one of the top rally drivers from Europe. In the past Gill has partnered the likes of Jan Kopecky and Pontus Tidemand, who have proven to be formidable team-mates, even stealing the title from him. That's something he hopes to change in 2016. On the domestic front, Gill will pilot a SuperXUV for Team Mahindra Adventure, in a bid for a fifth national rallying title. While the SuperXUV gets tweaks that mean it develops more power and torque, the car is essentially the same as the one he rallied last year. Rumour has it that an all-new rally machine might surface from Mahindra in the second half of 2016. Rumours that Gill refuses to comment on. Time will tell.
Narain Karthikeyan
2015 season
Super Formula Japan
Best finish
3rd place at Suzuka
All set for his third season in Super Formula Japan, Narain Karthikeyan is determined that 2016 will be his best season yet. So far, Narain's made steady progress in the championship. While in 2014 he had a best finish of 6th place at Fuji, he did much better in 2015, getting a podium at the season-opener in Suzuka But an eleventh-place finish in the championship isn't really what Narain would have been hoping for at the end of the 2015 season. In a bid to improve his results, Karthikeyan has now made the switch from Team Dandelion Racing to the more experienced Team Le Mans, where he will partner former F1 driver Kamui Kobayashi. And it's this experience that Narain's banking on in 2016. Big names in the series this year are Kazuki Nakajima and Andre Lotterer (both of whom have won the World Endurance Championship in the past) as well as 2015 GP2 champion Stoffel Vandoorne. Karthikeyan's got his work cut out for him against such competition. But maybe third time's a charm.
Karun Chandhok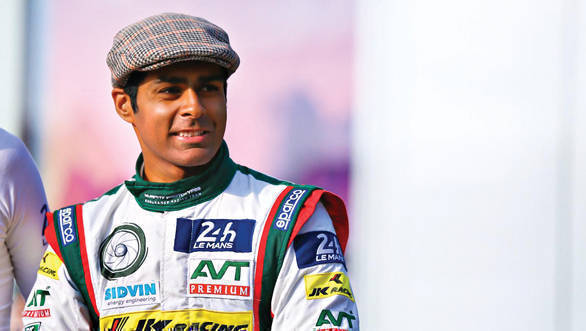 2015 season
FIA Formula E Championship, 24 Hours of Le Mans
Best finish
5th place at Beijing, 13th overall at Le Mans
Having steadily shifted his focus from single-seaters to sportscar racing over the last few years, Karun Chandhok opted to try his hand at racing electric cars for Mahindra Racing in the inaugural Formula E championship. With a best finish of fifth place at Beijing during the first race of the championship things looked good for the team. But then the results started slipping, especially in the second half of the season. After which Mahindra and Chandhok decided to part ways. In 2016, Karun will continue his stint at the 24 Hours of Le Mans. While the confirmation hasn't come through yet, Chandhok is aiming for his fifth consecutive attempt at the big race, once again with Team Murphy Racing Prototypes, with whom he has raced for the last four seasons. After a fifth-place finish in the LMP2 class in 2015, his best result at Le Mans, Chandhok's hoping to do better in 2016.
Aditya Patel
2015 season
Audi R8 LMS Cup
Best finish
1st place at Shanghai; double win in the Audi TT Sport Cup at Nurburgring
Over the past couple of years Aditya Patel appears to have gotten rather adept at driving the Audi R8 in various racing series around the world. His performance in the 2015 Audi R8 LMS Cup, however, was possibly one of his best seasons of international motorsport thus far. Patel headed into final round of the championship with a mathematical possibility of winning the title. Although that didn't happen, he ended the season on a high, winning the last race of the championship. From what we understand, Patel is all set for another season of the LMS Cup. Should he actually sign up for his second attempt at the series, the Indian driver will aim to finish in the top three in the championship, although he's looking to win the title. The long term goal remains unchanged - eventually becoming a part of the Audi squad's factory team. A championship win will help his cause.
Armaan Ebrahim
2015 season
Lamborghini Blancpain Super Trofeo Asia Series
Best finish
1st place at Fuji
From competing in the A1 GP series as a 16-year old, to a couple of seasons in the revived Formula 2 championship before focussing his attention on sportscar racing, Armaan's done it all. But perhaps it was the 2015 season that proved to be one of the better seasons for Ebrahim. Competing and driving alongside Dilango Racing team owner, Dilantha Malagamuwa, Ebrahim got a full season in a Lamborghini Huracan, and had some decent results, including a fine first place at Fuji, that resulted in the pair finishing second in the championship. Given that their results didn't turn out too bad, Armaan is looking to compete in another season of the Super Trofeo Asia Series, with Dilango Racing. There is also the possibility that the duo will compete in the GT Asia series, albeit in an old-spec Gallardo GT3. While the dotted line hasn't been signed yet, things ought to be confirmed very soon. And with runner-up status last year, the pair will now aim for the Super Trofeo Asia championship.
Jehan Daruvala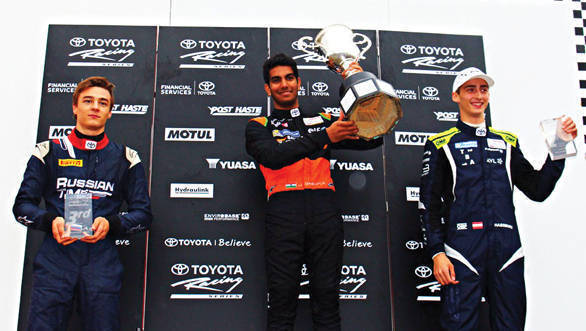 2015 season
Formula Renault 2.0 ALPS, Formula Renault 2.0 Eurocup, Formula Renault 2.0 NEC
Best finish
2nd place at Nurburgring in the NEC; 3rd place at Misano in the ALPS
His first year of racing Formula cars was rather hectic for young Jehan Daruvala. Having come off the back of a rather strong season of karting, where he was runner up in both the championships he contested, Jehan had a lot to learn when it came to racing cars. Daruvala raced for Fortec in the Formula Renault 2.0 ALPS and NEC championships, doing one off appearances in the Renault 2.0 Eurocup too. Three podiums in the NEC and one in the ALPS meant 2015 wasn't too bad for his debut single-seater season. Jehan's 2016 season has already started on a good note with the driver competing in the Toyota Racing Series in New Zealand where he finished second in the championship. The switch from Fortec to Joseph Kaufmann Racing, the reigning champions in the NEC, might be the right decision for Daruvala. Race wins and a championship assault is the goal.
Arjun Maini
2015 season
Toyota Racing Series; European F3
Best finish
1st at Hampton Downs and Taupo in the Toyota Racing Series; 4th at Pau in Euro F3
The 2015 season of motorsport began on a high for Maini. At his first attempt in the Toyota Racing Series in New Zealand, Maini managed to win two races, finishing first at Hampton Downs and Taupo, and ending the championship fourth overall. However, when he began his main campaign for the 2016 season, things got a little tricky thanks to the highly competitive nature of the European F3 grid. Maini, who raced for Van Amersfoort Racing showed definite racecraft at the Pau Street Circuit, finishing 4th and 5th at the track, which would be his best finishes all season. A highpoint of his racing year was the fact that he finished the Macau GP, ending the F3 race 10th overall. For 2016, while Maini stays on in the European F3 championship, he will now compete with Team Threebond with T-Sport, with whom he had that rather decent Macau run. Moving up from his 18th overall in last year's championship will be the goal for 2016. With a competitive grid, it isn't going to be easy.
Kush Maini
2015 season
WSK Junior Series
Best finish
2nd at Kerpen in the DKM championship
Kush Maini has risen through the rungs of international karting rather quickly, and he's managed to make a mark along the way. The 14-year old had a competitive 2015 season, becoming the first Indian to win the Trofeo Andrea Margutti in the Junior category at the start of the season. The rest of the season was spent competing in the Junior class of the CIK FIA European KZ championship where he had some good results. He also managed a second place in his debut race in the Senior class of the DKM championship. The move from karting to Formula cars is the next step on the route to racing higher specs of single seaters, and for 2016, Kush has decided that it's time for him to make exactly that move. He will spend 2016 driving in the Spanish F4 championship and the SMP F4 championship for Koiranen Racing. Given that he's doing two series, he certainly has his work cut out for him, with 45 races plus testing days. The goal in 2016 is a top-five finish in the championship.
Tarun Reddy
2015 season
FIA MSA Formula Championship
Best finish
3rd place at Croft Circuit
Tarun Reddy's second full season racing cars in Europe was a tough one. Driving in the FIA MSA Formula Championship with Double R Racing, Reddy only managed one podium in the 30 races spread over 10 rounds. He ended the championship 15th overall, which certainly wasn't the result that he was hoping for. The plan of action had initially been for Tarun to progress to Formula 3, but with more growth required before the leap to Formula 3 can be made, Reddy is now set to compete in the BRDC F4 championship with Fortec. Recovering from a less than satisfactory 2015 season of racing will be the goal - consistent points scoring finishes and a few podiums along the way won't hurt. With three other Indian drivers on the grid, and with the likes of reigning Formula MSA champion Lando Norris as competition, 2016 might well be a tough year too.
Akhil Rabindra
2015 season
BRDC Formula 4
Best finish
7th at Rockingham Speedway
2014 was a pretty big year for Akhil Rabindra, especially as he was a part of the FIA Institute's Young Driver Academy. The training he got there stood him in good stead as he set out to compete in his first full season of racing in Europe, in the BRDC Formula 4 championship in 2015. Rabindra competed with Douglas Motorsport, and had a mixed year with seven top 10 finishes off 24 races spread over eight rounds of the championship. However, for 2016, the 19-year old is determined to make some progress and fight to be at the front of the pack, aiming for a few podiums too. The switch from Douglas Racing to Lanan Racing has been made, with Rabindra's current team being one of the front-runners in the series. A team with plenty of experience could be just what Rabindra needs to push himself one step further - a race seat in a higher spec Formula car for 2017.
Advait Deodhar
2015 season
Guest driver, Volkswagen Vento Cup
Best finish
4th at the Buddh International Circuit
2015 didn't go as planned for Advait Deodhar. Though he started the season with tests for the Eurasia Team in the Formula Masters Championship China, Deodhar decided against competing in that championship, choosing instead to focus on Raceto24, a shootout for the third seat in the LMP2 class with Team SARD-MORAND for the 24 Hours of Le Mans and the World Endurance Championship. However when the programme was cancelled, Deodhar found himself without a race seat for the year. As of 2016, Deodhar is focussed on trying to get a race seat in the Porsche Carrera Cup (at the cost of GBP220,000), talking to teams like Parker Racing, Parr Motorsport, Redline Racing and GT Marques. The long term goal is to do two seasons in the Carrera Cup, and then follow the Porsche ladder - the Supercup, GTE class in the WEC and eventually the LMP1 class too.
Karthik Tharani
2015 season
MRF FF1600
Best finish
Champion MRF FF1600
It's been a good couple of seasons for Karthik Tharani. While he managed to win the Volkswagen Polo R Cup championship in 2014, he won his first single-seater championship in 2015, being crowned MRF FF1600 champion. For 2016, Tharani will attempt to defend his title, with a third consecutive season in the series. But the move to international racing is also in the pipeline. A proper switch, as opposed to the one-off outings in the MRF Challenge that he's already done in the past. Tharani is eyeing a spot in the BRDC Formula 4 championship. But, with time running out before the championship begins, there's a good chance Tharani will switch to Plan B - a spot in the LMP3 class of the European Le Mans Series. Both will have competitive grids, and Tharani ought to be looking at top 10 finishes for his first full year racing abroad. It won't be easy.
Prashanth Tharani
2015 season
24 Hours of Paul Ricard, 12 Hours of Mugello
Best finish
Fourth in class at the 12 Hours of Mugello
Ever since he came rather close to close to winning the Volkswagen Polo R Cup championship in 2013, Prashanth Tharani has set his sights rather firmly on breaking into the world of international endurance racing. Which is what he's been competing in since then. He's tried his hand at the 24H Series, run by Creventic with commendable results too. In 2015, Tharani only managed to do two events with the Zest Racing Team, finishing fourth in class (26th overall) at the 12 Hours of Mugello and sixth in class (35th overall) at the 24 Hours of Paul Ricard. For 2016, he plans on returning to the 24H Series, with the same team, behind the wheel of a Seat Supercopa. If things work out as far as sponsorship is concerned, then there is also the possibility of competing in the Seat Eurocup Championship too. A full season of international racing ought to be the goal for 2016. The more seat time he has, the more realistic these 'endurance racer' goals will be. One off events in 2016 might hamper his progress in a big way.
CS Santosh
2015 season
Dakar Rally
Best finish
36th in the Dakar Rally
Following a successful 2015 season, where he pretty much competed in the Dakar Rally on his own steam, CS Santosh decided to compete in the championship for a second time in 2016. While in 2015, Santosh finished the Dakar 36th overall astride a KTM 450 Rally, his attempt at the Dakar in 2016 didn't go quite as planned. Mechanical issues with his Suzuki 450 Rally cropped up, and then a broken navigation tower led to his exit from the event. Disappointed though he was, Santosh recovered from this by winning the India Baja 2016. He's all set for the Desert Storm too. Santosh also plans on competing in the Morocco Rally later this year, part of the World Cross Country Rally Championship, as well as the Hellas Rally in Greece and the TransAnatolia Rally in Turkey. The Red Bull Sea To Sky is also on Santosh's radar for 2016, as is a round of the Baja World Championship in Spain. Dakar 2017, then? Without a doubt, he says.
Parth Ghorpade
2015 season
EuroFormula Open
Best finish
10th place at Spa and Red Bull Ring
Following a shoulder injury, Parth Ghorpade had to sit out most of the 2014 and 2015 seasons of racing. But, in a bid to see if he was physically capable of handling the stress of single-seater racing post his injury, Parth competed in three rounds of the EuroFormula Open in the second half of 2015 driving for DAV Racing. His best finishes - a pair of tenth places that came at Spa and Red Bull Ring - proved he was ready to race again, although a little rusty. For 2016, Parth is all set to compete in the LMP2 class of the European Le Mans Series with the Algarve Pro Racing Team. Competing in a full season of racing cars of this spec will help him get back into the groove of racing competitively. Progressing through the endurance racing rungs will be the ultimate goal.
K Rajini
2015 season
Malaysian Super Series
Best finish
Malaysian Super Series Champion - Open Category
2015 was a tricky year for K Rajini. On the one hand he was busy competing for Team QMMF in the Qatar Superbike Championship. And on the other hand he was also racing in the Malaysian Super Series. While his results in the Malaysian Super Series were so strong that it saw him leading the championship by 9 points, a crash during practice and then during the first race of Round 3 of the QSBK championship very nearly threw a spanner in the works of that other title he was chasing after. Ignoring advice from his doctors, Rajini raced in the final round of the Malaysian Super Series, and finished second in the final two races of the season, enough to win him the title. In 2016 he returns to the Malaysian Super Series, this time with Team Chia Moto, and will attempt to defend his title. In addition, Rajini plans on a wild card entry for one Moto2 round.
Sarath Kumar
2015 season
INMRC - CBR250 Class
Best finish
CBR250 Champion
Another racer who had to settle for riding only domestic championships in 2015 is Sarath Kumar. When the budget for an international season didn't materialise, Sarath abandoned plans of competing in either the European SuperStock 600 series, the Asian Road Racing Championship's 600cc class and the Malaysian Super Sport 600cc class. He chose, instead, to focus on competing in and winning the Honda CBR250R Cup title. It's been a whole year since he raced abroad - he won the final round of the Asia Dream Cup at Qatar in 2014 - and Sarath is once again eyeing those 600cc series we've already mentioned. Chances are that he might have to spend 2016 racing in the Indian National Motorcycle Racing Championship once again. But talks are currently on to get him a spot in the Asian Road Racing Championship. With another knee surgery underway at the moment, and some time needed to recuperate, time might be running out.
Shahan Ali Mohsin
2015 season
Asia Max Karting Championship; Indian National Micro Max Karting Championship
Best finish
1st at Shah Alam Circuit; Indian National Micro Max Karting Champion
All set for his third consecutive season of international karting, is young Shahan Ali Mohsin. The Indian driver, who ended last year on a good note winning the final round of the Asia Max Karting Championship held at the Shah Alam Circuit, also managed to clinch the title in the Micro Max category of the Indian National Karting Championship. While Shahan will continue to compete in the National Karting Championship, attempting to defend his title, he has already gotten off to a good start in the Asian championship. Shahan claimed pole, won the prefinal race and finished second in the final race of Round 1 of the championship at Sepang. For 2016, there's a serious attempt to win the Asia Max Karting Championship. He could well do it.
The Others
There are other racers who are attempting to launch their careers in international motorsport in 2016. Amittrajit Ghosh, for one, has decided to try his hand at the British Rally Championship, already competing in the first round at Wales, earning himself a third place finish in class. Then there's Sanjay Takle, who is very likely to have another go at the Production Class of the Asia Pacific Rally Championship, having won the title back in 2013. Ameya Vaidyanathan will compete in his second season of the BRDC F4 series and will be hoping to do better than the other Indian drivers in the series. He's been a dark horse for a while, and could end up surprising the world with his results. Krishnaraj Mahadik will also make his debut in the same championship this year. A first for India, will be that Mahaveer Raghunathan will make his GP3 debut with Koiranen Racing, although he might be floundering until he finds his feet given the level of competition in the series. A whole host of young karters are in international waters too, with Ricky Donison, Nayan Chatterjee, Dhruv Mohite, Ameya Bafna all set to compete in championships abroad. 2016 could be a make or break year for a lot of them.
Price (Ex-Delhi)
Starts Rs 2.55 Crore
Price (Ex-Delhi)
Starts Rs 63.12 Lakhs
Price (Ex-Delhi)
Starts Rs 3.21 Crore
Price (Ex-Delhi)
Starts Rs 6.17 Lakhs
Price (Ex-Delhi)
Starts Rs 8.78 Lakhs
Price (Ex-Delhi)
Starts Rs 1,64,143