In conversation: Siddhartha Lal, MD & CEO Eicher Motors
We caught up with Siddhartha Lal, MD & CEO - Eicher Motors to know more on the upcoming Royal Enfield Himalayan.
Himalayan Genesis?
Siddhartha Lal: Royal Enfield has been in India for 60 years. The Bullet for the army was the starting point – that's where it gets it street cred. It was used in the most difficult terrain and over time, chaps who wanted to adventure in India used the Bullet. At some point, we figured that we needed to make something purpose built. We decided to take a clean sheet of paper and make a motorcycle that was built for the Himalayas from the ground-up. Something not too extreme so that it can be your only motorcycle.
Working on all-new motorcycles must be fun?
It's an evolutionary step. We did a relatively new engine with the UCE and then we did a modern chassis with the Continental GT. We learnt from these and were ready to do an all-new motorcycle. But it is also hair-raising. We decided to do something that we all love. Our first love is to go to the Himalayas and so we made a very obvious choice. Obviously, there was a business case and we've crunched the numbers. But it is also very emotional. We wanted to do a motorcycle that is just right. Not a cut-paste archetype of an adventure tourer but something that is accessible. For instance, we juggled the rear suspension linkage to allow long travel while keeping the seat height at 800mm so most Indian customers could use it.
Why does it still have carburettors?
Every decision we made was extremely deliberate. We had both carburettors and fuel injection and we tested both. We've done a lot of work and we felt that the time and place for the launch – right now – was correct for this. The carburettor does the job. The fuel injection does have benefits but it is outweighed by the enormous cost it comes at.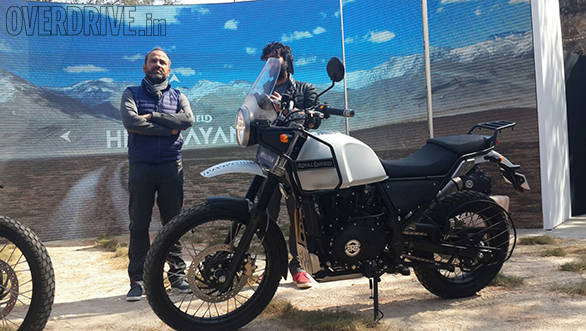 Existing customers or new ones for the Himalayan?
At the very core are our existing customers. They'll still ride their Classics and Bullets up the mountains and I'm delighted for them. But some will go in for this. However, we would have done our job wrong if we only targeted those customers. We certainly want to reach other chaps who have an affinity for Royal Enfield, but also those who don't. The Himalayan makes us relevant to them. There will also be chaps who're not sure of what they want but when they see this, they'll be like, okay this hits the spot and that is what we want.
Read more on the Royal Enfield Himalayan on OVERDRIVE
Royal Enfield to launch the Himalayan in India on March 16, 2016
Image gallery: Royal Enfield Himalayan
Price (Ex-Delhi)
Starts Rs 2,01,000