Hyundai Venue: Likes and Dislikes
The Hyundai Venue is well thought out of the product and here are some things you will absolutely love about the car.
Blue Link
The Blue Link is a convenient piece of Connected Tech to have in the car. Hyundai cars aren't notorious being unreliable, but should you have a breakdown, it allows you to connect with a call centre at the touch of a button. An even greater good that comes from this feature is the one-touch SOS feature will beam your GPS coordinates to emergency services in case of a misfortunate accident. The everyday feature of Blue Link, though, is its ability to remotely start the car and pre-cool the cabin - which is the stuff of luxury cars!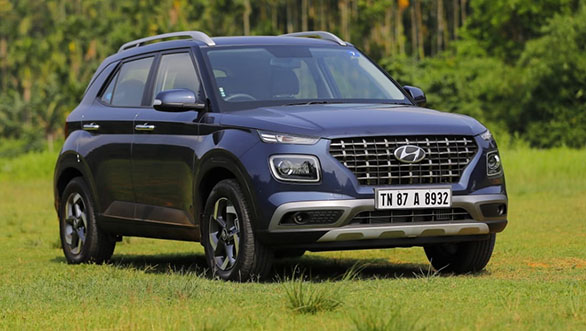 Rear A/C vents
On the topic of cooling, the Venue gets air-conditioning vents even at the rear and they are angled towards the face of the rear of the rear-seat occupants instead of their crotch! What deserves a mention is that the rear A/C vents are exclusive (so far) to the Indian model.
Dual-clutch transmission
The automatic DCT available on the turbo petrol is slick, quick and smooth and easily outperforms the other automatic/automated transmissions that we have experienced in the sub-four-meter segment. Yes, it is slicker than the DSG in the Ames, too!
Powertrain refinement
Hyundai has once again managed to deliver petrol and diesel powertrains that are unbelievably refined for this class. Even the three-cylinder turbo-petrol has a pleasing note to it when revved high. The diesel is silent of start-up and through the meat of the rev-band (2,000-3,500rpm).
The Venue isn't without its shortcomings and though there aren't any deal-breakers, here are a few we thought we must list down:
Packaging of the features
Like any Hyundai of recent times, the Venue is brimming with features. But like any new Hyundai, majority of the good stuff is exclusive to the top-end trim. So much so, that because the petrol-auto doesn't come in the top-spec trim, you miss out on the rear wiper!
No diesel automatic
Though the market is showing a strong shift towards petrol, there is an increasing number of urban population that stays outside of a big city and take long commutes into work everyday, and therefore, automatic diesels still make a lot more sense for them.
Also Read,
2019 Hyundai Venue diesel first drive review
2019 Hyundai Venue automatic first drive review
2019 Hyundai Venue SUV receives over 20,000 bookings
Image Gallery: Hyundai Venue launched in India – prices start at Rs 6.50 lakh
2019 Hyundai Venue SUV launched in India at Rs 6.50 lakh
2019 Hyundai Venue SUV live launch: Details, prices, specs, variants
Also see: Hyundai Venue Compact SUV Unveiled In India First Look Video
Price (Ex-Delhi)
Starts Rs 6.7 Lakhs