How the 1977 London to Sydney Marathon changed my life
Can just one day, chart the course of one's life? Looking back at 26th August 1977, I think this day (when the London to Sydney Marathon rolled into Bombay), perhaps decided the direction of my life. I was in school then, probably Class 8. Some local organisers assisting with the running of the Indian leg of the London to Sydney had come to St. Xavier's High School and put a request on the notice board asking students to volunteer for welcoming the rally participants. My late elder brother Gulu, was seriously into cars and as I had also developed quite a liking for them, I volunteered. The fact that my school was just about 3km from the event TC or time control, (the first time I heard that term) at Nariman Point and my residence was also on Marine Drive, just a stone's throw away, possibly sealed the deal, along with the fact that not many other students had applied. I was selected to be amongst those that would hand out bouquets of flowers to the participants when they arrived at the time control.
The Mercedes 280E proved to be a strong and reliable performer
The organisers spoke to my vice principal Fr. Joe Aran, said I needed to be in school uniform and that I would have to leave school early on 26th August, to be in time to welcome the participants. Gulu happily agreed to fetch me at 3:00pm (school ended at 3:45pm) and take me to the TC. The newspapers in Bombay (as it was known back then) were carrying daily reports after the event flagged off from London, with the focus of course being on the progress of our very own Indian team led by Dr. Bomsi Wadia. I followed these reports closely and was familiar with most participants and their cars before they drove into Bombay. My brother Gulu even managed to pick up a copy of a foreign publication that had done a detailed preview of the event with backgrounds of all the leading drivers, their cars, the preparations and modifications, etc. I learnt all about raised and stiffened suspension, sump guards, extra fuel tanks, extra driving lights, free flow exhausts, bull bars or roo bars, which would be needed as a protection from collisions with kangaroos in Australia, and so on.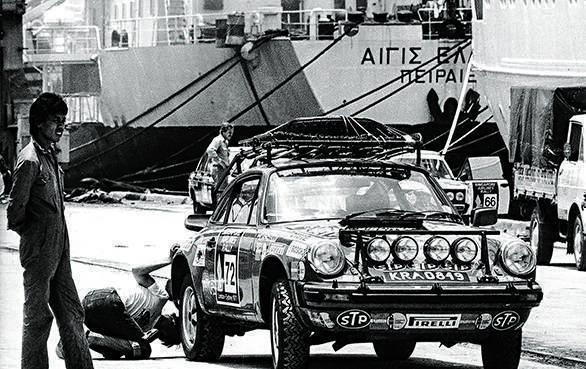 Zasada, the ace who drove from Delhi to Bombay in less than 12 hours.
On the morning of the day the cars were to reach Bombay, I was so excited that all I was talking of in school were the cars and some of my classmates also got enthused and said they wished they had volunteered too. Then suddenly while class was on, Father Joe Aran walked in and asked me to come with him. I looked at the clock; it was only 12:45pm and still early. Father Aran took me to the school office and said my brother would be there soon as the first car was already on the outskirts of Bombay and would reach the TC before time. Father Aran, one of my most favourite teachers, told me to remember that I was representing him and the school, and should behave properly at all times. Then my brother Gulu rushed into the office a little after 1:00pm, and said come on, we got to hurry.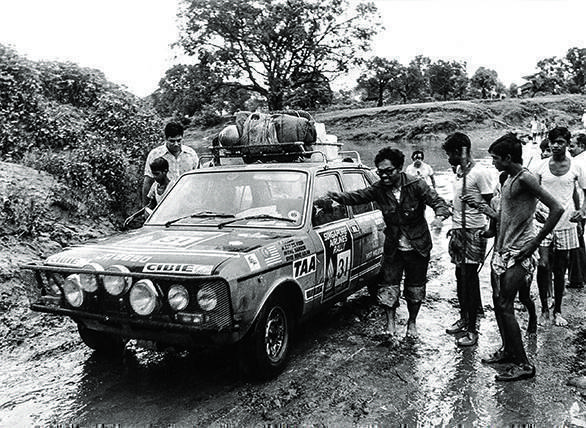 A Fiat 132 being pushed out of a waterhole somewhere in India. It was serviced at Bombay Cycle and finished 39th overall
He had come in a 1971 Ford Capri, a used one, which he had persuaded my Dad to buy only a year back. Gulu said he had received a call from the organisers office saying the first car was running very early and we should immediately head to Nariman Point and since our location was closer, we would possibly reach before the time control officials. It was when we were approaching Marine Drive that we heard an awesome engine roar. It was like no engine I had ever heard before. It was pure and powerful and that sound of speed was soon ricocheting off the walls of the art-deco buildings on Marine Drive. The policemen at the junction stopped us, and then as if in a blur we saw a car fly by. It was red and the engine was singing like a star. All my bookish knowledge acquired in the last fortnight came to the fore and I confidently told Gulu that it was Zasada in his Porsche 911 Carrera, powered by a flat six cylinder engine.
My brother was also well aware that since Zasada was leading the event, he would have been the first to be flagged off from Delhi. But nobody could have imagined that he would drive the distance of 1,450km between Delhi and Bombay, in less than 12 hours! After waiting for a few minutes when no other rally car appeared the policemen heeded our requests and let us go. When we reached Nariman Point we saw Zasada waiting on the pavement outside what was then known as the Oberoi Sheraton Hotel (now the Trident). A crowd had already begun to gather around his vehicle. There were also a few people running about putting up a table with chairs, banners, and so on.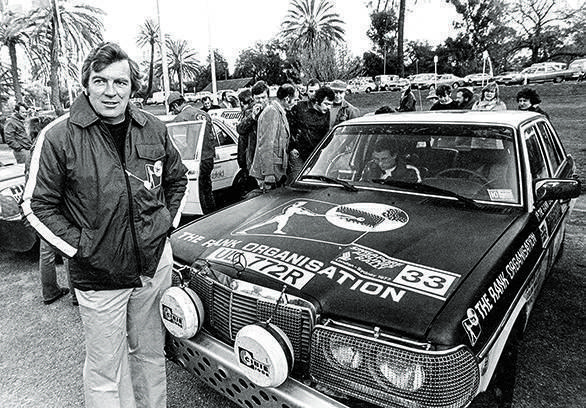 Andrew Cowan winner of the 1968 edition, also won the 1977 event, this time driving a 280 E.
This was the time control being set up! They were expecting the first car at 6:00pm, but somehow they still managed to get the control up and running a little after 2:00pm. After a long gap the second car turned up and then the others started coming in soon after. The flowers also arrived and I started to distribute those. Amongst all this whenever I recognised a car, I would proudly rattle off its name trying to impress everybody around with my newly acquired knowledge. Some of the local organisers noticed this and encouraged me to call out the makes and models loudly.
Once the cars had checked into the control, many of the drivers went to their hotels to get some rest, while the mechanics or service teams rushed off with the cars to get some repairs done. We followed a Fiat 131 to the Bombay Cycle workshop at Churchgate, just a kilometer away. Bombay Cycle was an authorised dealer for Premier.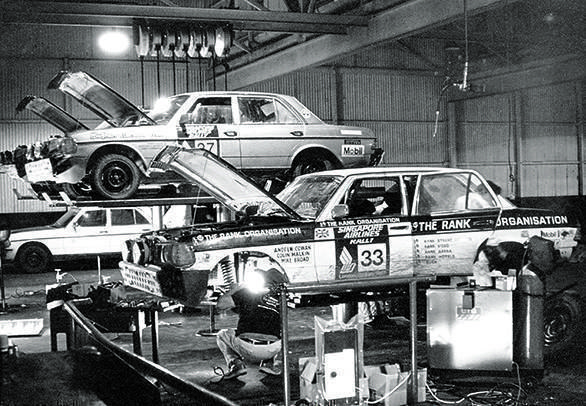 The Mercedes-Benzes being given a full rally service
Automobiles, which was making and selling the Fiat or the Premier Padmini in India then. All the Fiat 131s and 132s that had made it to Bombay were now being serviced and repaired there. Someone mentioned that the Mercedes-Benzes were being worked on at the United Motors workshop at Hughes Road, so we went there next. United Motors were Telco (now Tata Motors) dealers and also specialised in servicing the Mercedes-Benz cars of foreign consulates and those that made it to India via the import license route. None of us had ever seen such well prepared rally cars before and I was awestruck by the robust sand plate mounted in place of conventional bumpers, on the Mercedes-Benz 280 Es. I also remember looking into Paddy Hopkirk's Citroen and being fascinated by the competition seats. Little did I know then, that some years later I would manage to import a set of Paddy Hopkirk seats from England and fit them on my Maruti 800!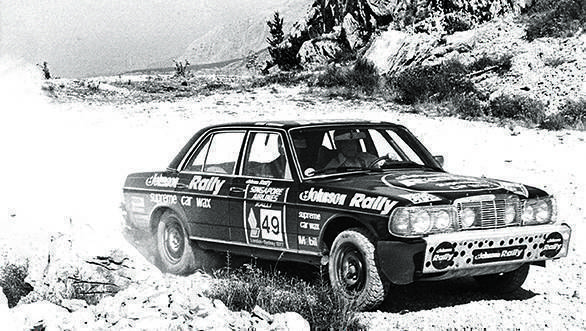 Tony Fowkes finished 2nd overall in his Mercedes 280 E
That day will always remain etched in my memory, because I also got to know people like the late Nazir Hoosein (celebrated Indian race and rally driver and organiser of the Himalayan Rally). And then one thing led to another and just 3 years later I was standing besides the starting ramp at the Brabourne Stadium in Bombay, watching the participants of the inaugural Himalayan Rally being flagged off. Couple of years later I was more closely associated with the Himalayan, sometimes as part of a service team, or event official, or media. And the love affair that started in 1977 continues even today.
PHOTOS COURTESY SOBIESLAW ZASADA, GRZEGORZ CHMIELEWSKI, AND DAIMLER AG
Also read, 
Delhi to Bombay in less than 12 hours
Price (Ex-Delhi)
Starts Rs 1.38 Crore