How much money does it take to go racing in India?
Motorsport has always been considered an overly expensive hobby, especially in India. And up until April 2015 it wasn't even listed as one of the sports backed by the National Sports Federation.
Despite this lack of support, there have been several pioneers who have strived to develop the sport and stir some interest among Indians. The largest hurdle however, was the high price tag that came along with the sport. Sundaram Karivardhan Naidu, or Kari, who was quite the racing legend back in the '70s, in an attempt to make racing more accessible, developed an affordable single-seater 800cc race car to compete in a Formula Maruti championship. This championship gave rise to some of the best drivers in India like Narain Karthikeyan and Karun Chandhok. Today, there are several such arrive-and-drive programmes and one-make championships that have made motorsport accessible to wider audiences in the country.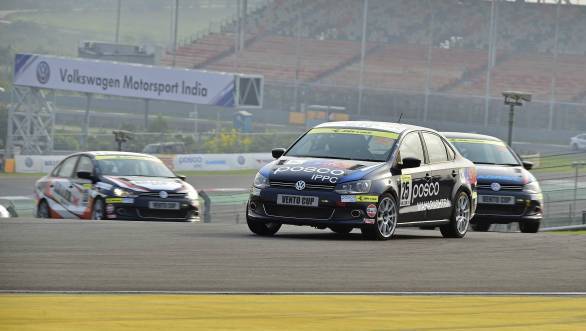 Cost per season: Rs 8.5 lakh for Juniors and Rs 12 lakh for Seniors
Additionals: Rs 2.5 lakh refundable deposit against damages
Does not include: Racing gear, accommodation and transport
The Volkswagen Polo Cup which began in 2010, was one of the first championships in recent times that made circuit racing more accessible to the general public. With no prior racing experience required, all one had to do was sign up, participate in a screening process, pay a fee if selected, and show up at the track on the race weekend.
The Vento Cup is based on the same principle. If you've been selected and are less than 26 years old and have participated in less than eight races in your entire racing career, you fall under the Junior Category and need to pay Rs 8 lakh to participate. If you're over 26 you fall under the Pro Category, and you'll have to shell out Rs 12 lakh. This fee covers almost everything a driver needs for a full season of racing (10 races in 4 weekends) which includes a car, fuel, technical support and six tyres per race weekend. However, this amount does not cover damages to the car. Each driver must pay Rs 2.5 lakh as a damage deposit that is refundable at the end of the season. Any expenses arising from damages to the car will be deducted from this deposit.
Other expenses that a driver will incur are the racing gear, transport and accommodation. However, Volkswagen Motorsport says it provides the gear at a heavily subsidised rate and also extends the corporate discounts on accommodation to the drivers.
LGB Formula 4 Championship
Cost per season: Approximately Rs 6.5 lakh
Additionals: Approximately Rs 50,000 refundable deposit against damages
Does not include: Racing gear, accommodation and transport
The LGB F4 championship is usually the next step forward in motorsport from karting. Although it is based on a similar arrive-and-drive-if-you-have-the-money principle, there are certain variances. In the LGB F4 championship, a driver must compete as member of a team, and there are 4 teams in India – Rayo Racing, Meco Motorsports, Team Avalanche Racing and Dark Don Racing. Each team charges differently, and usually selects drivers after a pre-season test. Rayo Racing for example charges Rs 6.5 lakh for one season (12 races) which gives you a car, and covers expenses such as tyres and fuel for the full season. Additionally, the team charges Rs 50,000 as a refundable damage deposit for the entire season. These charges might vary from team to team.
Meco Motorsports Junior Cup
Cost per season: Rs 2 lakh
Additionals: None
Does not include: Racing gear, accommodation, transport and damage to the vehicles
This championship is organised by Meco Motorsports for those that have attended at least one training programme in the Meco Racing Academy. To be eligible, a driver also needs to be at least 14 years old, and should be a rookie. According to the organisers, a rookie is anyone who hasn't won a podium finish in a four-wheeler racing championship. The drivers will compete in LGB 1300 racecars for two rounds at the Kari Motor Speedway, Coimbatore. The Junior Cup champion will win a full season in the Formula LGB F4 National Championship this year, while the runner up wins two free rounds and the second runner up wins one.
MRF FF1600 Championship
Cost per season: Rs 8.75 lakh
Additionals: Rs 1 lakh refundable deposit against damages
Does not include: Racing gear, accommodation and transport
The FF1600 vehicles are one of the most powerful open-wheel race cars you can drive in India. To participate in one race weekend, the MMSC charges Rs 1.75 lakh, which covers all vehicle related expenses like fuel and tyres. For a full season, the championship would cost Rs 8.75 lakh. This year, the MMSC held a scholarship shootout, from which they selected five drivers who received a subsidised rate. The MMSC also requires a damage deposit of Rs 1 lakh that will be refunded at the end of every race weekend.
Two-wheeler one-make championships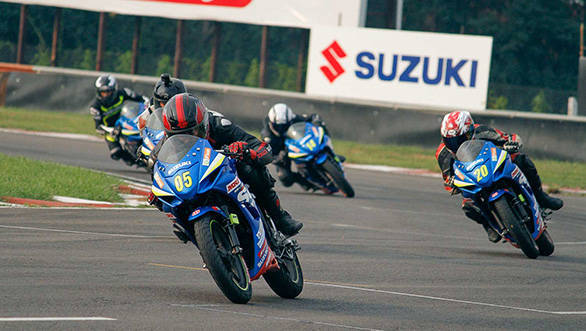 Cost per season: Rs 10,000
Additionals: Rs 650 for racing license
Does not include: Racing gear, accommodation and transport
The two-wheeler one-make championships are the cheapest way to get into motorsport in India. Here, there are one-make championships from four manufacturers – Yamaha , TVS, Suzuki and Honda. To participate in a championship, a rider has to pay Rs 2,000 per weekend as the entry fee which covers all costs such as fuel and tyres for the race and for practice sessions. Additionally, a rider also has to pay Rs 650 to procure a racing license that is valid for the rest of the year. What isn't included in the fees however is cost of riding gear, accommodation and transport to the track.
In each of these one-make championships, there are two categories – Open and Novice. All motorcycles in these championships qualify for a Group D racing license, which means that there can be no modifications to the engines. What the manufacturers have done however, is reduce the weight of the motorcycle, change the suspension settings and swap the road tyres with track tyres. Each manufacturer races their best entry-level sportsbike – Yamaha races the R15, Suzuki races its Gixxer SF, Honda races the CBR150 and CBR250 and TVS, the RTR 180.
We will be receiving more details on the TVS one-make championship shortly.
JK FB02 Championship
This is another one make championship hosted by JK Tyre Motorsport. However, JK Tyre hasn't made this championship a commercial venture. With all the costs covered by the company, the only way to race in this championship is by earning a seat. JK Tyre allocates cars to drivers based on their performance in other championships like the LGB F4 and up until last year, the Volkswagen Vento Cup.  Seats are also reserved for drivers under the age of 20 who are making a name for themselves in the international motorsport scene.
Price (Ex-Delhi)
Starts Rs 6.17 Lakhs
Price (Ex-Delhi)
Starts Rs 8.78 Lakhs
Price (Ex-Delhi)
Starts Rs 1,02,700