Honda CB500X - Ride to the Atal Tunnel
If you've never been to the Himalayan region, you simply must visit here at least once in your life. It's a life-altering experience and you'll never regret it. Breath-taking mountains crisscrossed by paved and unpaved roads meandering across valleys, gorges and plateaus. There are parts where you'll imagine yourself having crossed into another country altogether. Riding a motorcycle through this land is just surreal. I'd always wanted to check out the Atal Tunnel ever since it was inaugurated last year in October. 9.02km of highway laid out through eastern Pir Panjal Range of the Himalayas makes it the longest tunnel in the world above 10,000 feet. Truly a marvel of modern engineering and a fantastic achievement overall.  Earlier, I had to take the long way around these parts, but having an option that could save you four to five hours of travel time down the Leh-Manali highway, could never be a bad thing. Not that taking the long way round would necessarily be considered a chore, with the natural beauty that envelopes you in this region, but I had to get up there again and check it out. Yes, the mountains were calling out to me yet again and I couldn't hold back any longer. It was time to just pack up and set off .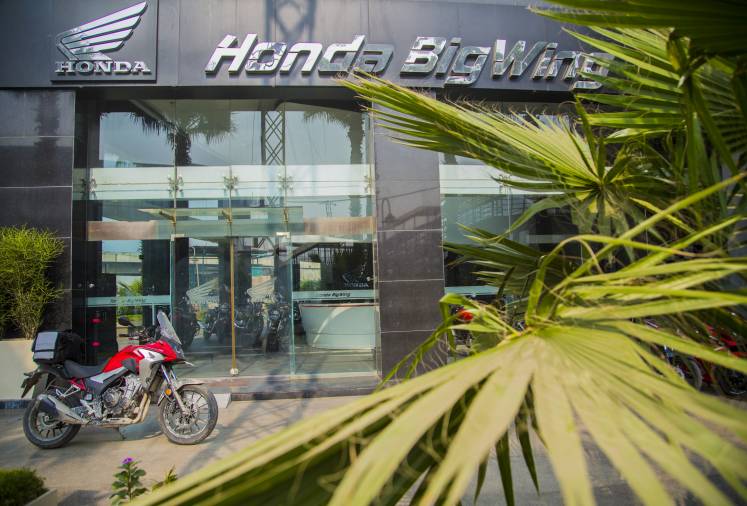 As always, everything must be planned out first. A couple of calls to friends up North reveals that the weather is surprisingly holding up well for November. It didn't take long to pack up the essentials in my tail bag but still, there was one tiny aspect that bothered me. Usually, the ideal time to plan a ride to this part of the country is anytime between June to mid-October, and here I was with my brilliant plan and my fingers crossed mid-November, which is when it' usually snowing up in that part of the country. Thankfully, as it turned out, the heavens were with me on this one. The route would be a 1,200km-odd-long round trip from Gurgaon to the Atal Tunnel in Rohtang and back via Chandigarh, Manali and Solang Valley. For such an epic road trip my ride would have to be up to the mark. It would have to be comfortable, accommodate my luggage and have the lungs to take me there without running out of steam. My choice of steed this time would be the CB500X – the middleweight adventure tourer from Honda. The 471cc, parallel-twin, liquid-cooled motor produces 47.5PS and 43.2Nm of torque would prove more than useful in taking in the sights while the 181mm of ground clearance would be ideal for when road conditions were poor or even non-existent. I was elated to find that my tail-bag perched perfectly on the seat and was held in place nicely by the bungee cords that attached to the grabrail and didn't damage the bike.
However soon after setting off, I was in for quite a surprise. The level of air pollution in Gurugram this time of the year was damning. There was a faint tinge of something burning in the air, which felt very heavy and visibility was really bad as well. Leaving just before sunset, wasn't the best idea, but it had to be done if we were to be on schedule. Due to the farmer's protest on the main highway leading out of Gurugram, my phone map rerouted me through some backroads through villages and industrial area with a lot of trucks. The conditions out here resembled that of a land pillaged by war. I thought it'd be little over a day when I'd actually put the CB500X's suspension to test, but that assessment happened way sooner than I had anticipated. I'll just say that I thanked my stars for the way the CB500X  is set up. Dust flying everywhere and visibility was poor as it were, it was a real arduous task, getting by here. Once past the massive craters and sections of roadways that would test the limits of the best suspension units, I finally hit the open NH44 to Chandigarh. Here I got my first chance to stretch the Honda's legs and really get a move on. It was the first time I was happy that I was finally on my way up to the mountains and the CB500X really came into its own. Unleashing all the power at triple digit speeds came naturally, and the best part was that the weather changed drastically, it suddenly got a lot cooler and visibility improved greatly.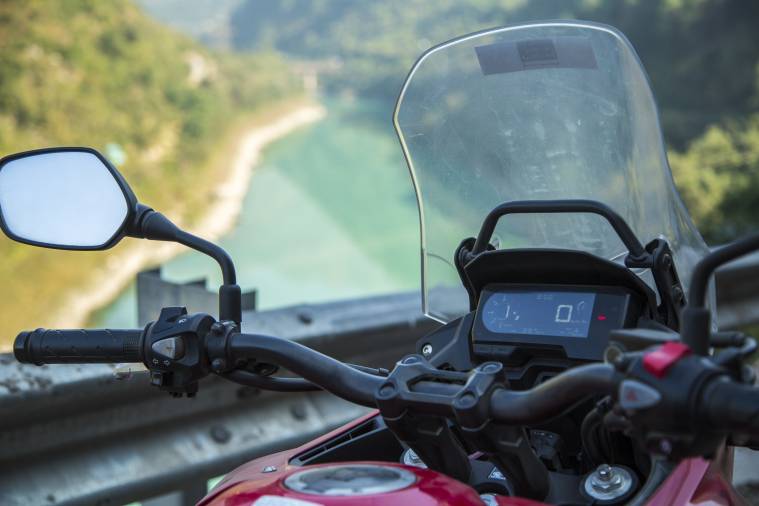 It took little over five hours to get to Chandigarh, where we halted for the night, and we couldn't wait to head back out and make our way up to the mountains. The call summoning us there seemed to get louder every kilometre we covered. From that point on the ride was simply brilliant. The road conditions all the way up to Manali were mostly good. We did encounter the occasional off-road trail that was actually patches of state highway that were unfinished and riddled with traffic, but after what we went through the evening before, we knew that we'd make it through just fine. The best part about the Honda is that although it's not completely off-road focussed, it's got what it takes to get you across rough stuff like this without a fathom of doubt.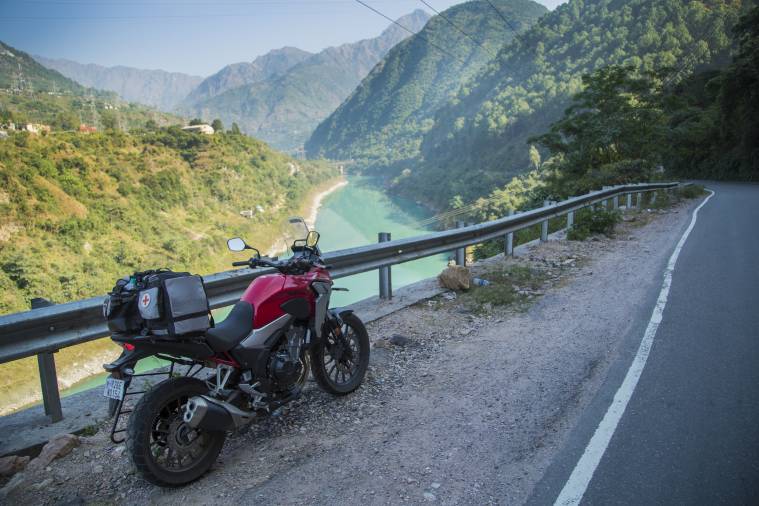 The higher we climbed, traffic began to ease out especially past Sundar Nagar. But the further up we went, the more the scenery evolved to rich lush mountain sides and instilled a feeling of really having broken away from all the stresses of the city and finally letting loose. Further up past Mandi there were no more signals, no more vehicles honking, just a lot of open space and freedom all around. Everyone using the road seemed to be a lot calmer, including the cabbies. The road also runs along the Beas river which is just amazing. Also, the roads were in great shape, running up to Manali. And on a bike like the CB500x, I was able to really make the most of it. It's so easy to tuck into a corner, then powering out before having to brake lightly and flow into the next succession of fast bends, it was absolutely invigorating.
Of course we stopped on many occasions to take a couple of photos to remember our journey. Once past here, the temperature changed drastically as well. During the day, it wasn't as hot as it was before, and there was a certain crisp freshness to the air. It's as though Mother Nature turned on her own air purifier, the contrast to the quality of air we had been breathing in Delhi and Gurgaon just a couple of days earlier was astounding. Once the sun began to set, the temperatures dropped drastically, and we had to zip up all the vents on our riding gear.
We ended up reaching Manali market by around 8pm, and the area was buzzing with activity, so after quickly shopping for some warm wear and supplies we decided to ride further to Solang and camp there for the night. The ride up further was narrow, winding and most of the shops along the rather popular stretch of road had shut for the night, so the only lights leading the way up were a couple of streetlights in the town road, apart from just a handful of vehicles. Still, just riding up at a leisurely pace felt so relaxing and calming. On approaching the hotel, we had only one thing on our minds – piping hot ginger lemon tea. It's something that we'd discussed as being our must have on completion of our ride through the cold. It's a very soothing drink to have (minus the lemon) if you've got a sore throat or even feeling a bit nippy for that matter, we'd be ordering this tea on many  occasions this trip. Up in our room's balcony, here in Solang Valley, we could see the snow covered mountains in the distance lit up perfectly by the natural light of the stars and the moon. Truly a magnificent sight, this. We could only appreciate the sight for so long though, because the temperature had dropped to 4°C with windchill biting at us hard. Having a heater in the room is not uncommon here and we joked about how we'd looked like a couple of shawarmas rotating in front of it trying to keep our teeth from chattering. This was all new to my photographer friend Shashank, who was visiting this part of the country for the first time. He's used to the weather in Bangalore which… well, let's just say that it's a lot warmer there than it is out here.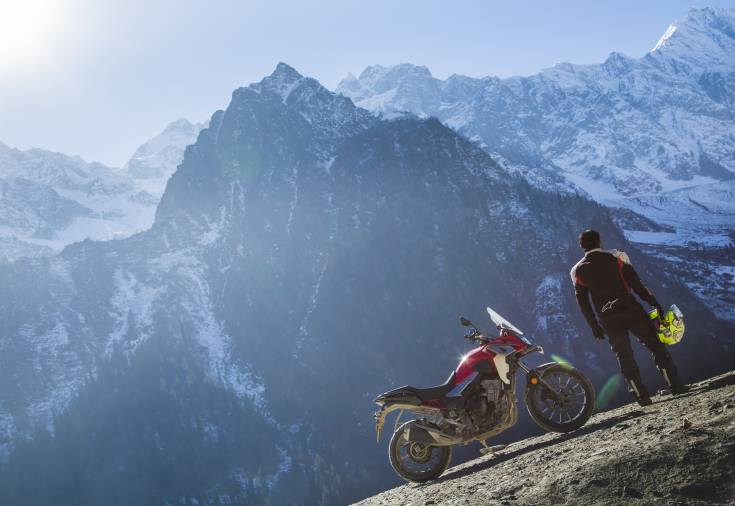 Waking up to the sight of the Himalayas the next morning was terrific. Seeing their snow-covered peaks gleaming brightly in the sunlight while the other mountains in between lay in wait for the warmth of the sun to bring them to life was amazing. Watching something as simple as the locals chopping fire wood that they would us later on in the day was so relaxing. Breathing in the cool mountain air, listening to the river gushing along while the faint sounds of birds chirping somewhere in the distance as we sipped our tea and took in the spectacular view was pure bliss. This is what it's all about. The peace and serenity. The beauty of it all. But this was only half of it. We still had to check out the Atal tunnel. The good news was that it was barely 30 clicks up the road. The bad news – it was the weekend, and our lovely and hospitable hotel staff informed us that photo opportunities might be bleak on account of the crowds that usually visit at this time.
After setting out en route to the tunnel the sights just kept getting better and better. After every turn up the well-paved sections of winding mountain road, lied a photo opportunity even better than the last, and though I'm not one to really bring out my own camera and start clicking a million photos, like Shashank, I simply couldn't resist. On reaching the Atal Tunnel we were halted before entering, by local policemen who briefed each motorist on the ruses of the tunnel  like no stopping anywhere in between, no overtaking on the dual carriageway, no photography and no speeding because there were camera's everywhere. So our plan of taking some brilliant riding shots of the CB500X in the tunnel pretty much went out the window. But we didn't mind at all, because on emerging out onto the other end, we were greeted by snow-covered mountains and ice formations on the road. It felt like we had come out somewhere new altogether. Not more than 15 minutes after entering from one side of the Atal tunnel, we were out the other. Also, after crossing the 9.02km-long tunnel we were pleased to see that there wasn't too much of a crowd and more than enough space for some memorable pictures.
The tunnel itself is fantastic – I must admit that it did get a bit boring for a bit because one driver some way ahead chose to drawl through. This completely gave me a new perspective on the term 'tunnel vision.' Even so, we were proud to have experienced it first hand. We then thought that we'd ride up further up to Rhotang La since we had some time to pare, but in the final stretch we were disappointed to find the road closed by the Border Roads Organisation (or BRO) because it was completely iced up. Nevertheless, the experience of riding along a narrow, albeit well-paved road with snow-covered mountains on all sides was captivating and one that I'll never forget.
Being up here, looking at the sheer size of the mountains, let alone seeing some boulders bigger than my one BHK apartment back in Bombay, are a reminder of how small you actually are on this planet and how you can appreciate the real beauty of the smallest, most simplest of things if you only take a step back, stop running ahead and take time to see things in a different light. Still wanting to explore some more we rode on towards the town of Sisu. En route to here it all hit me. The ride was almost coming to an end. Although a bit disappointed by that fact, I felt happy that I had made this trip on the Honda CB500X. Before this I remembered how much of a pain it was getting through the rough patches through villages thankfully all I had to do was stand up give her the stick and fly past. How much of a respite I got blazing down the open highway, making my way up the fun twisty roads up here, and now here I was moving along peacefully at a leisurely pace, settling into a nice rhythm taking in all that surrounded me, with the motor boiling under 4,000rpm and a melodic thrum resonating from the sprightly twin-cylinder Honda.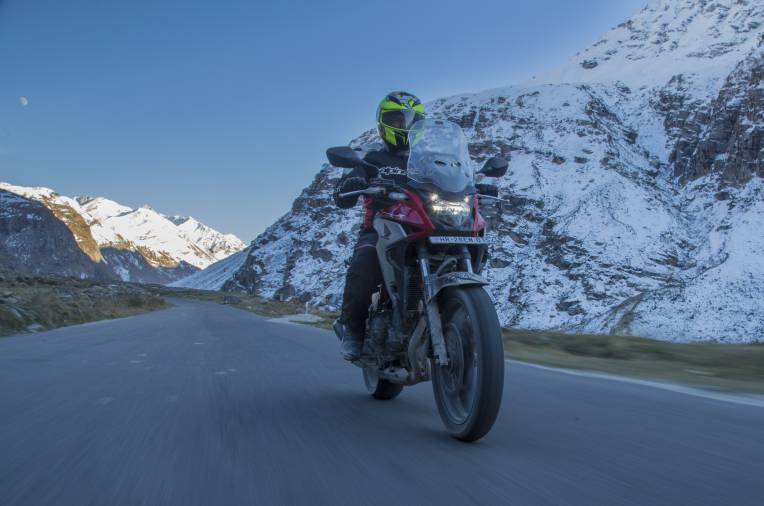 When I first set off I was sceptical of what the CB500X would encounter on my way up here, and how I would tackle any obstacles that came my way. But it all turned out very well in the end. The Honda simply took everything that came its way in its stride and I must say, it was the most comfortable bike I've ever ridden in this part of the country. Everything from the spacious seat, the way the pillion seat doubled up as my luggage rack flawlessly, the amount of power, the suspension, the clearance, it all came together very nicely on this trip and made it all go so smoothly. It was a perfect getaway from the city. On our way back down we thought how brilliant the ride had been so far and how we didn't want it to end just yet, so we decided to take a small impromptu detour and use our 'break from riding' day to ride to Kasol in the Parvati valley on our way back down, just for the heck of it.
I wish the ride would have lasted longer. Six days had gone by so fast. But that's life and that's what happens when you're having fun. There's work to be done. Back to the signals, honking, and the many anxieties that come with city life... that is, until the mountains beckon again.
Price (Ex-Delhi)
Starts Rs 6,87,000