Honda CB Hornet 160R long term review: After two months and 3,100km
In the past one month, I haven't been able to spend as much time with the CB Hornet 160R as I would have liked to. The reason being I have been busy shifting houses from Chembur to Vashi. As one can imagine shifting houses requires a considerable amount of time and effort. So, for around three weeks, my long-term motorcycle was simply gracing the parking lot. Luckily everything got done just in time before this weekend arrived.
After a few quick calls to my riding buddies, I decided a riding route and destination. Even though I had completely ignored it for three weeks, the Honda CB Hornet 160R came to life on Saturday at 6am with just a mere touch of the starter button. Sweet! We were supposed to leave in a group of five, but only three turned up!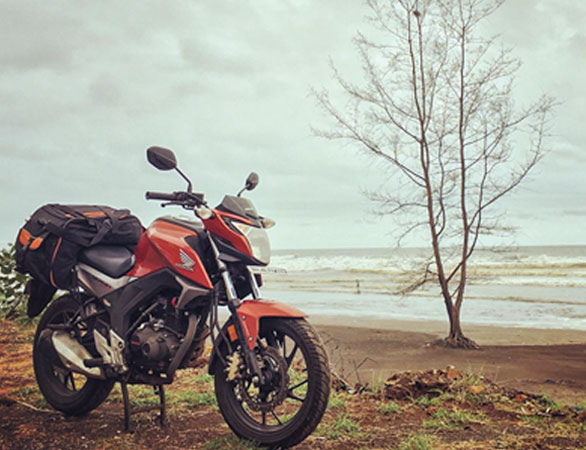 We decided to ride from Mumbai to Dapoli, a quaint little beach town which is located around 230km away. To get there, we took the scenic NH 17 which has a smoothly paved twisty section. Frankly, I was a bit sceptical about going on this ride because my two companions were going to be astride relatively quicker motorcycles. Rohit joined us on his long term TVS Apache RTR 200 4V which has recently joined the OVERDRIVE garage while the other friend was coming along on the RC 390. Needless to say, I didn't get to see much of the RC 390 as it simply flew fast on the straights as well as the twisty sections.
I was more worried about keeping up with the RTR 200, but I must mention the CB Hornet 160R surprised me. The motorcycle changes direction quickly which made it easy to filter through the traffic-infested section. Also, the engine makes a good amount of torque low down in the rev range. So, from getting past slow-moving traffic to endless police checkpoints, third gear does it all.  Since its motor allows me to stay in a higher gear, the CB Hornet 160R has been delivering an impressive overall fuel economy of 39kmpl despite my aggressive riding.
As expected, on the traffic-free straight sections, the CB Hornet was falling back owing to its relatively lower 109kmph top speed. However, while cruising between 70-90kmph, it easily kept up with the pack. The gearbox is butter smooth, and changing gears requires just a flick of the toe.
One bit that bothered me, especially on the straight sections, was the gruff tone of the engine as the revs went past 6,000rpm followed by the vibrations creeping through the handlebar and footpegs. Another irritating bit is the weak horn, which no one apart from me on the road can seem to hear. Considering the ever-increasing tribe of jaywalkers, it will be a good deed on Honda's part to arm the CB Hornet with a decently powerful horn.
Also, the headlamp intensity and beam throw aren't powerful enough to let you see past a few metres while riding at night even during clear weather conditions. During rain the problem gets worse. With the monsoon having arrived in Mumbai in full force, I am contemplating upgrading the headlamp bulb to a more powerful unit.
Overall, living with the CB Hornet 160R has been a hassle-free experience just like any Honda two-wheeler, and I like that. Another bit that is keeping me happy is the muscular design which continues to turn heads even six months after its launch.
Date acquired: June 2016, Odo reading (when acquired): 1,300km, Odo reading (current): 3,100km
Price (Ex-Delhi)
Starts Rs 1,10,388
Price (Ex-Delhi)
Starts Rs 1,27,500