History and Heritage in the Hills
With the passage of time, the desire to drive out to some nice destinations keeps getting stronger, maybe because now I am almost done with the cacophony of urban life. To make any drive more enjoyable, you need a nice set of wheels, and BMW India very kindly provided me with an X1. Actually they suggested I take something bigger, but as I was going to be driving to the "Hills of Himachal", I chose the X1 as its quite compact and in my view more suited for driving on our fairly narrow mountain roads.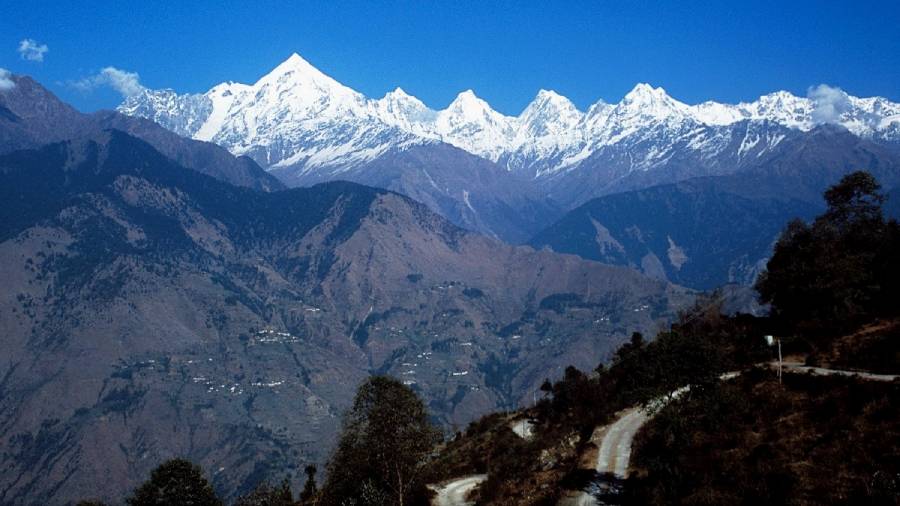 The Himalayas are not just about scenic beauty. They have a lot of history and heritage too.
After taking a flight from Mumbai and collecting the BMW X1 at the Chandigarh airport, we headed due north to the Himalayas, which are arguably the world's grandest mountain system. The Himalayas are not just pretty or scenic, but I find a mystical aura surrounds them, and on this drive I felt it even more as we were headed to Dharamshala, the current home of His Holiness the Dalai Lama. Dharamshala, which literally means "The Holy Refuge", is now also known as the 'Little Lhasa in India', as it also serves as the headquarters of the Tibetan government in exile.
His Holiness the Dalai Lama resides in Dharamshala, which literally means - The Holy Refuge.
Situated in the Kangra Valley, against the backdrop of the magnificent Dhauladhar Range of Himalayan Mountains, Dharamshala is split into different levels and the upper one is now known as Mc Leodganj. The rich Tibetan culture and His Holiness the Dalai Lama draw many Westerners to Dharamshala, and this has brought in its wake many hotels and fine restaurants and a number of curio shops that sell a huge array of artifacts, handicrafts, and old Tibetan trinkets and medicines.
The BMW X1 occupying the parking spot at the residence of the Raja of Lambagraon-Kangra.
While Dharamshala is a delightful destination, the real reason for me and my wife being there, was to visit our dear friend Raja Saheb Aishwarya Katoch of the erstwhile princely state of Lambagraon-Kangra. Ash (as he is known to friends) and his immensely graceful wife Rani Sahiba Shailja Katoch, welcomed us warmly and gave us a spacious room with a view at their Clouds End Villa (www.cloudsendvilla.com). This is a sprawling 9 acre property with its own step field, gardens and forests and interestingly in 1993, Clouds End Villa was recommended in the Tatlers Travel guide as one of the 50 best hotels in the world.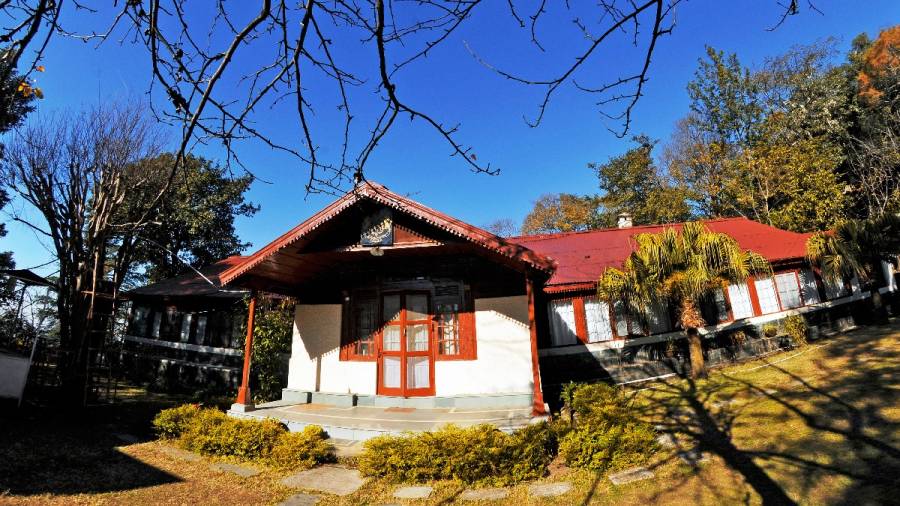 The Clouds End Villa where we were hosted is a sprawling 9 acre property with its own step field, gardens and forests.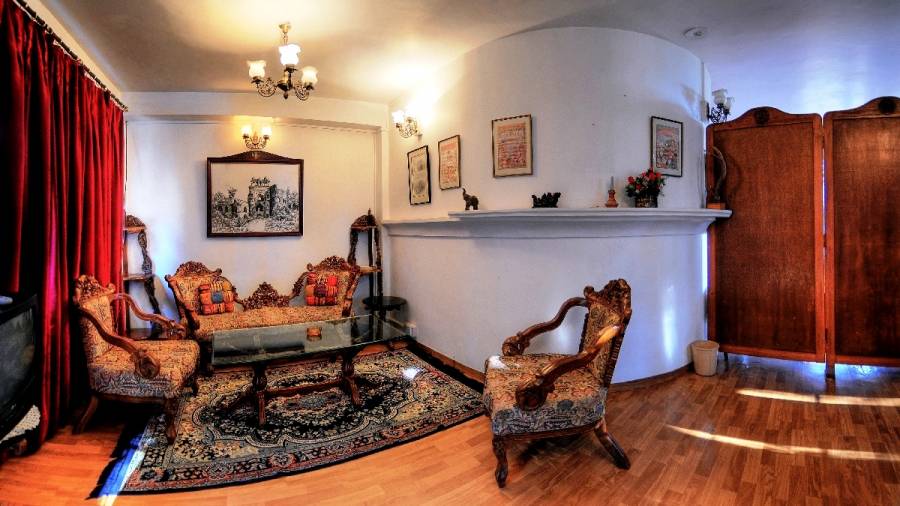 The interiors of Clouds End have a regal old world charm.
Inhaling the crisp and fresh mountain air and listening to the sweet calls of several different birds almost immediately refreshed us and later that evening we were seated around a campfire with Ash and Shailaja, enjoying the local delicacies prepared by the chef whose family has been with this princely family for generations. Ash and Shailaja also shared the plans they had in mind for us to see and experience their ancestral land, which was ruled by their family for several centuries.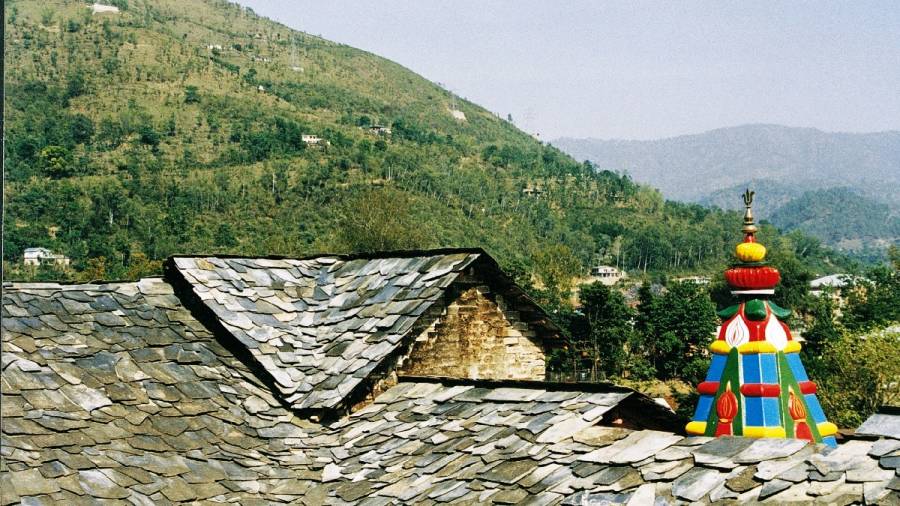 Most houses with traditional Himachali architecture have slate roofs and this one also has the colourful dome of their family temple projecting out.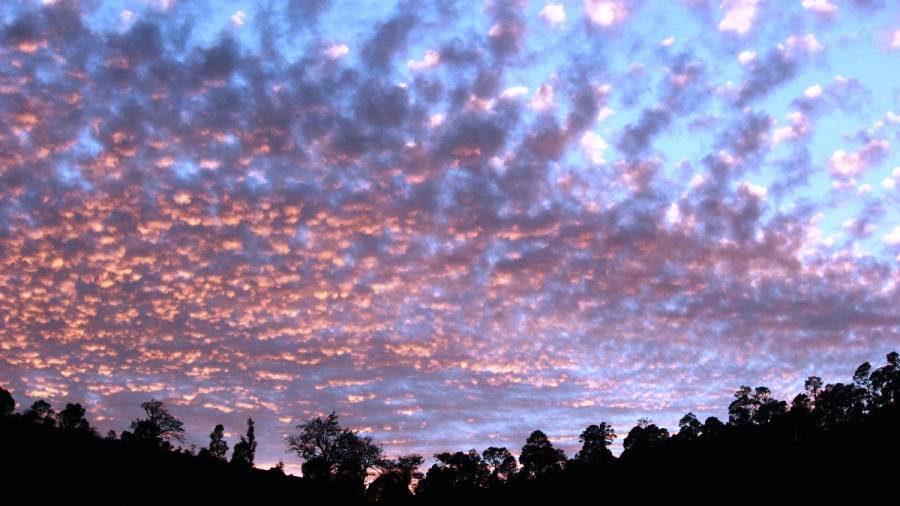 Clouds and colours, as viewed from Clouds End Villa.
Ash enlightened us about the fact that the Katoch Royal family has fought more invaders coming into Hindustan than any other ruling family in India. In fact his ancestor Rajanaka Parmanand Chandra (Better known as Raja Porus) was the one who battled with Alexander the Great. Although Alexander was victorious, Raja Porus is recorded as his most successful opponent. It was also the most costly battle fought by the Macedonians and the fierce resistance put up by Raja Porus and his brave men, won the respect and admiration of Alexander.
The Himachali Topi's or caps are colourful and comfortable.
This glorious part of our ancient history has been beautifully portrayed in the 1941 Hindi film Sikander in which Prithviraj Kapoor plays Alexander and Sohrab Modi enacts the role of Raja Porus. This epic historic black and white film with some spectacular battle scenes, inspiring dialogues, and brilliant performances is available on YouTube, and I suggest that those with even a passing interest in our past should watch this very well made film.
The author (left) and his wife with Raja Saheb Aishwarya Katoch of Lambagraon-Kangra. Note the Kangra Fort in the background.
Next morning we went with Ash to the formidable Kangra Fort built by his ancestors. Here Ash has created an amazing museum showcasing the rich history of the royal family of Lambagraon-Kangra and in this museum we learnt that Ash's family has one of the longest unbroken lineages in India. In fact Raja Saheb Aishwarya Katoch, is the 489th head of the Katoch Dynasty of Kangra!
Dharamshala also has some ancient churches.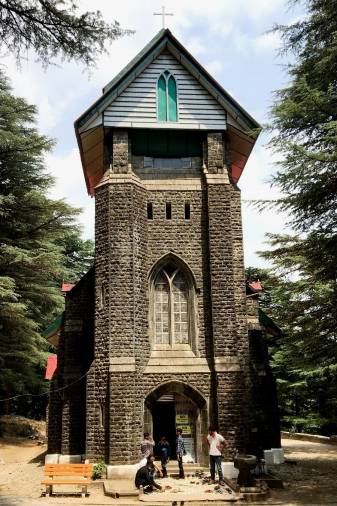 This Church of St.John in the Wilderness built in 1852, was renovated recently.
Some of the earlier remains of the ancient Kangra Fort that is perched on a precipitous hill overlooking the confluence of the Banganga and Patal Ganga Rivers, date back to around the 9th century and it is well worth a visit. And if the history does not captivate you, the geography will surely cast a spell. Pretty vales, emerald green plantations, tea covered slopes, sparkling rivers, cedar and oak forests and the snow capped Himalayas, all are very likely to make you get "High in Himachal".
The X1 had some really pretty parking places on this getaway into the hills.
The next few days were spent in the rewarding company of Ash and Shailaja who went out of their way to ensure we had a great time. Shailaja even invited my wife Madhu for a Himachali Dham in the Happy Hours Public School. Shailaja is the Chairman of this school and a Dham is a traditional vegetarian festive mid-day meal prepared on auspicious occasions.
A traditional Dham meal is served in pattals (plates made of leaves). But here you can also see steel bowls, a sign of the old giving way to the new.
Traditional Dham is served in pattals (plates made of leaves) and Himachali food has a distinctive aroma and flavour as they use of lots of yogurt and chillies, cardamom, cinnamon, turmeric and coriander powder. The food is typically cooked in mustard oil and on low flame and Madhu really enjoyed meeting and eating with the locals.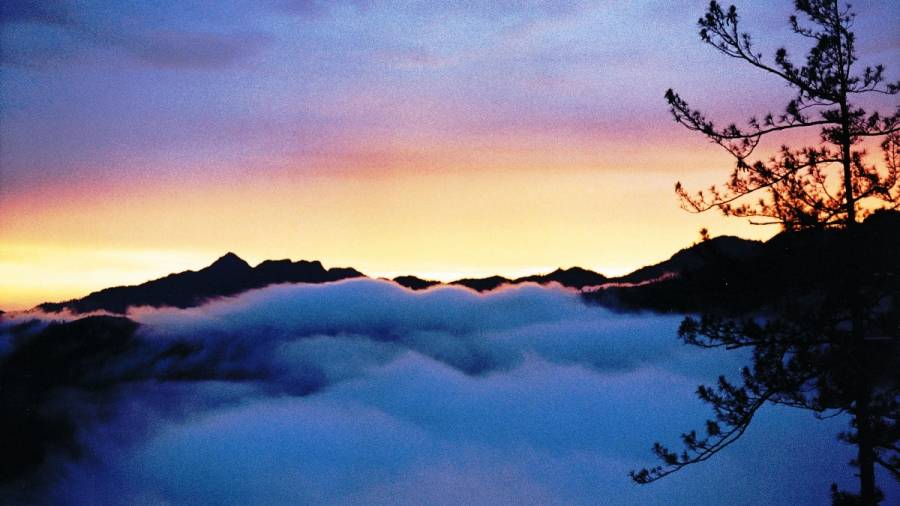 Here clouds dance between the mountains that change hues in tune with the passage of the sun.
While the ladies were at the school, Ash and I went for a long drive in the BMW X1 and I got to see some more of his region. Everywhere we went, the friendly locals greeted us warmly. The roads in and around the Kangra Valley are not wide or very smooth, but despite this Ash enjoyed driving the X1 and was  particularly impressed by its agility and ability to quickly and accurately change direction, something which is extremely important on twisty roads. He also found the responsive handling and nice grip levels to be confidence inspiring.
Step field farming is common in the hilly areas of Himachal, but such traditional homes are fast being replaced by ugly and boxy concrete structures.
After a really relaxing and joyful getaway, we took the leave of our very gracious and extremely hospitable hosts and drove to Chandigarh, taking about 6 hours to get there. When in Chandigarh, one should not miss out on the opportunity to feast on some authentic Punjabi food and that is exactly what we did at the famous Pal Dhaba, before taking the flight back.
Himachal Pradesh is also known as the Devbhumi or "Land of Gods" and you see temples all over the place.
Photos courtesy Bob Rupani
Price (Ex-Delhi)
Starts Rs 35.9 Lakhs