Gone too soon: Daijiro Kato
The year was 2002. It was a year that held a lot of importance in the world of Grand Prix motorcycle racing.  It was the year that the 500cc two-strokes started to fade away. With the new 990cc four-stroke motorcycles accompanying the Honda NSR500s and the Yamaha YZR500s, it was the end of an era that saw epic battles with riders like Valentino Rossi, Max Biaggi and Loris Capirossi riding those almost uncontrollable two-stroke machines. It was also the year that Daijiro Kato graduated to the premier class after having won 11 of the 16 races in 2001.
Daijiro Kato's story starts from the time when he was winning races on pocket bikes in Japan. After having won four national pocket bike championships, Kato moved on to road racing in 1992. Within four years he was the wild card entrant at the Grand Prix 250 race at Suzuka. Astride an NSR250, Kato managed to finish third in podium that was topped by Max Biaggi.
Most wild card entrants are usually looked at as charity cases, but not Kato. In his second attempt at the 250GP, Kato took the win. In 1998, he again won at Suzuka, again as a wildcard. Following such performances, he was finally offered the chance to race the full season atop an NSR250 in 2000. He finished the season, with four wins, third in the championship.
In 2001 though, Kato came back focused as ever. This was the season that sealed Daijiro Kato's status as a legend. Over the 16 races that year, Kato finished all but three races on the podium. He also won 11 races, of which in six he started from pole position. This kind of performance never goes unnoticed. Surely enough he was offered a ride on the NSR500 with Honda's Fortuna Gresini racing team for the 2002 season of MotoGP.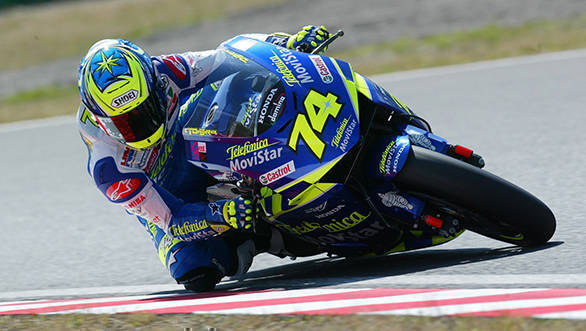 Kato performed strongly in 2002 as well, with a second place finish in Spain. He quickly started to prove himself as someone who had what it took to mix it up with the big boys. Heads started turning and halfway through the season, he was put on the new RC211V, on which he finished second in the Czech GP.
Kato was fast gaining a reputation as a natural. In a class where most racers took a season or two to get used to the pace of things, Kato arrived and was on top of the game from day one. Even top riders like Rossi were beginning to notice.
In 2003, Sete Gibernau arrived at Honda Gresini and with him and Daijiro Kato in their roster, Honda was planning for an epic season.
The opening race was at Kato's home circuit – Suzuka. It was, ironically, also the circuit where Kato had started his Grand Prix journey. During the race, Kato was coming down towards the start-finish straight when he lost control of his RC211V. His bike got pushed into an oscillating weave and crashed into the barrier at the Casio Triangle, just before the chicane. There isn't any clear footage till date of the crash, and all everyone saw was Kato's motorcycle hitting the barriers and him lying on the track, motionless, as marshals hurried to his aid.
He was immediately flown to the hospital but was already in a coma. He fought for his life for two weeks. However, he succumbed to his injuries on April 20, 2003. He left in his wake a legacy that included two wins at the 8hrs of Suzuka, 17 GP wins and several other championship wins. He left at a time when he was on his way to becoming the most successful Japanese motorcycle racer in history.
April 20th will always be remembered as a very sad day in MotoGP history. But the number 74 and Daijiro Kato's smiling face will always be remembered fondly in the minds of all MotoGP fans.