F1nal Countdown: Jehan Daruvala on his single-seater journey thus far
On the 29th of September 2019, Jehan Daruvala crossed the chequered flag at the season-ending FIA F3 race in Sochi Russia, in ninth position. A five-second penalty that he'd incurred earlier in the race would eventually force him down to fourteenth in the list of classified finishers. It wasn't what he'd been hoping for. Not in the race, and not in the championship - where he was ranked third overall. But that drive in the sprint race at the Sochi Autodrom had been one of Daruvala's strongest drives the whole season. The result of the race, and the outcome of the championship, was just something he'd have to make his peace with. After all, the circumstances that had led to that finishing position, both in the race and consequently in the championship, had been beyond his control.
Going into the final race weekend of the 2019 FIA F3 season, Jehan still had a chance to win the title. Albeit a slim chance, given the strong lead his Prema Racing teammate Robert Shwartzman had at the head of the championship standings. During Saturday's feature race, Shwartzman finished second with Daruvala only managing a fifth-place finish. It was the Russian driver who was crowned champion on home soil. There was nothing left for Daruvala to do, except finish Sunday's sprint race in a respectable position. He had a 13-point lead over his team-mate Marcus Armstrong, and finishing somewhere in the points would almost certainly ensure him second-place in the championship. Except that ever so often, motorsport enters into a cruel alliance with lady luck. And so it came to be that the words 'almost certainly' and 'ensure', crumbled away in the face of a greasy spanner in the metaphoric works.
Daruvala, having finished fifth in Race 1, had been scheduled to start the reverse grid Race 2 in fourth position. But when the time came for the warm-up lap to begin, his car simply wouldn't start. So he found himself strapped into his Prema Racing Dallara F3 2019, being rolled off the grid and into the pitlane where he would begin his race. Effectively last. Oddly enough, Daruvala wasn't as rattled by the turn of events as one might have expected him to be, all things considered. "Actually it's a bit weird. Normally I get a bit upset on the radio, but I was quite calm because I knew I could not really do anything," he says of that fateful moment.
Instead he decided to just get on with things - after all, there was work to be done. "I had a big job on my hands to basically try and finish eighth from the pitlane," Jehan says. It was an eighth-place finish that would ensure that his teammate Marcus Armstrong wouldn't steal second from him in the championship. And so he drove hard, overtaking cars, carving his way through the traffic, and managing to set the same lap times as the leaders were, despite using up his tyres rather a lot. "On track, I came ninth. So I came as close as I could, without scoring a point," Jehan says. "I wasn't thinking of the championship much during the race," he adds. "I didn't really know where Armstrong was, or what was happening. I knew on lap three or four that he got the fastest lap of the race, and then I got it back." Unfortunately, it counted for little. Two championship points are awarded to a driver, classified within the top 10, who sets the fastest lap. Given that the penalty for exceeding track limits saw Jehan finish 14th, he wasn't eligible for those two very vital points. Points, which when added to Armstrong's total, allowed the New Zealander to edge Jehan out in the final standings numerically by one.
"It didn't really bother me as much as I thought it would have," Jehan says of finishing third in the championship. "It was done and dusted. I mean, if I lost it on the track, it's a different story altogether," he says. Instead he looked at the result somewhat clinically. "I looked at it as second or third on a sheet of paper," he says, adding, "If I lost the championship like that it would be a big disappointment. But to be second or third, it didn't really affect me as much."
Be that as it may, Daruvala had still ended within the top three in a series that boasts one of the most competitive grids of all the junior single-seater championships. The FIA F3 Championship was born by combining the erstwhile GP3 series and FIA F3 European series, bringing them both under the FIA umbrella. The result was a field of 30 cars and drivers, stiff competition, and a clear cut path to Formula 1 - the route being F3, F2 and F1. Essentially, the 2019 grid provided young racers with the perfect platform to showcase their talents. Provided, of course, they had a competitive car. For Jehan, signing with Prema Racing, where his teammates - Shwartzman and Armstrong - were Ferrari junior drivers, was critical. Not only was the car that the team gave him strong, but being competitive in equal machinery against his teammates was of utmost importance. "To be honest, first it was nice to be in a competitive car in all conditions. It gave me the opportunity to prove myself in probably the toughest category of junior racing, which was F3 this year. To consistently be up there, get all the podiums, and the wins early on in the season was obviously a big boost to my confidence."
In 2018, Jehan had competed in the FIA Formula 3 European Championship, where he'd finished 10th overall. It was his fourth season in single-seaters, and his second in F3 Europe (he'd ended sixth overall in 2017). And while he was happy with his own performance, he wasn't happy with the car, saying it was the reason that "it was hard for me to showcase my potential." The contrast in 2019, was stark. "This year, early on, from the start of the season, I got the opportunity to perform against two very competitive teammates, so it was beneficial to me."
Indeed, the start of the season had been very good. Jehan began well, with a first-place finish at the sprint race in Catalunya at the very first weekend. The win, although in a reverse grid race, caught the attention of the mainstream media. In India, Daruvala made his way into popular culture, being featured in an Amul ''topical''. "Saare Jehan se Accha," the tagline on the topical read, which translates to "Better than all the other Jehans." He became only the second Indian racer to make it to an Amul topical, after, of course, India's first Formula 1 driver - Narain Karthikeyan.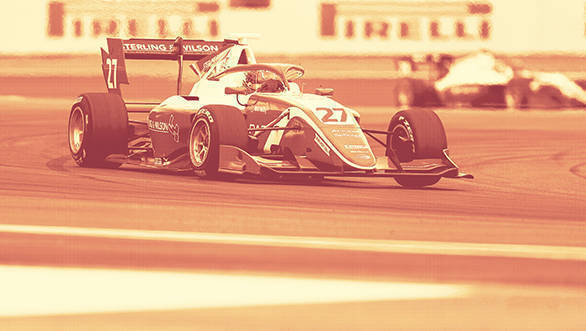 Popularity contests aside, Jehan's winning streak continued from there. He finished first in the feature race at Le Castellet, where round 2 of the 2019 FIA F3 championship was held and followed it up with a third place in the sprint race that same round. He made it back onto the podium the following round, finishing second in the sprint race at the Red Bull Ring. And he then finished second in the feature race at Silverstone. Halfway through the Silverstone weekend, Daruvala was leading the FIA F3 championship standings by two points. The trip to the top of the standings, however, was brief. Contact on the last lap of Race 2 at Silverstone, where he had been battling for third place, forced him into retirement. And knocked him back down the order.
Then came Budapest, where Daruvala was blocked on both laps during qualifying, only managing seventh on the grid. It would be the only time all season that he failed to qualify in the top four. "I managed to only get two points that entire weekend," he says, "So I lost out a lot. I was leading the championship halfway through Silverstone, and then I was 10 points behind after Silverstone. But Hungary is when I lost out on quite a few points." And while he now believes the weekend in Budapest greatly affected his chances of winning the championship, back then, he didn't let it get him down, taking the opportunity of the summer break to recharge. It worked. At the next round of the championship in Spa, he bounced back and was on pole straightaway. It led to a third-place finish in the feature race that round. Then he took a second-place finish in the feature race at the next round in Monza. Which brings us around to that ill-fated weekend at Sochi, which would be the only time, other than Hungary, that the podium eluded Daruvala.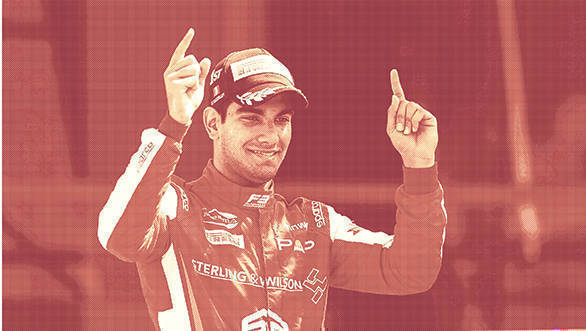 When I talk to Jehan, two weeks have gone by since the F3 season finale. It's given him time to reflect on the season gone by. And while he's self-effacing, he reluctantly admits, "Probably, I'd say that I deserved to be second in the end. It was just unlucky what happened in Sochi in the last race. Other than that I had seven good weekends. Except for Budapest, I was in the top four in every single qualifying the whole year - so on the front two rows. Of a grid of 30 cars to always be on the front two rows, is quite a big achievement from my side. I'm pleased with myself that every time, when I had the opportunity, I delivered under high pressure." It's the sort of performance that has gone a long way in terms of his belief in himself. "I think I made a good step forward, I am confident in myself, and whatever I do in the future, I am confident I can do well," he says.
At this point, let's wind the clock back eleven years, to when Jehan Daruvala was a lad of 10, and saw an ad in a newspaper for a karting workshop that was being conducted that weekend by multiple national karting and racing champion, Rayomand Banajee. Given that he had an exam the following Monday, Daruvala's parents, Khurshed and Kainaz, weren't keen on letting him attend the workshop. The story of how they relented when their son exclaimed, "But it's a question of my whole career!" is one of those tales that surfaces every time someone delves into Jehan's history, trying to retrace his early steps in the world of racing. And right from that time, the future that he wanted, has been Formula 1. It's still his single goal - that lone target that he has in his crosshairs. And the next logical step on his path to Formula 1 happens to be Formula 2.
While Daruvala admits that he's got nothing confirmed yet, he is clear that his aim for 2020 is the FIA Formula 2 Championship. "I want to do F2," he says. "It's what I would like to do. And my results this year have helped, for me to be able to get a seat next year. I'm still looking at options with a few teams, and I'm not completely sure, but I would want to do Formula 2 next year. That's my aim," he admits. And at the moment he's got no intention of formulating a backup plan. "Actually I haven't really thought of a Plan B," he laughs. "In my mind, I hope I can go to Formula 2 and do well there. I hope the results this year have proved that I can make it to Formula 1 in the future. Obviously, Formula 2 is the step to go towards Formula 1, so I will be trying to get a seat in Formula 2." Later on in our conversation though, Daruvala admits that if he fails to secure an F2 drive, he might consider any series that's a step-up from F3 - "Super Formula or IndyCar or something. I don't know."
There are two ways to look at Jehan's results in the 2019 FIA Formula 3 championship. If you look at his performance in isolation, a third place finish in a championship just two rungs below Formula 1, is very good. But when you look at who Jehan's been up against, teammates like Shwartzman and Armstrong, both of whom are tipped to make it to Formula 1 sometime soon, that third place looks even better. In fact, over the course of his career, Daruvala has never shied away from being paired against a fiercely fast teammate. Whether it was current McLaren F1 driver, Lando Norris, who was his teammate in the early stages of his career, or the competition he's had in 2019. It's something he attributes his success to. "I think it's been highly beneficial. It's taught me always to be on my best game. It's always beneficial to have good teammates and learn from them. It's obviously difficult to beat them. If you want to make it to Formula 1, you have to beat your teammates. And obviously be up there in the championships," he says.
At the time that I speak to Jehan, he's gearing up for the Macau GP (which he's since had to call off due to knee surgery), and is hoping that a confirmed F2 seat will materialise, which will allow him to be part of the round of testing at Abu Dhabi in November. But, he's allowed himself the occasional, critical, glimpse back at his 2019 season. "In hindsight there's obviously things you could change or do better. I guess for me it would be to be a bit more aggressive over the first few laps of the sprint race, to make up a few positions. But there's always risks for reward," he says. "If I took more risks, I could have ended up crashing and scored less points," he adds.
Like any good single-seater driver in a junior category of racing, though, Daruvala's got his eye on the flow and flux of drivers in Formula 1. What he sees, makes him happy, but also causes a little bit of concern. "I think honestly, over the last three years, it's good to see the current generation of talented junior drivers are also very good in F1. It opens up more seats to talented drivers who are doing well in Formula 3 and Formula 2, I think, just because the Formula 1 teams see that they can trust the young drivers coming through." It's a good sign, he believes, because with a few F1 drivers seemingly approaching the end of their careers, it could mean seats opening up for younger drivers. At the same time, the more younger drivers doing well in F1, means the likelihood of some other seats freeing up are slim. For now though, Daruvala isn't obsessing over that, because he's got a couple of hurdles to clear before F1 becomes a possibility. "It's too far forward for me to look," he says. "I think I need to keep performing well in what I'm doing, and then things can open up."
But amongst the current crop of Formula 1 drivers, he's recently found inspiration in the form of Ferrari's young challenger - Charles Leclerc. "I think someone I look up to is Leclerc. I mean, he's done well in Formula 2, and now in Formula 1. He raced at Prema, so they told me about him and how he is, and now you can see his hard work is paying off in F1. He's quite a big inspiration for all young drivers - to prove that you could go into a big team and perform against all the big guns and do well," Daruvala says.
At 21 years old, Daruvala is a little under a year younger than Leclerc. And he's no longer the diffident young racer he once was, reluctant to talk to the media. Instead, he's grown up rather a lot. There's a certain amount of self-assurance about him now. Ask him where he'd rank himself at this point in his career and he says, "I don't want to sound cocky or anything, but I've been fighting with the best drivers in the world right now - Juri Viips, Marcus Armstrong, and Shwartzman. They are all among the best in the world, and fighting with them has been good from my side."
And while making it to the pinnacle of single-seater racing still remains his goal, for now Daruvala says, "I just want to continue doing well, and proving myself... Mostly to myself."
Watch this space to see Jehan Daruvala take on an OVERDRIVE team member in a karting race soon!
Also Watch
In Conversation With F3 Championship Second Runner Up Jehan Daruvala