Electric vehicles - Why they don't have a gearbox and how it's possible to go as fast backwards, as forward
The interest in electric vehicles or EVs is growing and one is often asked, "How different is the EV driving experience?" Well though there are some similarities, there are also several huge disparities. In this series of stories, we will highlight how driving an electric vehicle, is quite unlike a conventional car.
EVs don't have a gear shift lever as there is no gearbox. Instead they have a single-speed transmission that gets its instructions from a smart drive selector.
One of the biggest differences in the majority of EVs, when compared to conventional cars is the absence of a gear shifter, simply because they have just one gear! A diesel or petrol powered car's internal combustion engine develops its power and torque at different RPM's (revolutions per minute) and therefore it needs a gearbox with various gear ratios to effectively transfer the power to the driven wheels and keep the engine in its "happy power band".
In an EV you either push a button or turn a dial, to make it go forward or back
But as an electric motor does not have to burn fuel or go through a combustion process to generate power, it delivers its maximum torque at zero RPM! These motors also have a very large RPM range with most being able to rev up to 20,000 RPM! Therefore with this instant torque, delivered constantly across a very broad RPM range, EV engineers don't need to mate the motor with multiple gears, but only need to design a one ratio, single-speed transmission, which regulates the electric motor and delivers the best balance between acceleration and top speed.
EVs generally have very compact drive selectors
After starting the motor, all the driver needs to do is push a button or turn a dial to select "D" to move forward , "R" to reverse and "P" to park. Some people may feel this is similar to what you do in a regular car with an automatic transmission or gearbox, but it's not. Automatic transmissions have multiple gears or speeds that are selected and shifted automatically as per the pressure on the accelerator or brake pedal. But most EVs only have one gear, which means no gear shifts, either manual or automatic. And as it has only one gear, it's also not possible to stall an EV! A definite boon for dumb drivers.
The experience of driving an electric car with a single-speed gearbox, is very different from conventional cars that have multiple gears
Those who like driving cars with a manual gearbox, or even with an automatic transmission, are likely to miss the feeling of the car working its way up or down through the gearbox.  In an EV, the driving experience is not engaging and the pleasure of smoothly using the clutch to deftly change gears is also missing. It's just turn or push drive selector, press pedal, and go. And as there is just one gear regulating the electric motor, it means that EVs don't even have a reverse gear!
As EV drive selectors are small and can be placed anywhere, they have helped change the design of car consoles and interiors
This is because an electric motor can turn clockwise or anti-clockwise and the direction in which it's rotating, determines if the car will move forward, or back. And reversing the direction, in which the motor is rotating, can be done by just giving an electrical input via the drive selector switch or knob. In a conventional car, the gear selector is a mechanical device to aid shifting of gears. But in an EV, the electric motor is controlled or regulated by an advanced motor controller unit that gets inputs from the electric drive selector. This drive selector is like a smart input device that does not do anything mechanical, but instead electrically instructs the motor which way it needs to turn.
An electric vehicle can potentially achieve its top speed in reverse
But I have noticed that in some EVs, there can be a delay in the relaying of this instruction due to which, there is a bit of a lag between switching from forward to reverse mode. So after pressing or turning the smart selector, its best that you don't immediately step on the pedal or you may be going back instead of forward, or vice versa.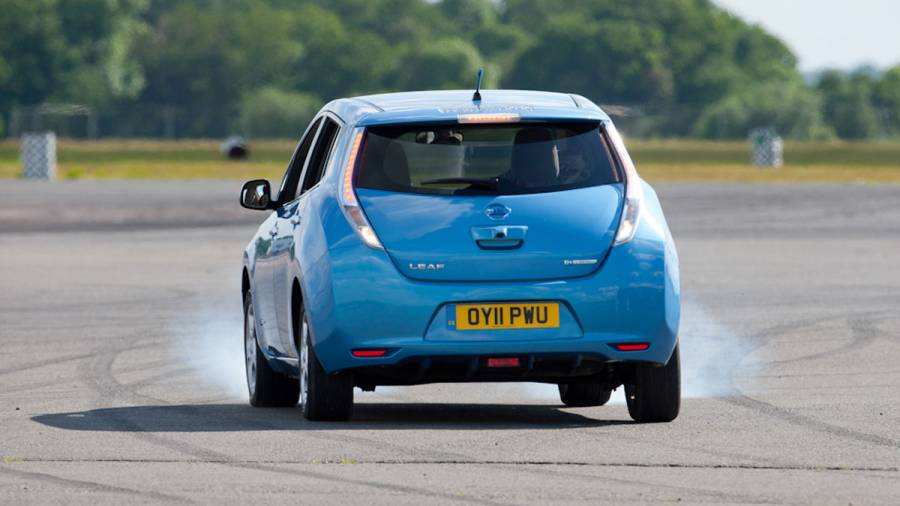 In 2012, Terry Grant set a "reverse run lap record" at the Goodwood Festival of Speed Hill-Climb
Interestingly, since there is no gear regulating the speed, the acceleration in reverse is as fast as while going forward! And the speed in reverse is only limited by software as the electric motor can rotate at the same speed in either direction. Fascinatingly, this means, if the speed limiter is removed, an EV can go just as fast backwards as it does forwards. Yes, an electric vehicle can potentially achieve its top speed in reverse!  In fact at the famous Goodwood Festival of Speed Hill-Climb (1.6 kms) in 2012, stunt driver Terry Grant drove an electrically powered Nissan Leaf in reverse without the speed limiter, and set a never before "reverse run lap record"!
Also see:
Electric vehicles - Why they give better mileage or power efficiency in the city, than on the highway
Electric vehicles-and driving with only one pedal
Electric vehicles-and driving with instant torque and rapid acceleration"
Electric vehicles and driving with "e-silence"