Counter to COVID: Self-Drive SUV Camper Tourism
COVID-19 has unleashed "Corona Confinement" on us. Never before have we been locked in our homes like this and many of us now have a massive desire to get away and break free. But where do you go and how? Social distancing is not possible in planes, trains, buses or hotels. The solution could be a "Self-Drive SUV Camper" in which one can head out into the wilderness and sleep in a tent on the roof. As Overdrive feels the popularity of such vacations on wheels is likely to increase, we are doing a series of stories on this concept of road trips and driving holidays.
Camping Co offers self-drive SUVs equipped with foldable rooftop tents and camping equipment
Freedom has now attained a new meaning for all of us. Freedom from "Corona Confinement". Freedom from bad news. Freedom from the boredom of working from home (if you are lucky), or freedom from having nothing to do. In many cases also freedom from the family or friends, you have been locked in with.
Camping Co provides self-drive and self-sufficient SUV Campers in which one can escape and get away from our homes and cities. These "SUV Campers" are based on the Mahindra Thar, Force Gurkha and Tata Xenon pick-up. The Thar and Gurkha, are both of course 4X4 (four-wheel drive) and can easily go beyond tarmac. The Tata Xenon also has good ground clearance and a rugged ladder frame chassis and suspension, which give it decent all terrain capability.
A retractable ladder is attached to the foldable tent which takes less than five minutes to setup
These SUV Campers are outfitted with a foldable rooftop tent made of breathable poly-cotton canvas with pop up window awning and fly screen windows. A retractable ladder is attached to the tent for easy access and it takes only a few minutes to set up the tent. A BBQ grill, cooktop, cutlery kit and cooking utensils, camping chairs and tables and so on, are pre-loaded in the cars for the journey as per the guest's request. Camping Co says it provides 24x7 roadside assistance and has a network of local mechanics that can be called to assist if needed. In addition their vehicles carry a toolkit, puncture repair kit and some spare parts to provide an extra safety net.
The tents are made of breathable poly-cotton canvas with pop up window awning and flyscreen windows
Harsh Sharma, Co-Founder of Camping Co says, "Overlanding with us is all about taking the road less traveled and getting away from the tourist trail in our purpose-built overland SUVs. These SUVs will take you well off the beaten track and into the heart of every state where we operate. We strive to promote experiences that are on a deeper level where you make genuine connections with local communities, enjoy the journey, and truly explore. Our overland journeys are fully customized through our proprietary technology to offer control into your hands to decide how 'active' or 'relaxed' you want your journey to be. The ability to go beyond the tourist infrastructure is a major highlight of overland travel. By design Overlanding is a self-sufficient form of travel to remote locations. Which means you'll have the least amount of physical proximity with others as you travel with close friends and family in your personal, quarantine home on wheels. And as there is no driver or attendant, you are assured of complete privacy".
These self-drive SUVs provide a self-sufficient form of travel to remote locations
Launched in 2018, Camping Co based out of Guwahati, Assam, has campsites located largely in Northeast India, Bhutan, Ladakh, Himachal Pradesh and Uttarakhand. In addition to renting the SUV Campers they also make bookings for these campsites and eco-lodges situated in the lap of nature. Some of their campsites overlook mountains, valleys, rivers, farms and islands. Camping Co allows travelers to tailor the experience exactly the way they like. Now after COVID-19, the big attraction of course is the social distancing and when the lockdown and travel restrictions are lifted completely, you have the option of such vacations.
Camper coffee in the countryside
Heena Manav, Co-Founder of Camping Co says, "Our aim is to encourage and support travelers to explore nature as responsibly as possible and with minimum carbon footprints. We have partner properties at multiple destinations that allow our guests to camp overnight for a nominal fee. These locations are handpicked and vetted by us and range from camping amidst tea farms to national parks. At these campsites our guests have access to amenities like hygienic toilets, kitchenette, charging points, etc."
These self-drive and self-sufficient SUVs, are a great way to venture well beyond the beaten track
Preethi, one of Camping Co.'s guests recalling her trip from Guwahati to Cherrapunji said, "The Overlanding experience definitely fulfills the purpose of its creation. It brought our family together like never before and we went back home more like friends than family. One night we hadn't stocked up enough food for our dinner, but it did not bother my daughters or husband. We had Maggi noodles, shared some stories and slept comfortably in the midst of nature while creating some of the best memories".
Rooftop room with a view
As these SUV Campers can be rented for a self-drive holiday and come equipped with all relevant camping gear, even those who may have wanted to own such a vehicle may think twice now. Rather than investing in your vehicle and spending on its maintenance, etc., it might make more sense to just rent one of these rigs and hit the open road. And as you will be enjoying the outdoor life and not living in expensive hotels, you may just be tempted to extend your holiday.
Making music out of nothing at all
These SUV campers come with a BBQ grill, cooktop, cutlery kit with cooking utensils and camping chairs and tables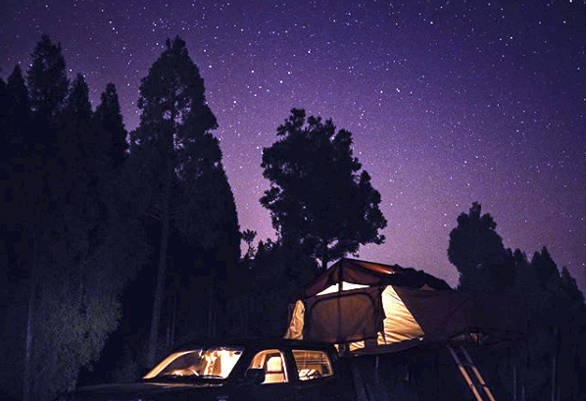 Starry starry night
Also read:
Film Star Vanity Vans Useful For Mumbai Police
Counter to COVID19: Camper Van Tourism
Counter to COVID-19: Luxury Camper Van Tourism
Counter to COVID-19: Offbeat Camper Van Tourism
Counter to COVID-19 – Camper trailer tourism
Counter to COVID-19: Club-on-wheels: the Party Bus
Counter to COVID-19: Colourful caravan tourism
Counter to COVID-19: Pop-top camper van
Counter to COVID - Pop Up Roof Ford Endeavour SUV Camper
Price (Ex-Delhi)
Starts Rs 13.59 Lakhs
Price (Ex-Delhi)
Starts Rs 32.75 Lakhs
Price (Ex-Delhi)
Starts Rs 9.8 Lakhs