Counter to COVID-19: Offbeat Camper Van Tourism
COVID-19 has unleashed "Corona Confinement" on us. Never before have we been locked in our homes like this and many of us now have a massive desire to get away and break free. But where do you go and how? Social distancing is not possible in planes, trains, buses or hotels. The solution could be "Camper Van Tourism" where you can drive out into the wilderness and stay in your own private "Home on Wheels". As Overdrive feels the popularity of such vacations on wheels is likely to increase, we are doing a series of stories on this concept of road trips and driving holidays.
This Camper Van offers outdoor holidays in the most difficult to access destinations
About a decade back, Captain Suresh Sharma, a retired army officer decided to build a completely self-sufficient Camper Van and use his army training and traits, to take guests deep into the wilderness to experience nature and its untamed beauty. Since then many adventurous travellers have gone with him on tours to far flung places like Ladakh, the deserts of Rajasthan and Kutch, lesser explored valleys in Himachal Pradesh and also regions close to our Indo-Pak border. As his destinations and camping sites are far away from any habitation or hotels, they are a symbol of "Socially Distanced Holidays", something that has now gained importance due to COVID-19. Once the restrictions for interstate travel are eased, Captain has lined up several inviting vacations far away from cities where the virus spreads more rapidly. He has also prepared for proper sanitizing and other such measures to try and prevent infection from COVID-19.
Taurus the Camper Van, deep in the Thar Desert near the Indo Pak Border
His Camper Van that Captain Suresh calls Taurus (after his birth sign), is based on an Eicher VE-2016 chassis. The entire ground up design was done by Captain Suresh and his vast experience of 50 years of outdoor life, 6 years in the army, 28 years in the tourism industry and 20 years and 1, 67,000 kms of caravanning, have all gone into it. He sat every day for almost 18 months with the welders, fabricators, panel beaters, etc., and supervised each aspect of the building of Taurus. Every screw and rivet, and each cooking utensil and camping component, was selected by him. It is this personal involvement of Captain, and his attention to detail that makes this Camper Van on which he has spent about a crore of rupees, stand out from others.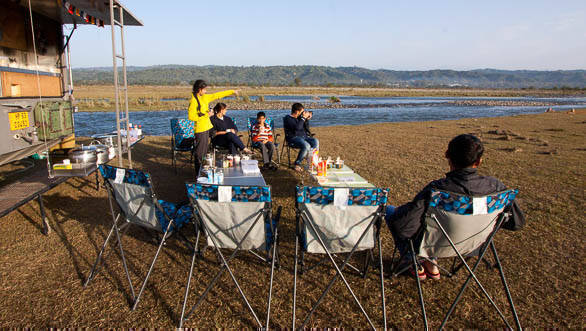 Al fresco dining and the outdoor kitchen are big attractions of Taurus, the Camper Van
The body is reinforced for safety and Captain says he has used wood inside, instead of plastics and synthetics, as they release toxic fumes in case of any fire and in comparison wood is slow burning too. The eight bucket seats for guests are front facing and this reduces the chances of motion sickness as the passengers are seated in the direction the vehicle is moving, and they can have a panoramic view too. One of the highlights of this Camper Van has to be the two double occupancy rooftop and four single occupancy side tents, which Captain describes as "Tray Tents". These tents are Captain Suresh's own original design and were fabricated in Ambala. There are also arrangements for two people to sleep inside Taurus, but most guests prefer these outdoor vehicle mounted tents.
Captain Suresh himself does most of the cooking in his extremely well equipped kitchen
Another attraction is the large well equipped stainless steel outdoor kitchen at the rear. It has modern cooking appliances including 3 high pressure burners, whistling kettles, latest pressure cookers, air-pot thermoses, and what not. Captain has not compromised on anything. He also samples every food ingredient in advance and even does the cooking. Guests, who want to have a go in the kitchen, are welcome, and amongst those who have cooked in Taurus are food historian Ashish Chopra and the famous UK based Chef Vineet Bhati. Captain Suresh buys fresh produce along the way, often directly from the farms and also carries the best of branded pre-cooked food including nutritious seeds like - sunflower, pumpkin, watermelon, etc. He offers the best of bread spreads and desi ghee for parathas, about 12 kinds of pickles, and a large variety of tea blends too.
Taurus high in the Himalayas, far away from any hotel or habitation
Captain Suresh says, "I carry a Weber Barbecue Grill, for mouthwatering roasts. Imagine all this in the middle of nowhere. I even serve desserts in the wilderness, which thrills my guests beyond words! I am the driver and the cook of Taurus and my being there makes the difference. Guests love my personal touch and safe driving. The biggest challenge I have faced is driving my fully loaded Camper Van over the notorious Zoji-La pass, en route from Srinagar to Leh. In fact just after article 370 was abrogated in Kashmir last year, I drove non-stop for 28 hours from Sonamarg to Chandigarh".
The side and roof tents are one of the unique features and highlights of this Camper Van
Wherever Taurus the Camper Van sets camp, Captain Suresh uses a Hitachi Earth Auger to dig holes which are then covered with a mini tent and fitted with "Clean Waste Commodes" from the USA. These then function as the two eco-friendly field toilets, in addition to the one onboard Taurus. Captain has come up with several such innovative solutions.
The interiors are simple but comfortable, with front facing seats
To draw fresh water from streams, rivers and lakes, he uses a Honda water pump and also has a Hitachi one as backup. Amongst all the various equipment carried by Taurus are - an electric power blower to clear away dust; a Genset; 2 inverters; 3 batteries; portable solar panels; lots of spares and tools like drill machine and power grinder and cutter; 12 camp chairs and stools; 4 hammocks; folding tables; made in USA oxygen cylinders; 12 thermal sleeping bags (-5C) and 10 of (-10 C capability); a comprehensive first aid kit; toiletry items and so on. Captain Suresh says he also carries a very elaborate multi-purpose kit, which they call housewife kit in the army, and this includes a magnifying glass, shoe laces, 50 types of buttons, 20 different coloured threads, hooks, tweezers, rubber bands, needles, etc.
Taurus carries a lot of equipment for outdoor sport and activties
All this shows the meticulousness of Captain Suresh, a man with many talents. When he was in the Indian Army he went to Sri Lanka as part of the IPKF (Indian Peace Keeping Force) and the 18 months of fierce operations in the jungles there, taught him every sort of survival skill! He is also an immensely gifted photographer and has provided photographs for two coffee table books- Legacy of a Legend - MiG-21 in the Indian Air Force and - The Indian Army - An Illustrated Overview. Captain has worked on wildlife films too and was part of two productions for the National Geographic Society, USA. Captain conducts "Tame the Light God" workshops for photographers to understand light and says, "Taurus is an ultimate blessing for astrophotography. I camp faraway from human settlements and we get to see the star trails and even Milky Way clearly. I love night photography and have lots of customized equipment which my guests can use". Captain is also a well-known snake rescuer with a mission to save snakes from ignorant people.
It even has what the army calls, a housewife kit
It really is all this that makes a vacation on wheels with Taurus, distinct from any other. Being an ex-army officer also helps Captain Suresh to walk into any government office to seek help and he has a good equation with the army folks too. For more information, click this link
Starry starry nights
Also read,
Film Star Vanity Vans Useful For Mumbai Police
Counter to COVID19: Camper Van Tourism
Counter to COVID-19: Luxury Camper Van Tourism
Counter to COVID: Self-Drive SUV Camper Tourism
Counter to COVID-19 – Camper trailer tourism
Counter to COVID-19: Club-on-wheels: the Party Bus
Counter to COVID-19: Colourful caravan tourism
Counter to COVID-19: Pop-top camper van
Counter to COVID - Pop Up Roof Ford Endeavour SUV Camper
Price (Ex-Delhi)
Starts Rs 32.75 Lakhs