Cheapest motorcycle pants in India
A reader commented a few days ago on Twitter that India didn't have cheap motorcycling gear. We decided to do some hunting and see if we couldn't find something cheap and affordable. We hunted for gloves, jackets and boots and now it is time to look at motorcycle pants – as in purpose-built armoured riding pants as opposed to jeans or trekking pants being used for riding. We do already have a comprehensive motorcycle pant buying guide online and here is a round-up of the stuff that is actually on sale right now.
As we did the last time, we've gone through some of the more popular online stores, but we have not actually tested any of these pants. But this is a proper online purchase kind of research – we can see the images, see the price, see the specifications and make up our minds. Here goes.
Most people think denims or jeans are a good riding pant. And they are in some ways - they're cool both in look and feel and even when they're filthy, jeans just seem to work. As long you do not fall off the bike, that is. If you're in a crash though, there is no functional difference in the protection offered whether you were wearing a thong, bermudas or denims (Click here to read about this in greater detail).
Having damaged ligaments in both knees before I understood their importance, I would say that armoured motorcycle pants are a critical investment. There's not much you're going to be able to do once you've done the knees in from repeated crashes without some protection. Purpose-built motorcycle pants have numerous advantages - they're comfortable, work in a wide range of temperatures, you can get waterproof styles that really work, they have armour and most importantly, the entire garment is constructed so as to keep skin and road as separated as possible while making you feel at home on the bike. And now to what you can actually buy in India right now.
Fly Racing Jersey pants - combo grey black
Rs 4,200, bikegear.in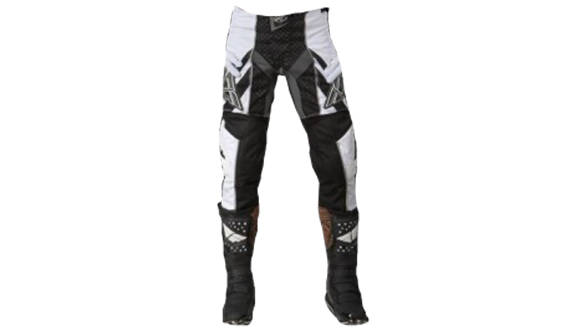 They sound like a great deal but are MX-wear, which means they supply no protection or armour - you're expected to bring your own
We emphatically recommend that you do not purchase these unless you understand what they are. Do I have your attention? Fly Racing is a fairly reputed off-road motorcycle apparel maker and the key word in there is off-road. Off-road motorcyclists wear armour differently from street and road racing riders. They usually wear far more comprehensive armour which is worn next to the skin and these jerseys and pants are built loose to go over and cover all that armour. At Bikegear.in for example, look at the Fox Bionix Chest Armour Jacket - the Fly Racing Jersery would typically go over it. In that sense, the Jersey-Pants combo offers zero protection on its own and hence our 'do not purchase without understanding the product' recommendation.
PGS motorcycle black grey pants
Rs 5,500, bikegear.in
Good spec for the price but no idea who the brand is and what its reputation is. So I wouldn't try it
The website says these are made of 600 Denier polyester with some water repellant fabric. They come with a mesh lining as well as removable waterproof liner. CE-approved dual density knee protectors are standard and there is some memory foam padding over the lower back. The thigh panels are mesh back and front for cooling and there are also expansion panels above the knees for articulation. Plus a reflective element to boot. This is actually a very complete spec. The website has four reviews, all posted between December 2013 and January 2014 from satisfied users. So it appears to be a credible product with a great spec for the price. My only issue is that when it comes to my protection, I prefer to go with brands that have some history and reputation and I've no idea who PGS is. This doesn't mean their product is inferior, it just means I would rather spend more and find something I can trust for the extra outlay.
Cramster Velocity 2.0 All-Weather riding pants
Rs 5,500. Cramster.in
Cordura shell, breathable, WP membranes, removable warm liner, CE armour, TemperFoam, Stretch panels, reflectives, YKK zippers and 8-inch connecting zipper
What is it?
Cramster says the outside is Cordura with 'Samtex' panelling and the pant uses a Reissa membrane for waterproofing. There's a breathable mesh lining and also included is a ribber warm liner. Cramster says the knees get CE armour, soft hip padding is included, there are two air vents, reflectives, YKK zippers and reflectives. Finally, 8-inch zipper to connect to a riding jacket.
We like
That's a solid spec for the price and compared to PGS' identical prices, these are the pants we would buy - Cramster's a brand that's been around for a while and we know a few people who've used their gear and come away smiling. Note the two air vents in the spec. That means these pants should be relatively comfortable in the heat but also suggests that if badly placed, could be the weak spot in the waterproofing.
We don't like
The website shows only one pic, that too cropped below the knee and given the paucity of information, I'd actually stay away from buying it. The reason is critical things like the air vent placement aren't clear and I cannot make up my mind from the image on the website.
Would we buy?
If we got a chance to see these at a dealer then maybe, otherwise, not unless the manufacturer puts up more images and greater detail.
Planet DSG Nero waterproof pants
Rs 5,999 at planetdsg.com
Warm liner, CE armour, hip armour, reflectives, adjustable waist, connecting zipper, stretch panels, lots of pockets
What is it?
This is a pair of waterproof pants made from 600 Denier polyester with a removable quilted (warm) liner, a non-slip seat panel, CE knee and PE foam hip armour, reflective piping, adjustable waist, stretch panels (knee and lower back) and four pockets. Planet DSG says clearly these are not overpants.
We like
For the price, a pair of waterproof pants with a comprehensive feature set is not a bad deal. The pic also shows a full circumference zipper to attach the pants to a jacket if the zip is compatible which is a good feature to have.
We don't like
These are going to be too hot to wear for most of the year in our weather. They'll be okay if you live somewhere with mild temperatures and if they work as advertised then they'll be at home in the winter on the side of a mountain high up. But for everything else, we would look elsewhere. Note that the waterproofing method isn't in the description and it sounds like the fabric is coated with a waterproof treatment. If this is the case then watch for wear. High contact areas will eventually wear out the coating and then the water will come in.
Would we buy?
As a second trouser for the cold season or the annual Leh pilgrimage perhaps. Otherwise, no - it'll be too warm for most things.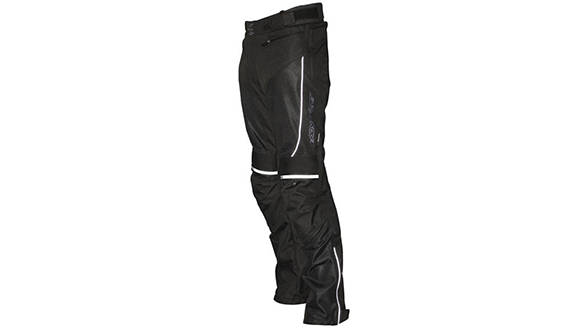 All mesh, CE knees, memory foam hip and lower back armour, reflectives, boot zips, connecting zip, adjustable waist
What is it?
The Solare is AGV Sport's mesh pant. Note that this is not an overpant. It uses a 600 Denier polyester shell with mesh pants. There is CE knee armour, 10mm memory foam on the lower back and hips, reflective piping, reinforced seams, YKK zippers, adjustable waist and a zipper for connecting to a jacket.
We like
That's a great spec for a good brand of gear at a very reasonable price. There is very little to not like off this spec list.
We do not like
You should know that these are pure hot weather pants which means they'll be next to useless in the cold or the wet. To me personally, that's nothing a few layers of waterproofing cannot fix but it is a decision you have to make. For someone who rides in Mumbai on a daily basis, these would work. The only catch is that since they're not overpants, changing into normal clothes will take more time and effort.
Would we buy?
If you're riding in hot weather and do not need to change into street clothes when you get to work (like here at OVERDRIVE) then, yes. Otherwise, we'd go to the store and work out how complex it is to get in and out of the pants and work out the convenience of that aspect.
The inner cotton liner, plus kevlar/Teramid layer plus outer denim construction suggests a thick and heavy garment which would probably be warmer than expected
What is it?
This is a pair of denim pants made from 14oz heavy duty denim cloth. Backing up the blue stuff is kevlar and Teramid. You get pockets for knee armour but you have to supply your own armour. The stretch panel at the back and atop the knee is visible in the grey material. The pants get a cotton liner and you can have short or long inseam lengths.
We like
They look neat, especially with the understated knee armour pocket and the contrasted grey stretch panels.
We don't like
The website doesn't say what panels or parts have the kevlar reinforcement and having to add our own armour means more cost too. The inner cotton liner, plus kevlar/Teramid layer plus outer denim construction suggests a thick and heavy garment which would probably be warmer than expected, negating one of the advantages of wearing denims on a bike. And because it is denim, it'd get heavy when wet and dry very slowly as well.
Would we buy?
I would, but not as a primary riding pant. As a secondary pant, I'd get the armour out of the primary pant for the knees and the use it on days where the bike rides are short and off-bike durations are longer. And never in the wet.
CE knee armour, an adjustable waist, perforated panels, stretch panels over knees and zippered pockets. Baggy fits suggest failure to hold armour in place, in the event of an accident
What is it?
The Hooligan is a mesh overpant with CE knee armour, an adjustable waist, perforated panels, stretch panels over knees and zippered pockets.
We like
The idea of mesh pants for our weather. Again, this is a big brand for relatively reasonable money.
We don't like
The spec is a bit skimpy and Icon likes to make these baggy fits which work much better in hip-hop videos than when falling off bikes and requiring the armour to hold position.
Would we buy?
Not really.
Waterproof liner, CE-rated knee armour, two-way leg zipper that runs on the outside up to the thigh, reflective stripes and an adjustable waistband. Heat resistant panel might not be able to withstand very high temperatures from the bike
What is it?
This is a versatile pant that combines features of mesh pants as well as waterproof pants. It's made from 600 denier material that the manufacturer labels RockTex. It comes with a waterproof liner, CE-rated knee armour, a heat-resistant inner leg panel, two-way leg zipper that runs on the outside up to the thigh, reflective stripes and an adjustable waistband.
We like
There's a lot to like in this pant. The diagonal bit across the thigh is actually a panel that zips off to reveal a wide mesh panel that makes wearing this pant quite easy even in the hottest of weather. Designed as an overpant, I'd say get a smaller size and use the Alter Ego as a riding pant instead. The removable waterproof liner really works and I've personally used these from freezing to 45 degree temperatures without issue (see separate detailed story).
We don't like
The pockets are really small in opening terms so gloved hands cannot enter them. There is no hip armour at all and Royal Enfield's exhaust pipes will melt the heat resistant panel also. Don't ask how we know. We must call Performance Racing Store up for not updating the images and details for the Alter Ego 2.0 whose design changed some time ago - the pics here are the new design.
Would we buy?
We already did and that's another story.
More from OVERDRIVE on motorcycling gear: -
Cheapest motorcycle boots in India
Top five cheapest motorcycle jackets in India
Top four cheapest motorcycle gloves in India
Materials used to make motorcycle pants
Motorcycle pants – normal trousers or overpants?
Buying guides: -
The motorcycle boot buying guide
Motorcycle jacket buying guide
Helmet styles: How to pick a helmet that works for you