Celebrating 50 years of Singapore
Singapore turned 50 this year and the little nation is celebrating big! The city-state has pulled out all stops to throw a mega birthday bash for everyone present there. Singapore is all set to enthrall both its natives as well as the droves of tourists who flock to the country especially this time of the year, as the 2015 FORMULA 1? Singapore Airlines Singapore Grand Prix takes place from September 18-20, 2015. Here are 50 facts that'll help you get to know the home of the greatest night race on the F1? calendar a whole lot better.
1. Singapore's 50th Anniversary marks the completion of 50 years since it got its independence on August 9, 1965.
2. Modern Singapore, as we know it now, was founded as a British colony by Sir Thomas Stamford Raffles, an administrator in the East India Company, in 1819.
3. Singapore owes its reputation as a safe and clean nation to Lee Kuan Yew, its first Prime Minister. Lee Kuan Yew's term spanned over three decades from 1959 to 1990.
4. Singapore is one of three surviving city-states in the world. The other two are Monaco and the Vatican City.
5. The Singapore dollar was introduced as the official currency of Singapore two years after its independence in 1967, when its Board of Commissioners of Currency was set up. It is interchangeable with the Brunei dollar.
6. You can find the national anthem of Singapore printed in micro text on the back of the $1000 note.
7. Singapore was initially a fishing village - a stark contrast to the bustling malls and skyscrapers that now dot the nation.
8. Measured from east to west, Singapore's span only extends upto 42km.
9. Singapore's land size was 581.5km in the 1960s. By means of reclamation using landfilling techniques, Singapore's land size has now grown to an impressive 710km.
10. Singapore's Changi Museum chronicles the history of the country during World War II with letters written by the prisoners of war on display for visitors. The stories of grit and determination to survive are a testament to the country's rich history.
11. Singapore's religious harmony is visible in the fact that many Chinese and Hindu temples, mosques as well as churches are often located near each other. One such example can be found along Pagoda Street in Chinatown, where Sri Mariamman Temple, the oldest Hindu place of worship here, stands next to Jamae Mosque, frequented by thousands of Tamil Muslims settled in Singapore.
12. Singapore's diversity is also evident from the amazing culinary options available here. These include its long list of celebrity restaurants. Gordon Ramsay's Bread Street Kitchen will be the eighth one when it opens this year.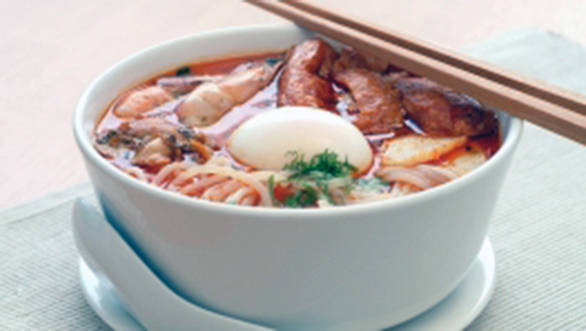 13. If you're a foodie travelling to Singapore – then tasting Laksa should be on your bucket-list. Laksa is a unique noodle broth that's flavoured with a delicious mix of spice and coconut milk.
14. Another signature dish from Singapore is the famous Chilli Crab. It was invented in 1956 by a vendor named Cher Yam Tian. It was listed at number 35 on World's 50 Most Delicious Foods compiled by CNN Go in 2011.
15. Visiting The Singapore Food Trail should be another item on the bucketlist of those who want to immerse themselves in traditional Singaporean fare. The 1960s ambience only adds to the exquisite experience.
16. Seafood lovers should not miss the Hokkien Prawn Mee - a simple dish consisting of stir fried noodles with prawns, the kind that you can only savour in the Lion City.
17. The culinary experiences in Singapore can get rather extreme too with thrilling bars like 1-Altitude. At 282 metres (63 storeys) above ground, this triangular-shaped outdoor bar is said to be the highest al fresco bar in the world.
18. If you like to go wining and dining in luxury, then you should head to The Library where they serve you your poison of choice while you lay in a bathtub!
19. Apart from the gastronomic delights, Singapore offers the most unique attractions that are a sight to behold. The Singapore Botanical Garden, for instance, is Singapore's $1 billion green space spread across 101 hectares. The high-tech forest in the city is home to special super trees and other botanical wonders.
20. The Singapore Botanical Gardens are also accredited as a World Heritage Site.
21. The Helix Bridge is another one of Singapore's architectural marvels. Linking the Marina Bay to the Marina Centre, it is the world's first curved bridge. Extending over 280 metres, the double helix structure resembles a DNA strand, signifying life and continuity.
22. Another such wonder is the Jurong Falls located in Singapore's giant bird park. At a staggering 100 feet, the waterfall is one of the highest man made waterfalls in the world.
23. The Singapore Flyer, one of the largest Ferris wheels in the world, is touted as Singapore's answer to the London Eye. It used to rotate counterclockwise until 2008, when the direction was reversed on the advice of some Feng shui experts.
24. Replicas of the iconic Merlion at One Fullerton, Singapore can only be built after receiving approval from the Singapore Tourism Board.
25. The splendid Marina Bay Sands Hotel uses 36,000 key cards in a month. Laid out end to end, they'd stretch up to 360km.
26. Singapore is also abundant in marvels of the natural kind - sign up for the Singapore Night Safari to witness over 140 species of wildlife under a cover of stars, a truly unique experience for all.
27. Another interesting experience that you cannot miss while in Singapore is a visit to the MINT (Moment of Imagination and Nostalgia with Toys) Museum of Toys. The private museum houses around 50,000 pieces of vintage toys, some of which are over 100 years old and collected from more than 40 countries.
28. If your stay in Singapore is limited to just a few days, you're going to have to be really quick on your feet to experience all that the country has to offer. But you're going to have to keep up with some stiff competition. A research by the British Council reveals that Singaporeans are the fastest walkers in the world. The average Singaporean can cover a distance of 18 metres in 10.5 seconds, that's 6.15kmph!
29. And if you don't like to walk, then there's the Singapore River Cruise which allows you a grand view of the city. The boat chugs across spots such as Clarke Quay, Boat Quay, Esplanade and Bayfront South.
30. Singaporeans love shopping and you could almost term it as a national obsession. According to a survey, almost 80 per cent of the natives cannot resist a good bargain. So shopaholics visiting the city-state can feel at home.
31. Singapore's Orchard Road is a shopper's paradise. The scores of malls on the iconic street have stores for every big brand in the world.
32. For the nocturnal kind, Singapore even has a 24-hour shopping centre called The Mustafa. Located in Little India, The Mustafa is a prime destination for picking up great fashion merchandise.
33. For those who love to collect antiques, there is Holland Street. One of the key stores here is the huge Lim's Arts and Living that has a vast array of curios including Moroccan crockery, African figurines and bird cages.
34. A slice of China awaits the visitors of Chinatown. The area comprises of quaint, pre-War shops that sell fine silk, traditional handicrafts, gold and jade jewellery. You can also get authentic Chinese tea, food and medicinal herbs here.
35. With all these options at hand, you'd think the Singapore trip might get a little heavy on the pocket. Well, worry not. Tourists can claim a refund on the 7 per cent Goods and Services Tax (GST) paid on purchases if they spend more than $100 at listed shops.
36. Whether you're shopping, sampling the cuisine or just enjoying the sights and sounds of the city-state, if you are a tourist in Singapore, it is your responsibility to maintain its 'cleanest country in the world' status. Singapore is one of the few nations where the extremely strict littering laws are enforced without exception.
37. It is illegal to import or sell chewing gum in Singapore. This bizarre yet effective law is a measure taken to prevent littering on the streets.
38. Singapore has 2,800 trees per square kilometre, making it one of the most man-nature balanced ecosystems in the world.
39. Hidden in the grounds of the Sembawang Air Base are Singapore's natural hot springs. Three stations pump out jets of hot sulphurous water that is said to have healing properties.
40. If you're flying to Singapore in November this year, you can catch the official opening of The National Gallery – an art gallery that has been built to commemorate Singapore's 50th anniversary.
41. Singapore's National Stadium also hosted the 28th Southeast Asian games this year. The stadium has a maximum seating capacity of 55,000 for football and rugby, 52,000 for cricket and 50,000 spectators for athletic events.
42. The year 2015 continues to be a landmark year for the Lion City - Lonely Planet has picked Singapore as the world's top travel destination for 2015.
43. Singapore's National Orchid Garden houses over 1,000 vibrant orchid species. The garden also features a 'celebrity area' which houses a large variety of orchids named after notable personalities – from Bollywood actor Shah Rukh Khan to Prince William.
44. Conservationist David Bellamy has stated that the 1.64 square kilometre Bukit Timah Nature Reserve has more species of trees that those found in the whole of North America.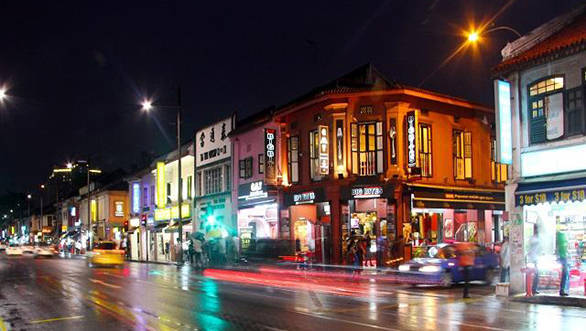 45. Singapore is hot and humid all year round because of its proximity to the equator, with temperatures usually reaching over 30°C. The best months to visit are between May and September.
46. The lowest temperature ever recorded is 19.4 degree Celsius, way back in January 1934.
47. Singapore is a member of the Commonwealth nations. In fact, the Declaration of the Commonwealth Principles, which outlines the goals and values of these nations, was signed in Singapore in 1971. Obviously, it's called the Singapore Declaration.
48. Singapore is also an educational hub for many international students – with four autonomous institutes and over 300 private colleges.
49. Think one can walk into a showroom and buy a car in Singapore? Nope. Singaporeans have to obtain a Certificate of Entitlement that is auctioned on the first and third Monday of each month. The lucky ones have to then cough up an astronomical sum of money for the certificate.
50. Singapore appears on the calendars of many an artist touring across the world. This September itself, the list of artists performing in the city-state includes the likes of Maroon 5, Bon Jovi and Muse.
How to get to the Red Dot on the map
There is no better way to fly to Singapore for the Grand Prix than with Singapore Airlines. The national carrier has a reputation that few others can match and thanks to its unique service, you can sample a slice of Singapore even before you set foot on Singapore soil.
Singapore Airlines has many firsts to its credit and the airline shares much of its history with the nation. Here are some of the landmarks of Singapore's aerial ambassador.
1. Singapore Airlines' first official flight took place on May 1, 1947. It all began with an Airspeed Consul belonging to Malayan Airways Limited (MAL) which took off from Singapore's Kallang Airport. The airline then started operating three scheduled flights a week to Kuala Lumpur, Ipoh and Penang.
2. Singapore Airlines was the first to offer free headsets, a choice of meals and free drinks in Economy Class, back in the 1970s.
3. Singapore Airlines was also the first to offer non-stop flights from London to Singapore in 1984 and from Singapore to London in 1989. This was followed by non-stop flights across the Pacific between Hong Kong and San Francisco in 1989 – another first in the history of commercial flying.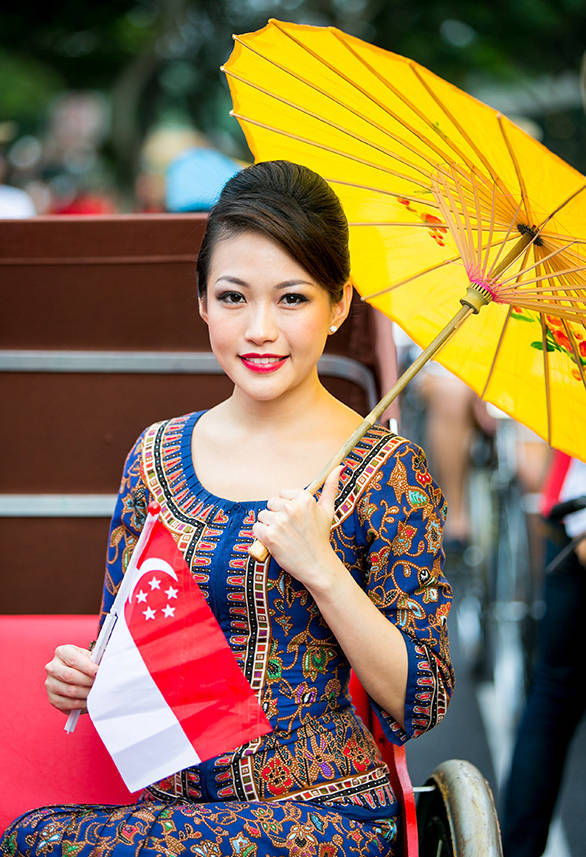 4. In 1993, a sculpture of the Singapore Girl (the iconic mascot for Singapore Airlines) was unveiled at Madame Tussauds, the famous waxwork museum in London, to celebrate the 21st anniversary of the airline. It was the first commercial figure to be displayed at the museum.
5. Singapore Airlines was the first to introduce KrisWorld, a state-of-the-art in-flight entertainment and communications system across all cabin classes in 1995 .
6. Singapore Airlines was the first to introduce satellite-based in-flight telephones in 1991 – it was Singapore Airline's attempt to bring the most cutting-edge advancement in technology to its flyers, even at over 35,000 feet above ground.
7. Singapore Airlines then went on to introduce high quality theatre-style 'surround sound' for in-flight movie viewing with Dolby Technologies in 1999.
8. Singapore Airlines started offering audio and video on demand (AVOD) capabilities on KrisWorld in all classes in October 2001 – way before any of the other international airlines.
9. In July 2004, Singapore Airlines was the only airline to offer Berlitz® World Traveler, an interactive language learning programme on all A340-500 aircraft.
10. In October 2006, Singapore Airlines was the only airline to have upgraded to the next generation KrisWorld in-flight entertainment system on Panasonic Avionics Corporation's eX2™ platform.
11. Keeping in mind the tastes of its guests, Singapore Airlines was the first to have its in-flight meals developed by a panel of world-renowned chefs in 1998 which include the likes of Sanjeev Kapoor, Matt Moran, Zhu Jun and Carlo Cracco.
12. While its network across the world is impressive, Singapore Airlines also has a fleet to match. It was the first airline in the world to take delivery of and fly the 'super jumbo' A380-800 aircraft in October 2007.
13. Singapore Airlines was also the first airline to launch commercial passenger services on the Airbus A380 to Mumbai and New Delhi in May 2014.
14. Singapore Airlines is the world's most awarded airline. Their laurels include the title for the World's Best Airline from magazines like USA's Travel & Leisure and The Business Traveller.
Click here to become a Krisflyer member 
To avail special fares and book tickets log on to: singaporeair.com
To book tickets for the 2015 FORMULA 1? Singapore Airlines Singapore Grand Prix, log on to:bookmyshow.com
Log on to yoursingapore.com to explore why Singapore is the travel destination for 2015